Find yourself in the drive thru line too often? Don't worry, you're not alone, wasting money when you could be making this Copycat KFC Bowl at home for cheaper and a lot faster than it takes to leave the house and hit the road to grab a KFC Bowl. Full of all your favorites, these copycat KFC bowls are filling, hearty, and easily customized to be made with everything you crave.
If you love comfort food, like you get from a KFC famous bowl, you're going to love this copycat KFC Famous Bowl. Each spoonful of these potato bowls is full of so much, stick to your ribs flavor, just like you get from your local fast food restaurant.
This post may contain affiliate links. As an Amazon Associate I earn from qualifying purchases. For more information, see our disclosure.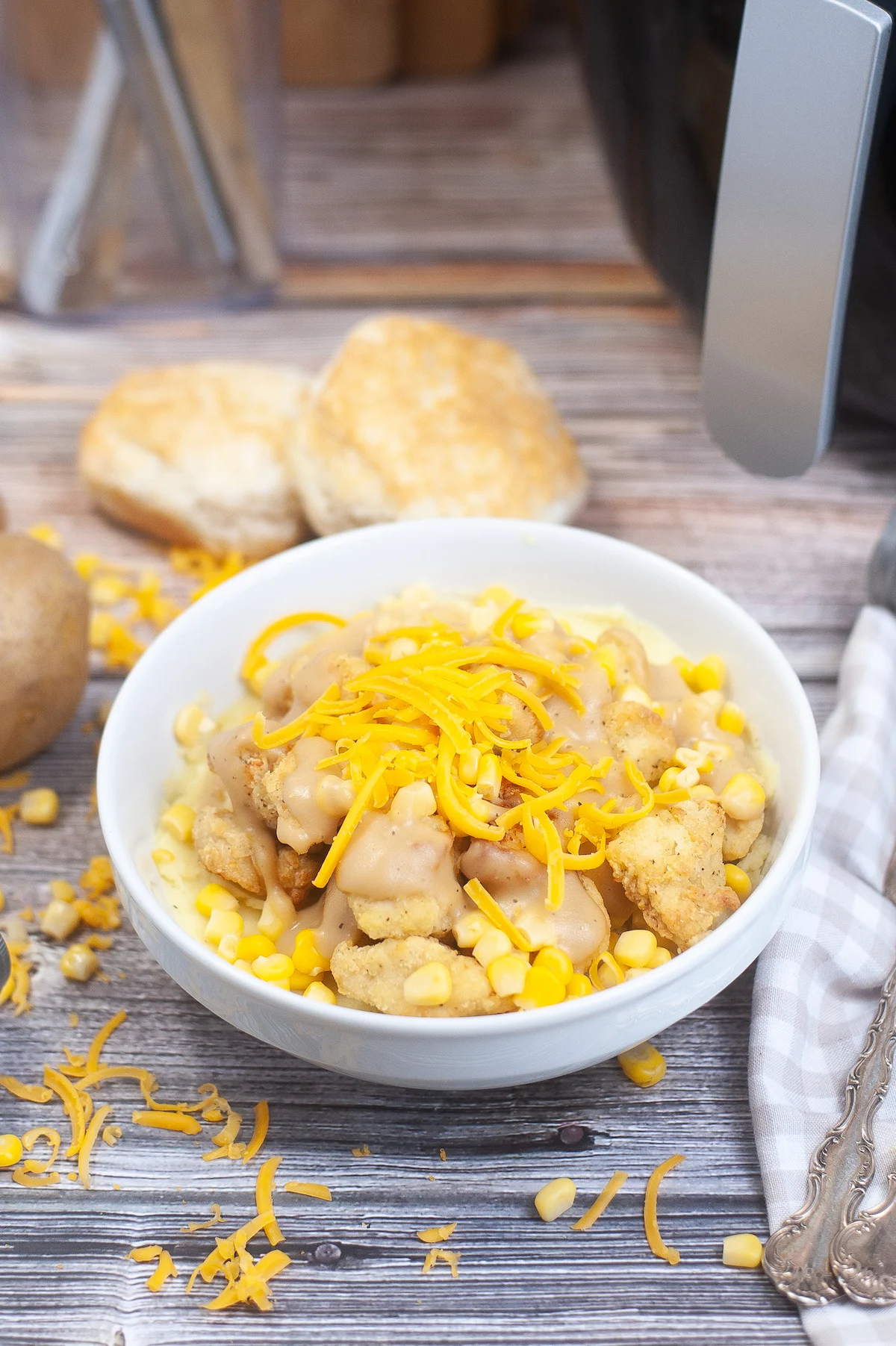 Making some of our favorite things at home that we'd normally order out has been not only fun, but a lot lighter on the wallet. Some of our recent favorites are Crumbl's Salted Caramel Cheesecake Cookies and Chick-Fil-A's Mac n Cheese. Talk about yummmmm!
Why You'll Love This Copycat Recipe
Just as good as KFC's but made at home and in only 20 minutes
Slightly healthier than takeout or fast food since the chicken breast is made in the Air Fryer instead of the deep fryer
Cheaper than the drive thru
Easily customized individual bowls so the whole family gets what they want in each bowl
Ingredients Needed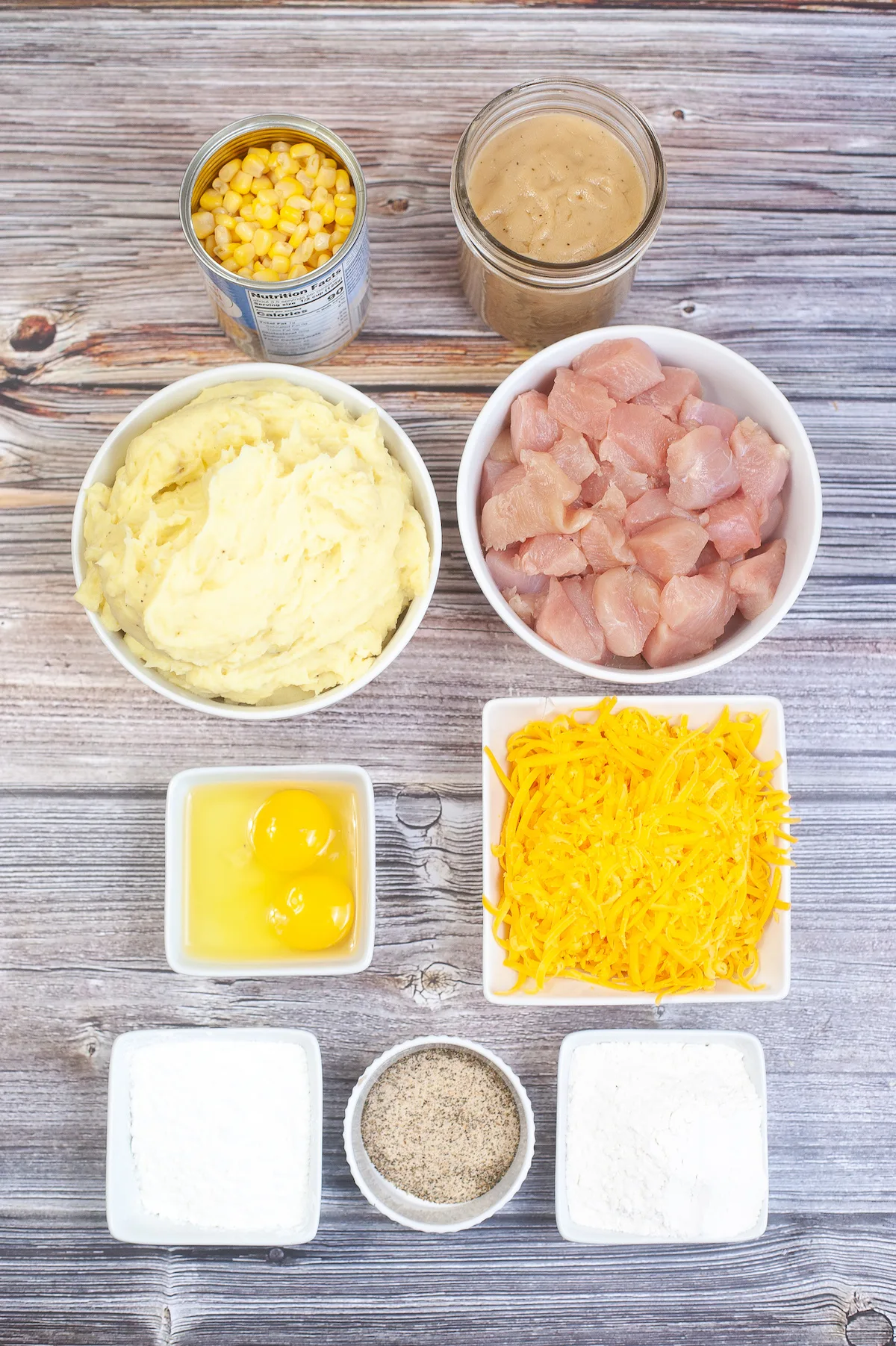 How to Make A Copycat KFC Bowl
Start by making your chicken first and then assemble the rest of the KFC bowl recipe.
Chicken:
First, preheat your air fryer to 385F for 5 minutes while you prepare the chicken.
Use 3 small bowls to set up. In the first bowl, add your eggs and beat them with a whisk or fork.
In the second bowl, add your cornstarch.
In your third bowl, add the flour mixture and seasoning. Mix together.
Now, coat each piece of chicken in your cornstarch first, then dredge through the egg mixture, and then finally the flour mixture.
Spray your air fryer basket lightly with cooking spray.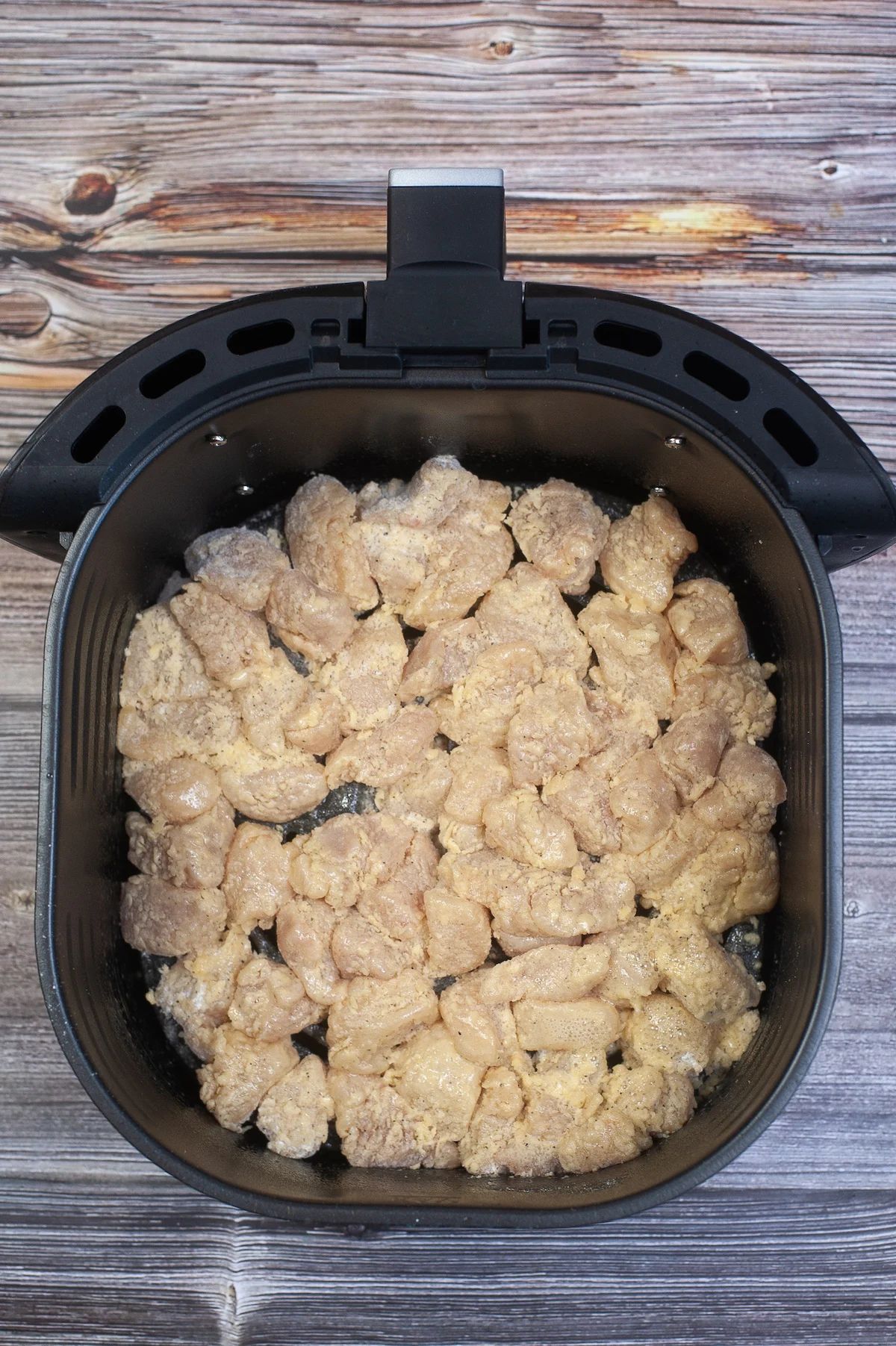 Place breaded chicken into your air fryer basket.
Cook chicken at 385 For 8-10 minutes, shaking every 3 minutes. Use a meat thermometer to ensure your chicken strips have reached 165F internally.
KFC Famous bowl recipe prep:
In each serving bowl, add 1 cup of prepared mashed potatoes.
Then add 1/2 cup corn on top of the mashed potatoes.
Next, add the chicken straight from the air fryer.
Top the chicken with 1/2 cup of gravy.
Finish the whole thing by topping it with shredded cheese.
Serve and enjoy!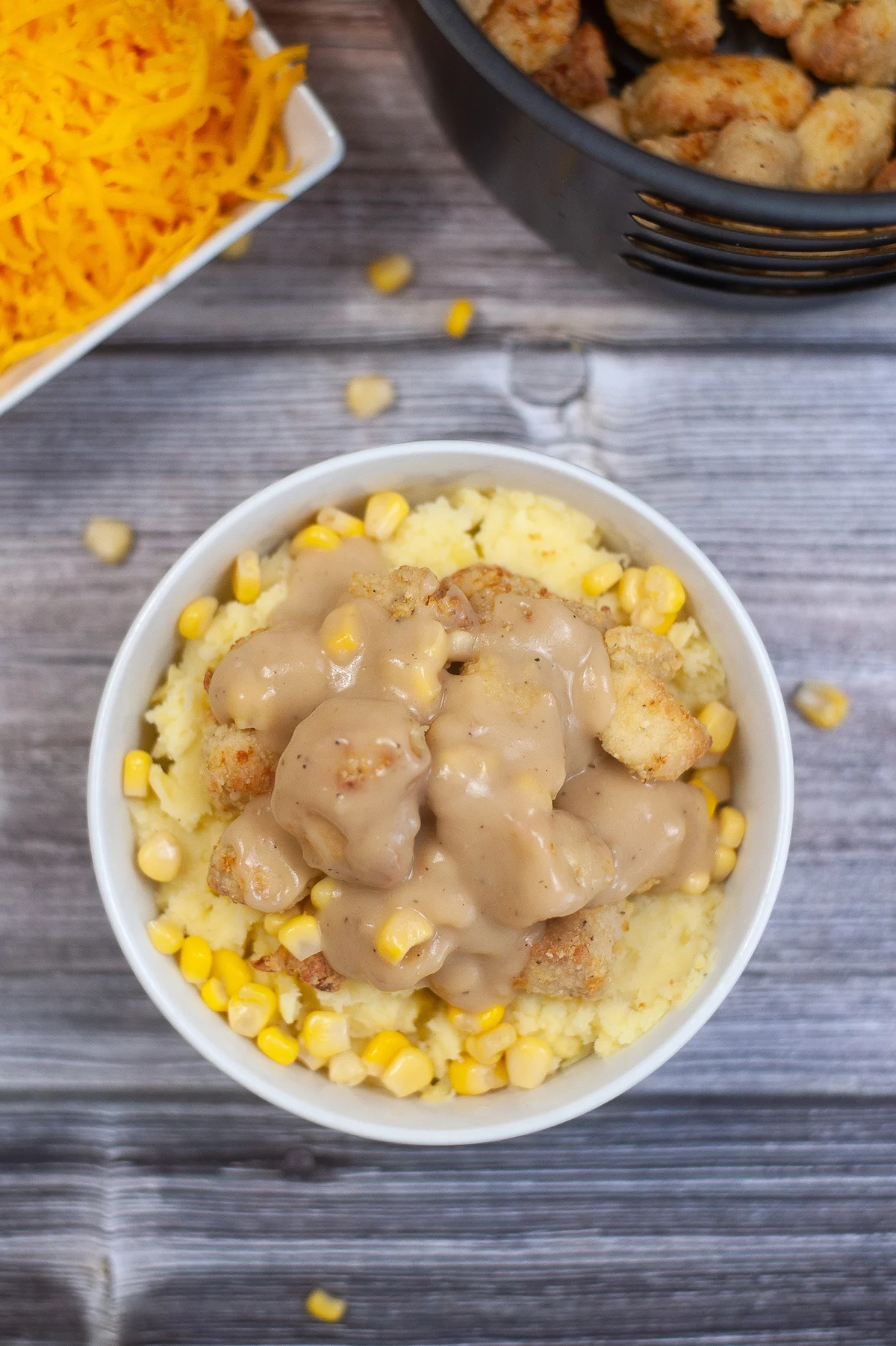 Storage
Leftovers of this easy dinner recipe should be transferred and stored in an airtight container and kept in the refrigerator for up to 3-4 days. Leftovers can be microwaved until warmed thoroughly. They can also be transferred to oven-safe bowls and reheated in the oven until reheated well through.
Tips and Variations
Like a little heat? Feel free to drizzle a little hot sauce on this easy meal!
You can use premade packaged potaotes from the grocery store, or you can make your own mashed potatoes using your favorite recipe and a potato masher.
For even creamier mashed potatoes, try adding some cream cheese. For garlic potatoes, don't forget some extra garlic powder. If you think some people would prefer one way but not the other, remember these are individual servings and can be customized accordingly.
You can cut your chicken breasts or tenders into bite-sized chunks of crispy chicken before placing them in the bowls. You can also use chicken nuggets if desired in this Famous Chicken Bowl.
If everyone likes the same ingredients in their bowls, you can assemble this hot comfort dish in a casserole dish and serve it from that rather than in individual bowls. This is great to take to a pot luck or serve at a party or get together this way. It's an easy way to scale this recipe also, making more at one time can save you a lot of time in the long run.
If you don't want to use canned corn, you can swap it out for fresh corn.
What else can I add?
That's the best thing about these bowls, you can add or change whatever you like to with these bowls.
Love green beans- that's the great thing, you can add the beans and not everybody else needs to if they don't want to. The entire family doesn't have to agree on all the easy ingredients, but it's nice when they do! Some people may want to add dark meat chicken or swap their regular mashed potatoes out for sweet potato mash. The options are endless here, change things out until your heart is content and your belly full.
Copycat KFC Bowl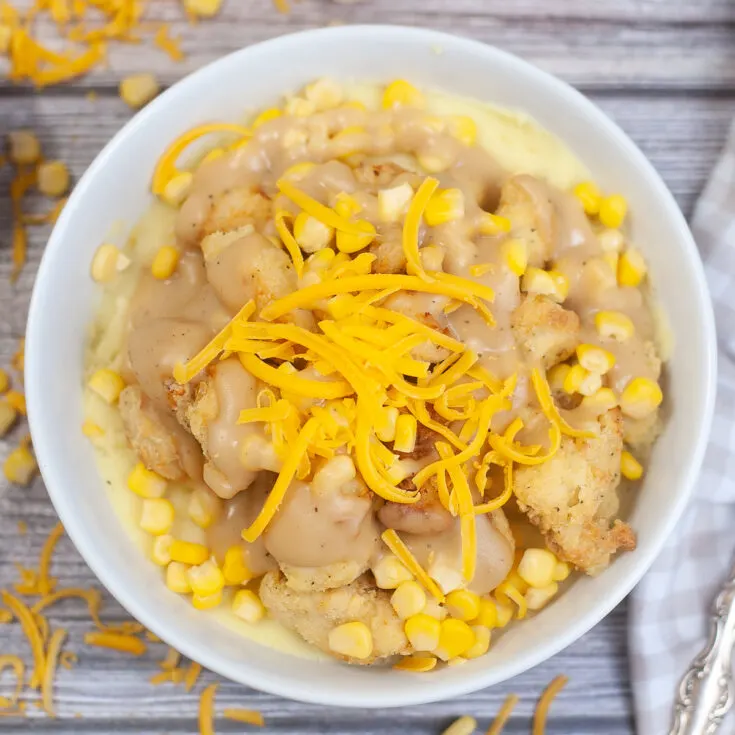 Ingredients
2 chicken breasts, cut into cubes
2 eggs, beaten
1/2 cup Cornstarch
1/2 cup flour
1 tablespoon Natures seasoning (Mortons Natures Seasons No MSG Seasoning Blend 7.5oz Bottle)
4 cups prepared mashed potatoes
2 cups brown gravy
2 cups corn, canned
1 cup shredded cheddar cheese
Instructions
Preheat your air fryer at 385 for 5 minutes when ready to cook.
In 3 small bowls, add to one bowl your eggs. Beat.
In another bowl, cornstarch.
In your last bowl, flour mixture and seasoning. Mix.
Coat each piece of chicken in your cornstarch, then egg mixture, and then flour.
Lightly spray your air fryer basket with cooking spray.
Add your chicken to your air fryer basket.
Cook at 385 For 8-10 minutes, shaking every 3 minutes.
Notes
Famous bowl prep:
Add to your serving bowl, 1 cup of mashed potatoes.
Next, 1/2 cup corn.
Then, the chicken- fresh from the air fryer.
1/2 cup gravy
Finally, top with 1/2 shredded cheese.
Enjoy!
These Copycat KFC Bowls really are one of the best comfort meals out there. Piled high with mashed potatoes, corn, chicken, and gravy, you're sure to have plenty of flavor an a full belly after digging into one of these bowls.