Homeschooling is a large and challenging task. You will take on the role of teacher for every subject, including many extra mural activities, and following a curriculum will help. A homeschooling parent also needs to be an administrator and a teacher, so using only workbooks is a difficult task.
Many accredited Homeschooling providers use workbooks to present their curriculum. It is possible to homeschool using only workbooks, but additional methods improve the quality of your child's education. Books, DVDs, online courses, projects, and field trips provide extra resources.
This post may contain affiliate links. As an Amazon Associate I earn from qualifying purchases. For more information, see our disclosure.
When homeschooling small children, it is easier to work from workbooks as you guide them through their first steps in education. As your child works through the school system, they will need to learn more, and their workload will increase. Is it still possible to homeschool using only workbooks?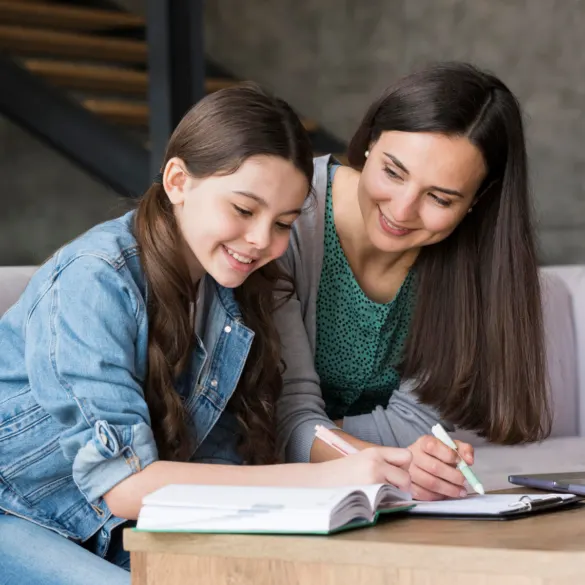 Can You Homeschool With Just Workbooks?
Many modern homeschooling curricula use a range of books and software to help make learning easier. Workbooks are an essential part of most homeschooling lessons. They often lay out the curriculum plan in easy-to-follow steps.
Usually, you will have a teacher's guide to the workbook and a student-specific book. Each subject's workbook will guide them through a curriculum section.
Consumable workbooks give the student space to work and are meant for one-time use only by a single student. Think of them as a combination of textbooks and evaluation papers.
Some subjects may require additional textbooks, worksheets, and readers. Your child may need scrap paper and notebooks for working through math problems, writing rough drafts of essays, or keeping study notes.
Each grade has age-appropriate workbooks designed to keep learners engaged and guided. Choosing workbooks suitable for your child's education level will make it much easier to keep them in the correct place for their year group.
Workbooks also make homeschooling easier for parents. It can feel very overwhelming to take on the role of a teacher without prior training. Suddenly you're no longer the parent but also a math, English, chemistry, biology, civics, and physics teacher.
You also need reassurance that your child is getting an education that will see them achieve well after school and allow them entry to college or university. A good guided workbook as part of an accredited homeschooling program will make you feel more confident in your choice.
Are Workbooks an Effective Way to Homeschool
Most curricula for homeschoolers have well-designed workbooks that guide you and your child through each stage of their subject.
If you choose well, you will have workbooks that plan out your lessons and cover the basic skills your child needs to pass their subject with a decent understanding. However, if your child struggles in places, it helps to get additional worksheets and textbooks to explain and practice concepts.
As homeschooling providers work to find new ways to bring education to children, they often provide additional options. You can give your child a more well-rounded education by using online courses, educational videos and DVDs, textbooks, and interactive software.
But you don't need to rely only on the workbooks, documents, and software your curriculum provider gives you. There are many projects you and your child can do together. As they grow, they may prefer some self-guided different learning experiences.
While you can effectively use workbooks to homeschool your child, they will almost always benefit from additional resources.
I've listed some ideas for things you can use to make homeschooling more engaging and complete.
What Can You Use For Homeschooling
People choose to homeschool for many reasons, but most parents want to ensure their child has the best resources available for a balanced and extensive education.
Workbooks are a considerable part of your homeschooling supplies and play one of the most significant roles. But there are other resources you can use to help improve your child's schooling.
Online Lessons
Use free online resources to help explain and cement lessons. Videos vary according to age and subject, so you must ensure you're giving them appropriate-level lessons. Have a look at these options.
Reading and Literature Resources
Extra reading material, whether for enjoyment or part of their wider studies, will help your child immensely.
Your

local library

is an excellent place to start and will have a range of books for children and teens and many other resources. Many libraries now give you the option to loan equipment, games, and musical instruments, which is a massive boon for homeschooling parents with limited funds.

Project Gutenberg

is a tremendous free online resource of e-books no longer under copyright. This includes many well-known and beloved children's books, such as Alice in Wonderland.
Museums and Field Trips
One of the best aspects of choosing to homeschool is that you can take your kids to view museums, cultural sites, and galleries. There are many places you can take your child to go see that tie into the curriculum.
For example, while studying American history or civics, you can take them to see museums, monuments, and related sites. Art galleries, zoos, science exhibits, and museums provide a visual experience that helps cement the things they are learning.
Many local community centers also provide things to do that you might feel fall beyond your abilities. Art classes, gymnastics, music lessons, and other extracurricular activities are excellent ways for your child to learn and develop.
You can provide extra learning and socialization by attending events such as film screenings, plays, and other cultural experiences.
Conclusion
Workbooks are a solid basis for following a homeschooling curriculum, as the good ones will follow a guided lesson plan. This helps keep both you and your child on track. You can easily supplement your child's education with additional workbooks in weak areas.
However, I would not rely on using workbooks alone to provide a complete education. Supplement your homeschooling lessons with projects and activities, outings and trips. Utilize the many available online courses and your local library to help give more depth to your schooling.