An at-home manicure is one thing I like to do when I need time for myself. I find that it helps me decompress. As a part of adjusting to my new apartment and the new storage challenges (more on this later) it has presented, I wanted to give my nail polish some attention. I realized that I had accidentally bought a duplicate of the same color I didn't remember I had. Whoops. I was also very disappointed to find that my old method (re: dumping everything in an old cardboard box that had the tabs ripped off) had resulted in some ruined bottles of a few of my favorite colors. Bummer.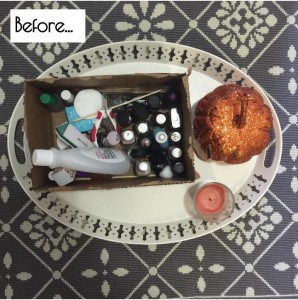 This post may contain affiliate links. As an Amazon Associate I earn from qualifying purchases. For more information, see our disclosure.
I am on a budget, so I headed to the dollar store for small containers to sort things in. $2 later I had everything I needed!
I wanted to be able to know what colors I had at a glance, so I decided to paint a swatch on the lids of all my polishes. I dipped one of my wooden cuticle sticks in the polish and dabbed it on the lid. In between colors, I cleaned the end off with a cotton circle with a little nail polish remover on it. It didn't take long and worked great for most of my colors, but I had a few with black lids that didn't show up well.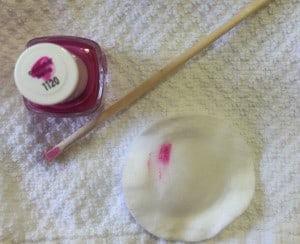 After all the lids were marked, I arranged the polishes and tools into my dollar store bins.Having the polishes stored upright will help eliminate leaks and other mess. Also, I love having access to cotton squares without having to open a plastic bag!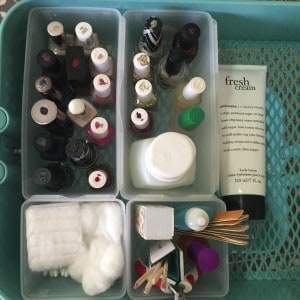 I was surprised at how well my little dollar store bins worked out! Here are some links to some of my favorite products!
I would love to hear your recommendations! Any nail product you can't live without? Happy Halloween Eve!