The newest ideas in organizing are not about clever containers or filing systems. They are simply about having less stuff to organize and keep track of. I loved the ideas in the popular book The Life-Changing Magic of Tidying Up by Marie Kondo. In the book, Kondo teaches the reader that a permanently organized home is about getting rid of possessions and giving every item it's own place. (read my full review here)
According to Kondo, de-cluttering is the first step in an organized home and it should be done in one big swoop. In other words, go through every thing you own in a short amount of time and get rid of most of it. Then give all your remaining possessions a home and you are done with organizing for a lifetime. Kondo suggests doing this over 6 months time. Well, I have begun my tidying up and I am a believer! I love the clean, simple tidy spaces I have created. However, I have a long way to go before my whole house is tidied and it is going to take me a lot longer than 6 months. I am giving myself a year and here is my discoveries of my first "week" (which actually took me about 3 months) of decluttering and tidying.
This post may contain affiliate links. As an Amazon Associate I earn from qualifying purchases. For more information, see our disclosure.
Day 1: The KonMari method (named after Marie Kondo) recommends beginning your tidying journey with clothing. So I began with my master closet. I had previously be working on a capsule method of organizing my clothing and was ready to switch to my fall capsule so the timing was good. I pulled out ALL my clothing and got rid of any summer items that I had not worn regularly. Then I put summer clothing into storage with winter and spring. I saved only 30 pieces of clothing to make my fall capsule. The result was a closet that was uncluttered and easy to find my way around in. I love my capsule wardrobe! I find that I dress better because it is easy to see the different pieces and then mix and match for new outfits and combinations.
Day 2: I have a 2nd closet in my bedroom that is shelves only. My husband has 2 shelves and I have 2. (*note: as you work through the tidying process do not try to organize other family member's stuff. I ignored my husbands shelves and worked on my own) These shelves hold workout clothes, jeans, sweatshirts and t-shirts. I'm a PE teacher by profession so these items get worn a lot. I discarded a heavy amount and arranged my t-shirts folded and standing on end inside a shoe box (no fancy container needed). I added some contact paper to my shelves for color. I love it and this usually messy closet is still perfectly clean 3 months later!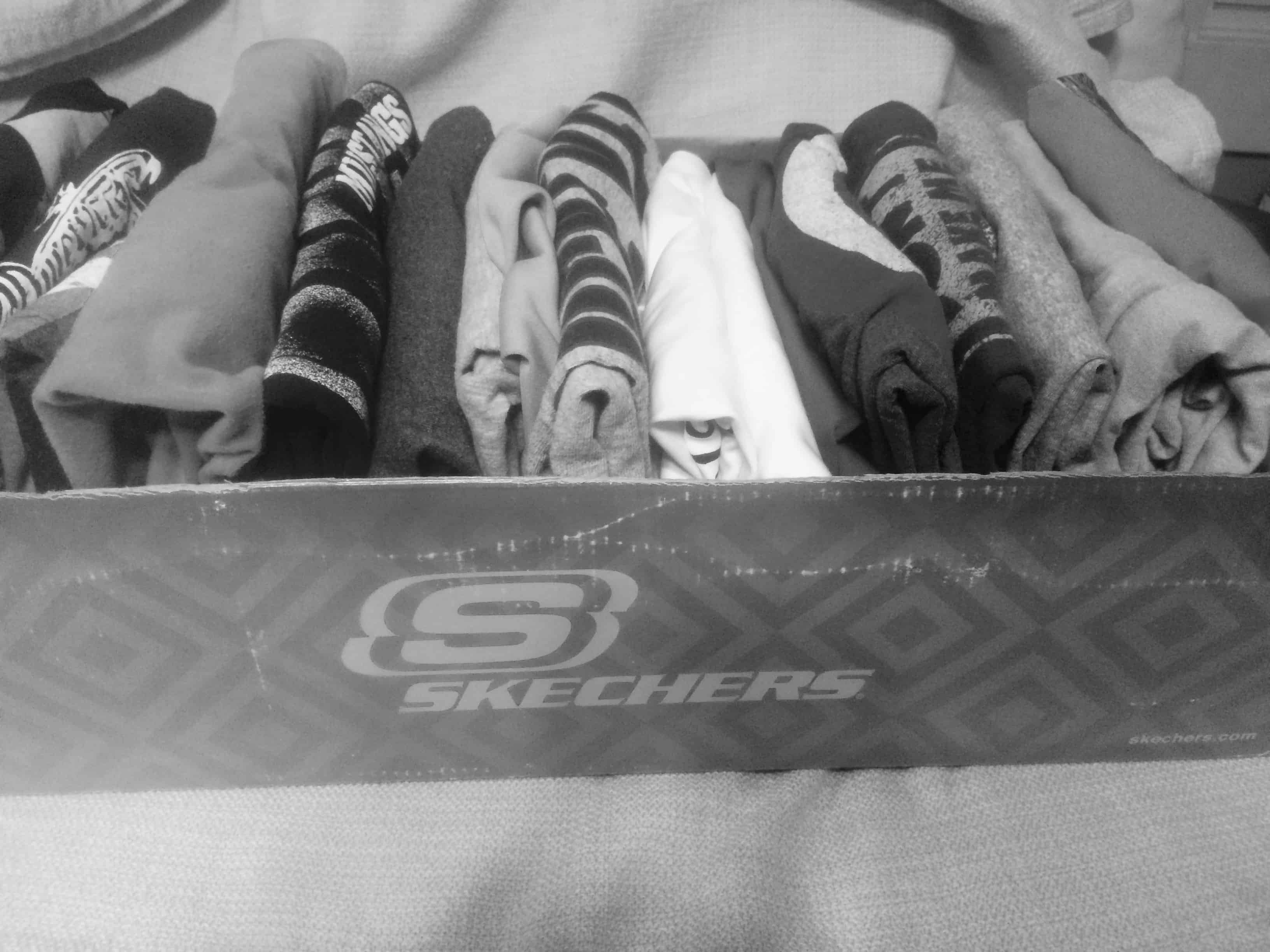 Skechers box turned into t-shirt holder. So easy to grab the one I want without overturning a whole stack!
Day 3: I cleaned my dresser (3 drawers) I ignored the top drawer which holds jewelry and sentimental items (another day) and my husband's drawer (again own stuff only). I discarded a lot of socks and work-out bras and donated pajamas and shorts that were in good condition. My son was telling me that he was bored so I invited him to join me in drawer cleaning (he declined).
Day 4: I still need to clean-out my coat closet and shoes to be completely done with my clothing, but I moved on to category #2: books. I have A LOT of books. From bookshelf #1 I donated 6 boxes following the KonMari method. Hold each book in your hand and ask yourself if it really brings you joy. With that in mind, I was able to really get rid of a lot of books. I had to bring my husband in on this one too. He thinks I'm crazy but since he didn't find joy in most of his books they are gone! This bookshelf was previously crammed and double stacked. I now have a big bookshelf with extra space that I filled with favorite framed photos. I even had a space to put my work notebooks so I can grab them when needed and then put them away instead of just floating around the house. I had to be careful not to get distracted by historical items such as photo albums. I kept these, but may return to them later. I then moved onto another bookshelf full of children's books. This was harder because as an old preschool teacher so many of those books are joyful for me. I still donated 1 big box of books and have a cleaner shelf. I was able to create this memory shelf holding all my children's former comfort objects beside one of my favorite books, Knuffle Bunny.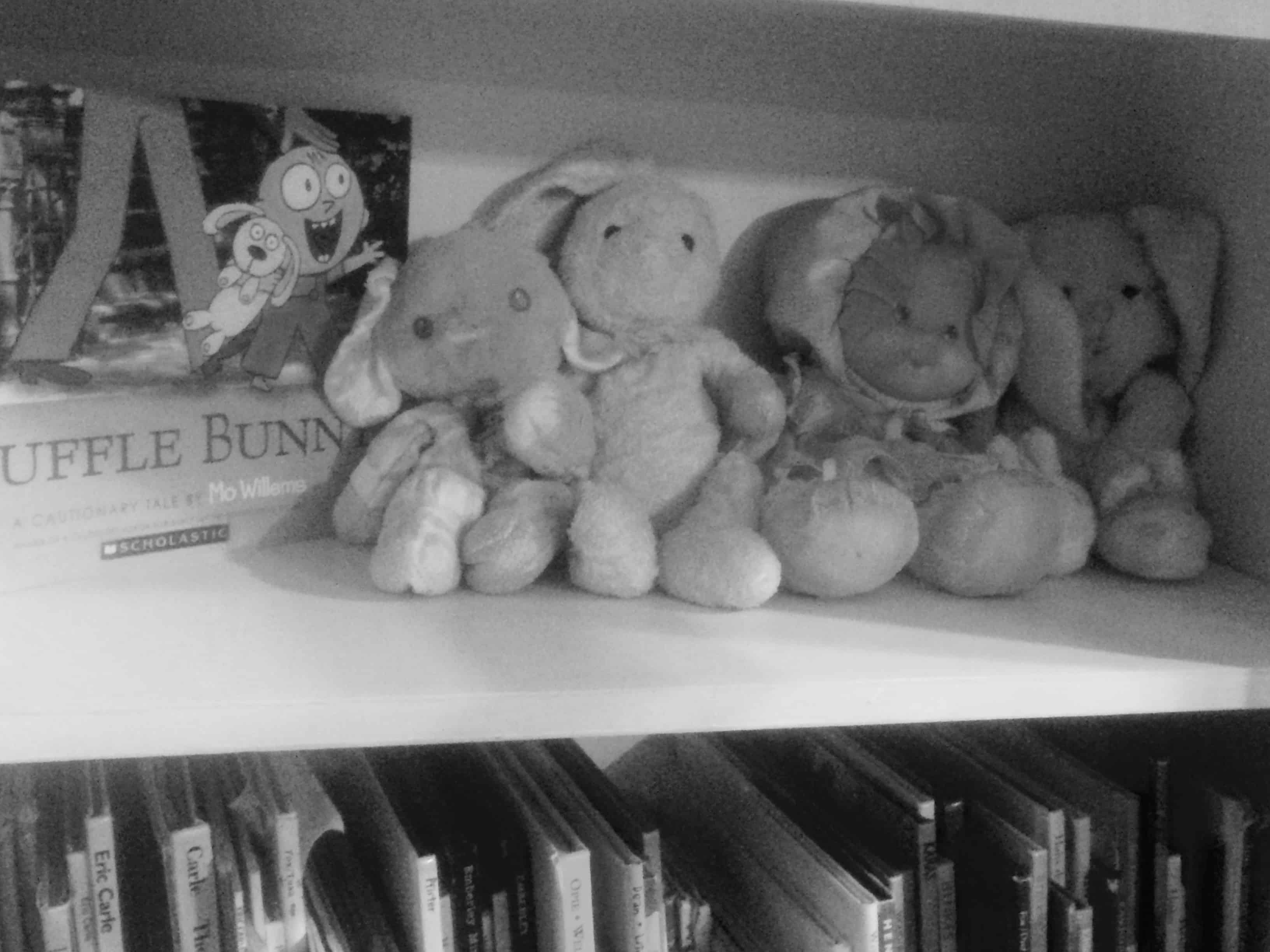 I'm done with books for now, although I still have several boxes in storage. I am saving these for the "momento" category as they are sentimental for me.
Day 5: One more book bash as I went through my cookbooks. I got rid of some of those by ripping out individual recipes and putting them in a binder then donating the rest of the book. I also was cleaning up my fall decorating on this day. As I put decor away, I pulled out things I hadn't used this year and was able to get rid of another box. More garage storage, yeah!
Day 6: I'm back to my closet again because it is time to put away my fall capsule and bring out winter. (I did mention that these days were not consecutive, right?!) I got rid of any fall clothing I hadn't loved, stored the rest and brought out 30 pieces for winter. It gets easier every season! And my storage closet is getting lighter as I get rid of more things as the seasons end. And, my "leave your families stuff alone" theory proved itself when my husband joined me and cleaned out his side of the closet 🙂
Day 7: More proof that you should not force this idea on family members: my 12 year old son asked for help on his dresser (previously declined, remember?). We cleaned out 2 garbage bags of clothing. I helped him fold his t-shirts and stand them on end in a shoe box. He is very happy with his cleaned out drawers. Tip: resist the urge to question your children or pressure them into keeping clothing that YOU like. Let them make their own choices and you will avoid keeping things that will remain unworn. We have a neighborhood Facebook page where I posted that I had bags of unwanted boys clothing and our discards were claimed by the end of the day by other families. Perfect.
So there you have it, 7 days of work towards my clutter free, perfectly organized home. I have a long way to go, but I am loving the results so far. It really is life-changing to clear enough stuff out of your life so that everything has a place to be put after use. There is no reason for a book not to be put away, when it is so easy to slip it back on the shelf after use.
Start and share your declutter journey today. It is a wonderful way to welcome in a new year. Can you get rid of 2,016 things in 2016?