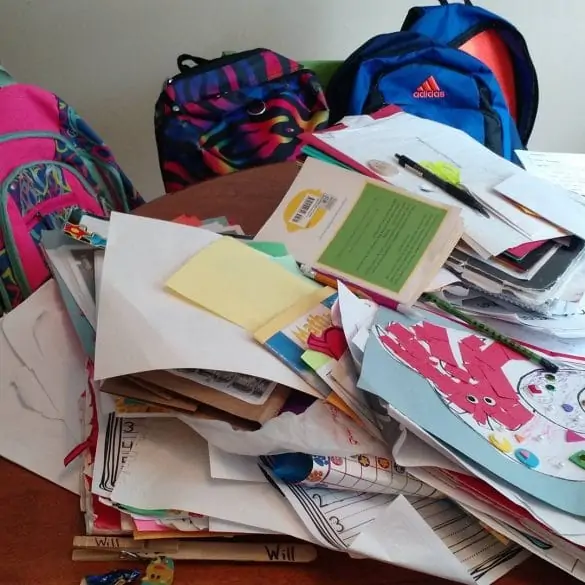 School's out for summer! That means that backpacks are filled to the brim with end of school paperwork, artwork, projects, and more! Emptying out those backpacks can be a daunting task, so just take it one step at a time.
Dump All The Paperwork
This post may contain affiliate links. As an Amazon Associate I earn from qualifying purchases. For more information, see our disclosure.
First, dump out all the backpacks and make a pile of the paperwork. This will be faster than pulling out one sheet at a time. Start sorting through the big pile and make smaller piles, one for trash, one for saving, and one for recycling.
Recycle or Trash
Recycle everything that you can! Be sure to pull staples off any paperwork first. Trash anything you can't recycle: broken pencils, crayon bits, laminated papers etc…
Save Important School Paperwork
There will undoubtedly be a good-sized stack of papers to save. Save academic reports like report cards, state exam results, etc. in a folder in your file cabinet. For artwork and projects, decide how you want to display or save them. Hang up artwork around the house. Your child will be so proud to see their creative work on display. Save artwork and projects in plastic totes in the attic, basement, or a storage closet. Or, you can save them in files in a file cabinet. If you are looking to save space and cut down on clutter, you can scan your child's important school papers so that you'll always have them!
There are also companies who can turn your child's artwork into a book. Plum Print is just one of many companies that offer this service. You can also turn your child's artwork into a stuffed animal! This does cost quite a bit, but it is absolutely adorable!
Reuse for Summer Work
Ultimately, my kids end up coming home with workbooks that are only half filled in! Instead of recycling these, you can rip out the pages that were completed and hang on to the rest of the worksheets for "summer work." If you are looking to keep your kids occupied and still learning over the summer, it's great to have grade appropriate work already instead of having to go out and buy a workbook or scour the internet for worksheets!.
Have a Bonfire!
One fun thing my kiddos like to do (especially my older kids) is to burn their school paperwork! We like to sit around the fire pit a lot in early summer before the weather gets too hot and my kids love to toss in their paperwork or crumple it up and use it as kindling! Of course, you'll need to be very careful if this is the option you choose for getting rid of all those papers!
Before you celebrate the end of school, empty out those backpacks! Handle all those school papers as soon as the kiddos bring them home!