One of the best parts about taking a few days off during the summer with your kids, are the slow mornings with no pressing deadlines or obligations.
It's during these slow mornings that I enjoy making my family my favorite type of food: breakfast food! Don't settle for cold cereal every morning–try one of these summertime breakfast ideas that our kids love.
Favorite Summertime Breakfast Ideas
This post may contain affiliate links. As an Amazon Associate I earn from qualifying purchases. For more information, see our disclosure.
I've gathered together three, of my favorite, uncommon breakfast recipes. There is something to flip, something to bake, and something to drink.
Something to Flip: Protein Pancakes
My friend shared this "healthy" pancake recipe with me a few years ago. I call them "Protein Pancakes." These are made with oatmeal, banana, eggs, and cottage cheese. It sounds strange, but they turn out delicious.
Even my toddler loves them. I like to eat them with fresh cut strawberries and whip cream. Something about the blended flavors of banana and strawberry make this breakfast a strong contender against regular buttermilk pancakes.
This Protein Pancake recipe is also amazing because if you have gluten free oatmeal, you can make gluten free pancakes that are still tasty.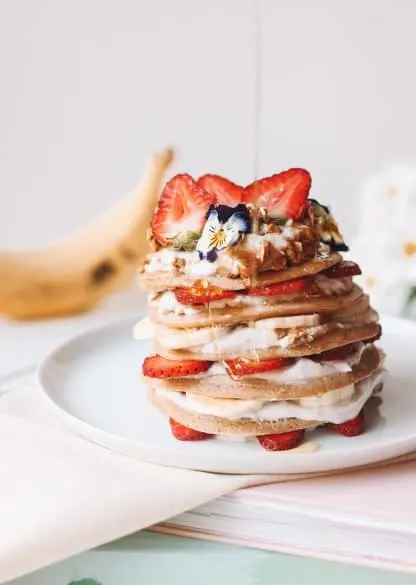 Ingredients:
1 cup of Old Fashioned Oatmeal
A medium banana
1 teaspoon baking powder
1 teaspoon cinnamon
2 large eggs
½ cup of cottage cheese
2 tablespoons of milk
Optional:
Cut strawberries
Organice Maple Syrup
Whip cream
Directions:
Place the oatmeal, banana, baking powder, cinnamon, eggs, cottage cheese, and milk into a blender. Blend until smooth. Cook on a buttered or greased skillet over medium heat.
Top with strawberries, whip cream, and maple syrup. Then enjoy.
Tip: Do not let the residue from the protein pancakes dry onto your blender. It's best to give everything a rinse right away when you're done.
Something to Bake: German Pancakes
German pancakes are sometimes called Dutch Babies, but whatever you call them, they are delicious. This is one of my favorite meals of all time.
It uses only 5 ingredients that you almost always have at home. I use a family recipe that is easy to remember. But I've read about other recipes that add an additional ¼ cup of flour and still turn out tasty.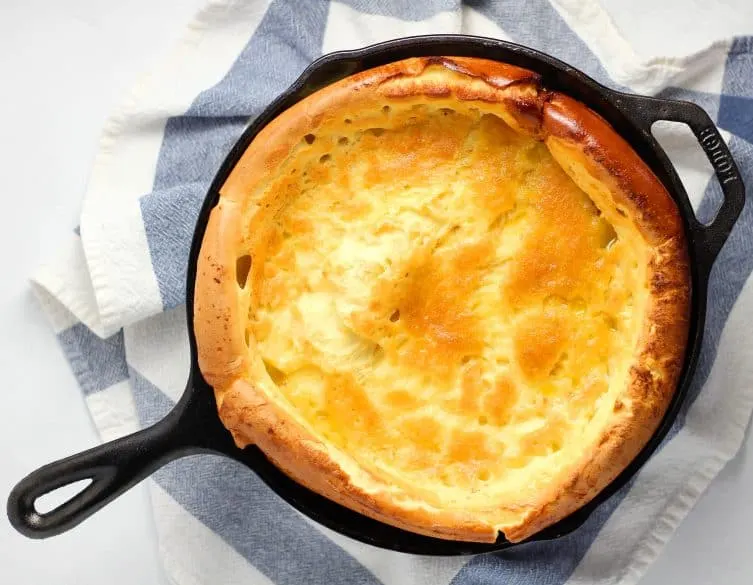 Ingredients:
6 Eggs
1 Cup Flour
1 Cup Milk
¼ Cup Butter
1 Teaspoon Salt
Optional toppings:
Powdered sugar
Maple syrup
Strawberries
Whip cream
Lemon
Directions:
Preheat oven to 400 degrees. In a 9×13 cake pan (or cast iron skillet) add ¼ cup of butter and put into oven to melt. Watch carefully so it does not burn. While it's melting, whip the eggs until they are foamy.
Add the flour, salt, and milk. Stir until well mixed. Batter may be slightly lumpy which is ok.
Pour the egg mixture into the heated pan with the melted butter. Then put into the oven. Do not "mix in" the butter and egg mixture. Just let it mix naturally when you pour them together.
Bake for 25 minutes.
After they are done baking, cut them into squares and serve with your favorite toppings. Mine are strawberries and whip cream with maple syrup.
Tip: If you want a more dense and spongy German Pancake, then use Cake Flour instead of All Purpose Flour.
Something to Drink: Spinach Smoothie
Smoothies are the perfect summertime breakfast idea! Sometimes I want a lighter breakfast that helps me get more nutrients and vitamins than a piece of toast.
That's when I make my favorite spinach smoothie. Don't worry if you're not a big fan of spinach, I wasn't either until I started making this smoothie. The banana and orange juice flavors really shine through in this recipe.
I would recommend using a frozen banana because it changes the consistency of the smoothie and gives it a creamy almost ice cream texture.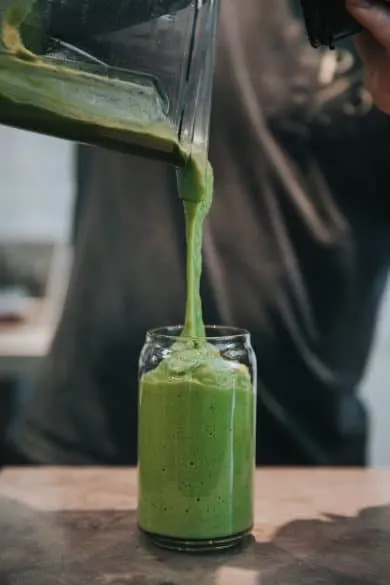 Ingredients:
½ cup of Orange Juice
1 Frozen Bananna
1 Large handful of raw spinach
2 Ice cubes
Additional add ins:
Directions:
Mix all ingredients in a blender. Pour into a glass and enjoy.
Tip: Do not let this smoothie residue dry onto your blender or glass. It's best to give everything a rinse right away when you're done.
I hope these summertime breakfast ideas bring joy to your family's mornings.
For summertime dinner ideas click here.