Are you looking for a quick and easy dessert? This fried peach cobbler hack is the ultimate simple treat. This easy peach cobbler uses canned peaches and canned flaky biscuits so it is easy to make any time. Be sure to enjoy it warm with ice cream or powdered sugar!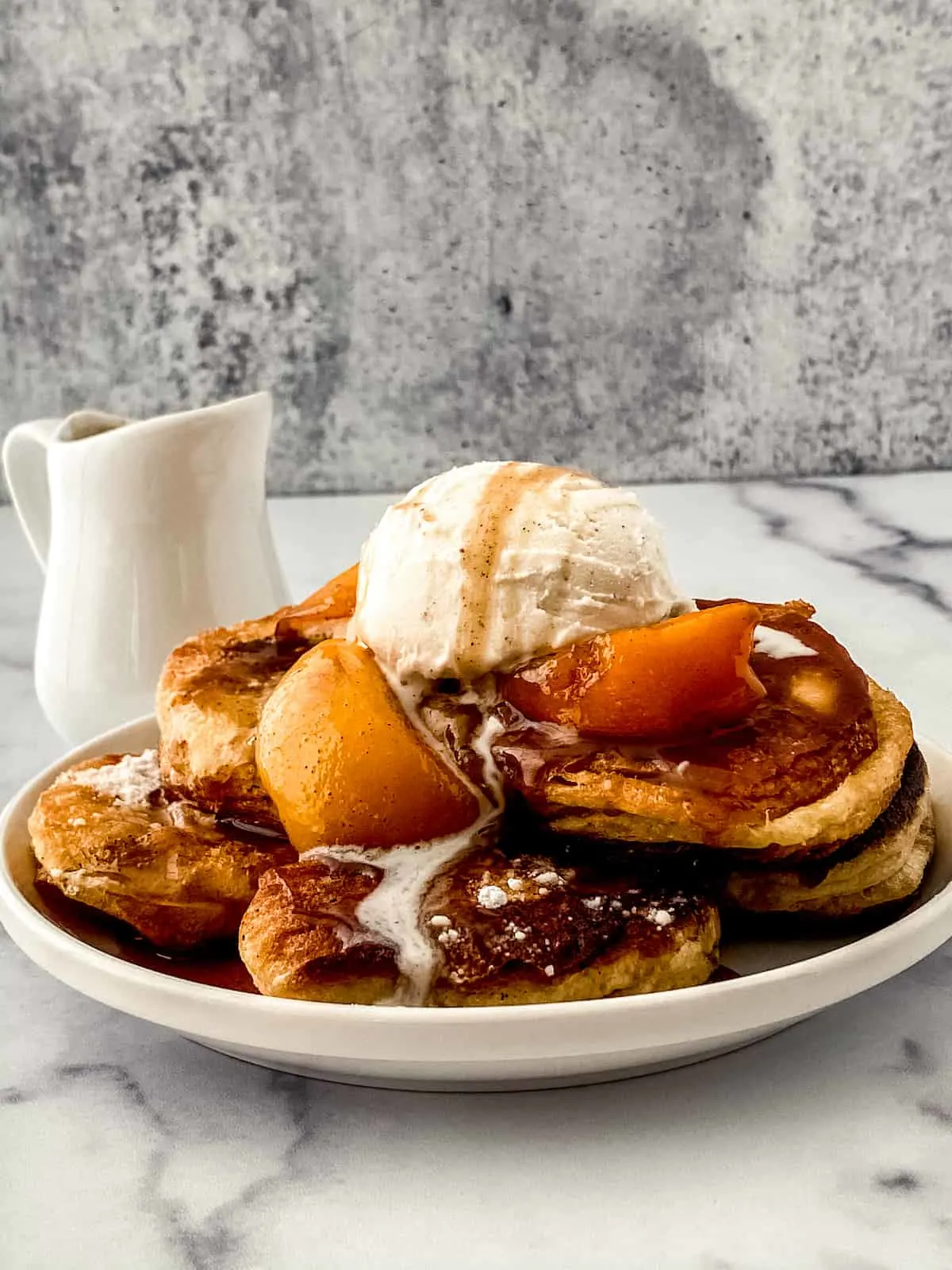 Easy Fried Peach Cobbler Hack With Biscuits
This post may contain affiliate links. As an Amazon Associate I earn from qualifying purchases. For more information, see our disclosure.
We love dessert in my house, or snacks. Or treats…or whatever you call it. This easy fried peach cobbler hack is the ultimate quick and easy dessert.
It is made with things we always have on hand like canned peaches and canned flaky biscuits. Have fresh peaches? No problem, you can use those too.
We simply fry up the canned biscuits, then create a nice simple sauce for our peaches. We add the peaches and cook for a few minutes, before topping the biscuits with this delicious peach mixture.
Some of us like it served with powdered sugar, and others love our favorite ice cream. Whichever the case, this dessert comes together quickly, and best of all it is economical in addition to being easy to make.
Should I use canned or fresh peaches for peach cobbler?
Honestly, it doesn't matter. Use what you like, or better yet, what happens to be on sale!
Can I fry my biscuits in the Air Fryer?
If you use fresh peaches, plan on cooking them longer if you like them very soft. When we use fresh peaches, we don't cook them that long, because we enjoy the crunch they bring to the dessert.
You bet you can! Brush each side of your biscuit with butter or oil. Place in your air fryer, and bake them at 325 for 8-10 minutes.
Be sure to keep them in a single layer so they get nice and golden brown, and rise easily.
OK So I don't have pull apart biscuits, but I have regular biscuits.
Go for it. Roll them out a bit with a rolling pin, or just smash them down before you fry them. Volia! You will be good to go.
If you really feel daring, you can slice them in half to get the pull apart feel, but this can be a bit challenging.
Serving Your Easy Fried Biscuit Peach Cobbler
There are too many ways to serve this easy delicious dessert. I like to smother my friend biscuit with peaches, then add some powdered sugar.
Others in my family love it with their favorite ice cream. Vanilla is big seller, but some like chocolate too.
Some just eat the peaches. Some like to dip the biscuits in the peach glaze.
There's no wrong way to eat this quick and easy dessert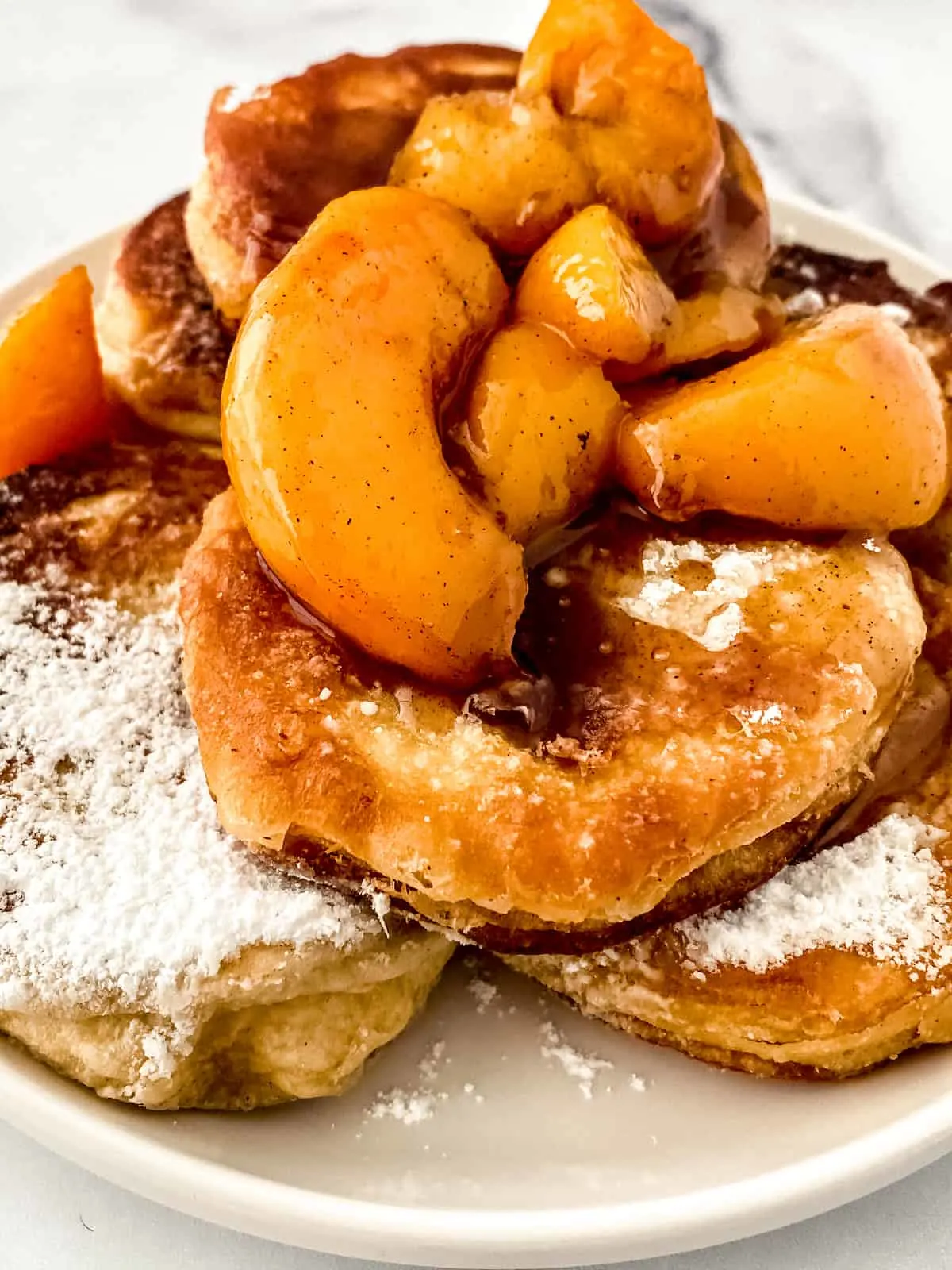 Like this simple family recipe? Check out some of our other favorites.
Yield: 10
Fried Peach Cobbler Hack With Biscuits
This is a quick and easy dessert recipe that is great for a crowd. It comes together with ingredients you can keep on hand for a quick and easy treat!
Ingredients
1 15 oz can canned peaches
1 cup brown sugar
2 tsp cinnamon
1 stick unsalted butter (cut in half)
1⁄4 cup olive oil
1 can flaky layers biscuits
Powdered sugar (optional)
Instructions
Melt half a stick of unsalted butter in a skillet.
To the skillet, add the juice from the canned peaches, brown sugar, and cinnamon.
Bring to a boil, stirring constantly.
If you like softer peaches, add them to the syrup once it has come to a boil. If you like firmer peaches, add them after the syrup has thickened.
Cook on medium/high heat for 8-10 minutes to thicken the sauce. Keep an eye on it so it does not burn.
Sauce has thickened when it covers the back of the spoon.
Remove peaches and sauce from skillet, and set aside.
Add olive oil and the other half stick of butter to the skillet, and heat on high.
Pull biscuits apart, and fry on both sides until golden brown in the butter and olive oil. You can dust them with powdered sugar as soon as they come out of the skillet if you would like.
To serve, layer biscuits into bowls or plates, and top with peaches and syrup.
Top with ice cream or whipped cream, and enjoy!
Notes
This is a great quick and easy dessert that everyone will love! You can also cut the biscuits into smaller pieces.