Getting your garage in tip-top shape can make outdoor activities and DIY projects around the house easier and more efficient. Although the garage isn't as used as the kitchen or living room, it is just as important to get it organized and keep it that way! Here are a few tips to help you on your mission:
Brooms, Mops & Rags Are Your Friends
This post may contain affiliate links. As an Amazon Associate I earn from qualifying purchases. For more information, see our disclosure.
The best way to start any organization endeavor is to get the space nice and clean. For the garage, this is going to call for push brooms, mops, and rags. Push brooms work great on concrete floors as a way to quickly remove excess dirt and debris. After you get the floor swept, get out a mop and a bucket of water with a little bit of your favorite cleaner and go to town! After the floor is dry, empty the bucket and put some clean, hot water in it. Use the rags that you pulled out to wipe down any surface in the garage that the family regularly uses (workbenches, storage pieces, shelving). Be sure to clean any windows in the garage as well with a good glass cleaner!
Storage and Space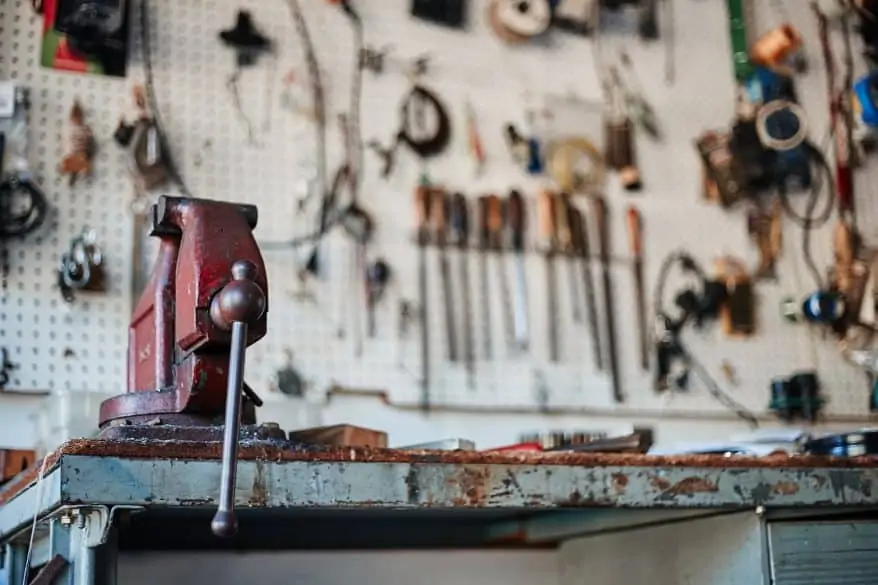 To be able to park your cars in your garage, you will need to clear out as much as possible. This means getting stuff off the floor and up onto the walls. Hit up some yard sales for tall, slim storage cabinets that can be placed tightly against the walls of the garage. These are great for storing outdoor gear, car cleaning products or extra tools.
If you use your garage as a place to work on things you likely have a work or tool bench of some sort. If you don't have a workbench you can purchase one or make one. Most large hardware stores sell tool benches. If you want to make one you can purchase a large piece of slab wood or even a sheet of plywood to use as the top of the bench. Decide how you want to lift up the surface (wooden legs, old milk crates, and old storage lockers work great!). Once you have your workbench of choice, mount a large piece of pegboard above it. You can easily hang tools and other items you may need to access quickly. You may need more than one pegboard depending on how many tools you own.
If your garage has rafters in the ceiling, use this to your advantage. Place pieces of wood across them and use the space for additional storage. Be careful not to put anything too heavy that may make the boards fall down under too much weight! Other ways to keep stuff off of the main floor is to build shelving along the walls. You can buy shelves, contract them out, or make them yourself.
Formulate A System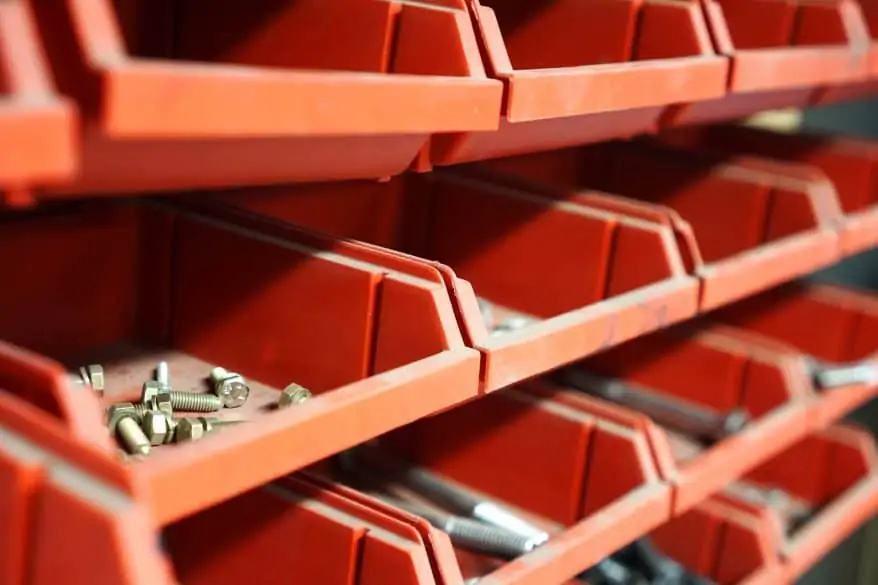 If you decide to put the tools in a certain corner of the garage, make sure that everyone that uses one puts it back there when done. Teach your kids where you want certain tools placed after their use. Encourage them to return everything to its rightful place. When each item has it's own place, the garage can stay neat and organized. After camping trips and sporting events, return gear where you took it from. After all, there's nothing worse than wanting to go on a quick hike or play a quick basketball game and not being able to find your pack or ball.