If you have a love for German chocolate cake then you are going to want to celebrate national German chocolate cake day on June 11th.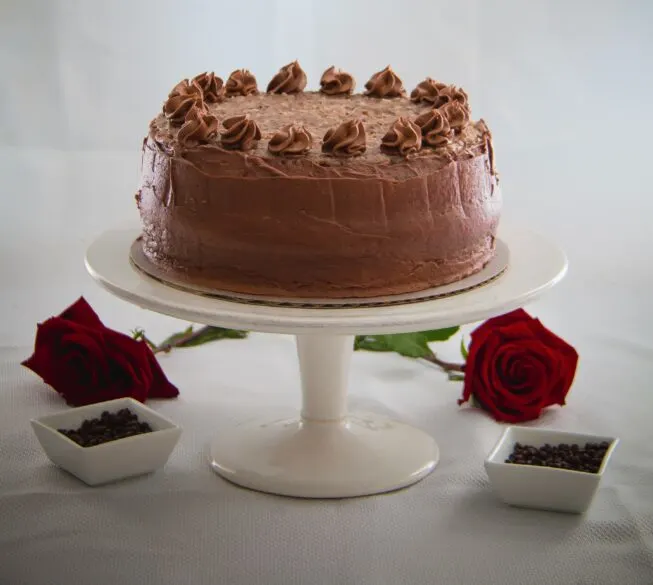 Photo by Logan Clark on Unsplash
Celebrating the German Chocolate Cake
In the Beginning…
This post may contain affiliate links. As an Amazon Associate I earn from qualifying purchases. For more information, see our disclosure.
To kickoff our celebration of the delicious (and my personal favorite) German chocolate cake let's take a look at the cake's humble beginnings.
For starters, the German chocolate cake did NOT originate in Germany. What? That's right, it came from a recipe credited to Mrs. George Clay who was from Dallas, Texas. It was born right here in America!
Mrs. George Clay originally named the cake German's chocolate cake (note the apostrophe). She named it after the kind of chocolate she was using in the cake, German's Sweet Chocolate.
German's Sweet Chocolate was also NOT made in Germany. It was named for the baker who created the sweet chocolate, Samuel German.
What Makes the German Chocolate Cake Special
The German's Sweet Chocolate is what sets this cake apart from other cakes. This type of chocolate is exactly what it's name says, it's sweeter (which is probably why I like it so much).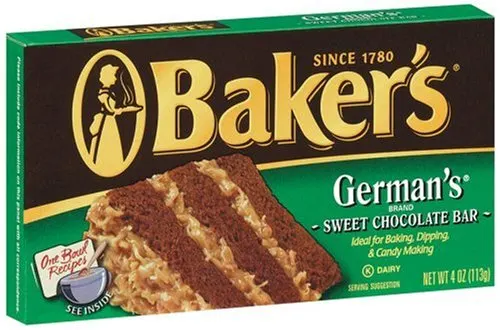 Besides using a sweeter baking chocolate this cake is known for its multiple layers (at least 2 but 3 is a win). Yet, that's not all that makes this cake special. The icing on this cake (pun intended) is literally the icing (or frosting).
German chocolate cake frosting is really more of a custard. It contains egg yolks and evaporated milk with coconut and pecans incorporated in. In an attempt to please the kiddos I left the pecans out of the frosting one time. The results were just not the same.
Lastly, it seems that the chocolate frosting we like to add around the cake or dollop on top is a new addition and not necessarily from the original recipe.
German Chocolate Cake Recipes
If you weren't in the mood for cake before I bet you are now. There are many recipes out there for German chocolate cake from old school original recipes to new and modern takes on the cake.
First, try this German chocolate cake recipe. You can tell this recipe is more of an original because it calls for the Baker's German's Sweet Chocolate as well as buttermilk.
Next, if you want to try a simpler version with the same great taste you can checkout the recipe on Barbara Bakes. What makes Barbara's recipe simpler is that it starts with a box cake mix, though it still incorporates buttermilk. To add to the simplicity of this cake instead of making it into 2 or 3 tiers you can bake it right into a 9×13 pan.
Barbara's take on the cake is also different because she uses almonds instead of pecans in the frosting.
So whether your a purist or want to try something new there is a German chocolate cake for everyone.
Other German Chocolate Options
If you find yourself craving the taste of German chocolate cake with its to die for frosting but, not enough umpf to bust out a whole 3 tiered cake all is not lost. You can still celebrate National German Chocolate Cake Day.
Here are a few other varieties of desserts that will curb your craving and help you celebrate the German chocolate cake.
German Chocolate Brownies
This take on the German chocolate cake is easy peasy. You can start with a homemade brownie recipe or grab a boxed brownie mix from the shelf (no judgement here).
Then, add the finishing touch by putting the delicious German chocolate cake frosting on top. Not in the mood for pecans or don't have any on hand? No problem! You could try substituting them with walnuts.
Check out creationsbykara.com to see the full recipe for the German chocolate brownies.
German Chocolate Cupcakes
Looking for a smaller version to celebrate National German Chocolate Cake Day? Why not turn that 3 tiered cake into tiny hand held versions.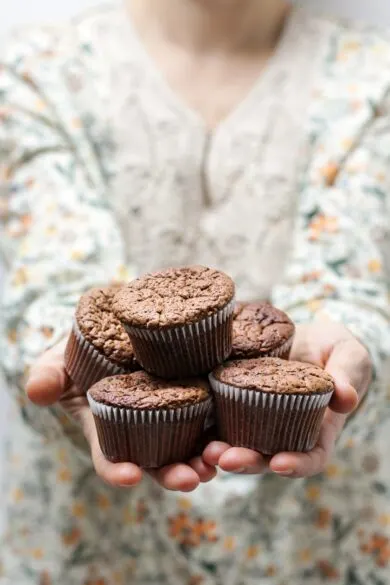 Photo by NordWood Themes on Unsplash
You can use the same cake recipe (or box mix) and then infuse the center of the cupcake with that delicious frosting. Then top it all off with some chocolate frosting and toasted coconut flakes.
If you would like a recipe to follow when making your German chocolate cupcakes check out this one at Cupcake Project.
German Chocolate Fudge
Friends, lets be clear that any time of year is a great time for fudge! Fudge is super yummy by itself. Yet, when you add that amazing one of a kind German chocolate cake frosting you have elevated it to a whole new level.
Follow this recipe from the Spicy Southern Kitchen to make your German chocolate fudge. Of course you start off with an amazing fudge recipe but the difference comes in the frosting. For this recipe you are using heavy cream instead of evaporated milk.
German Chocolate Cookies
For this tempting dessert you will start with a chocolate cookie base. You can follow the one here from Kylee Cooks. Or, you can make a cookie from a German chocolate boxed cake mix. Check out the recipe for that one on This Farm Girl Cooks.
Then it becomes a choose your own adventure situation. You can opt to put your German chocolate frosting on top of the cooled cookie. Or, you can mix it into your cookie batter and make a new fabulous tasting cookie. The choice is yours.
There is no shortage of ways to celebrate National German Chocolate Cake Day! You can start by informing your loved ones of your new found knowledge about the American made cake.
Then, depending on your time and energy and taste buds you can make any version of the scrumptious tasting dessert. From a beautiful 3 tiered cake to a smaller version in the form of a cupcake. As easy as a box mix brownie or cookie to an impressive tasting piece of fudge. Enjoy celebrating this most tasty National German Chocolate Cake Day.