Ah newborns. Aren't they magical? With their sweet soft skin, fuzzy heads, and adorable yawns. They do have one flaw though – they don't like to sleep at night. Which means you don't get to sleep at night. And that can be a bummer.
So why not make their nurseries as serene and as relaxing as can be? Although colorful spaces are always fun for a kids room, today I'm feeling inspired by these more subtle and tranquil spaces. Each one of these rooms seems like it would be the perfect spot to put up your feet and soothe a newborn baby.
This post may contain affiliate links. As an Amazon Associate I earn from qualifying purchases. For more information, see our disclosure.
Looking for a gender-neutral space? Whether you're not into the pink and blue divide, or maybe you're waiting to find out the gender of your baby until you meet him or her – each one of these beautiful nurseries fits the bill.
Examples of Beautiful Gender-Neutral Nurseries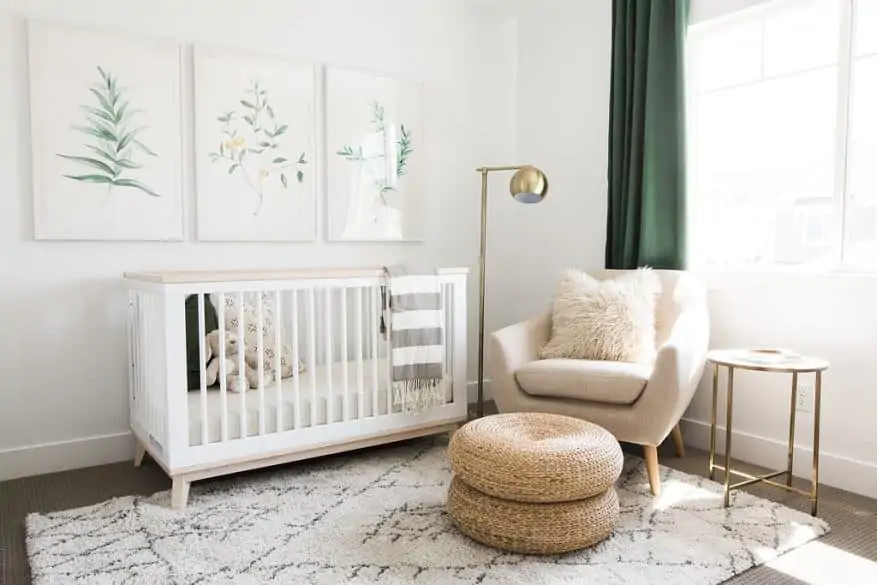 Source: Akin Design Studio
I love the pops of green in this space. The large nature-inspired art and the dark green curtains add just the right amount of color. When there isn't a lot of color, different texture elements are key, like the woven footstools and fuzzy pillow.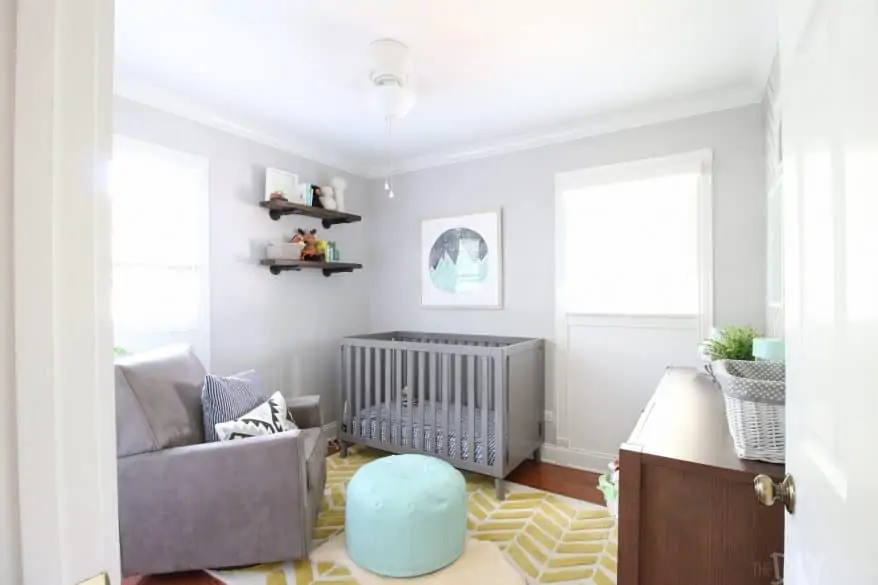 Source: The DIY Playbook
But ggender-neutraldoesn't have to mean colorless. The graphic yellow rug in this space is playful and unexpected.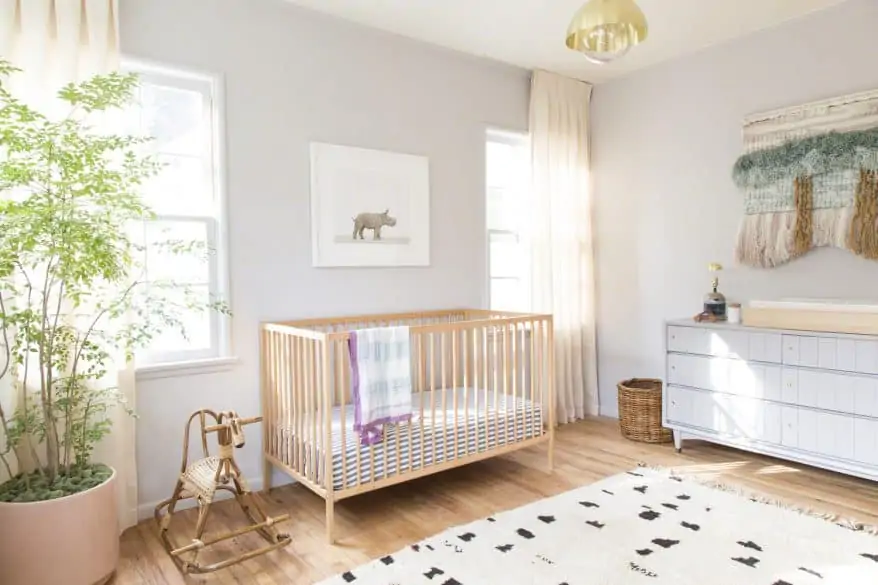 Source: Mini Style
Don't you just want to hang out in this room all day? I love how the large plant brings life and movement into the room – and often plants are overlooked when it comes to nurseries. The woven wall hanging is soft and soothing, making it perfect wall decor for a baby room.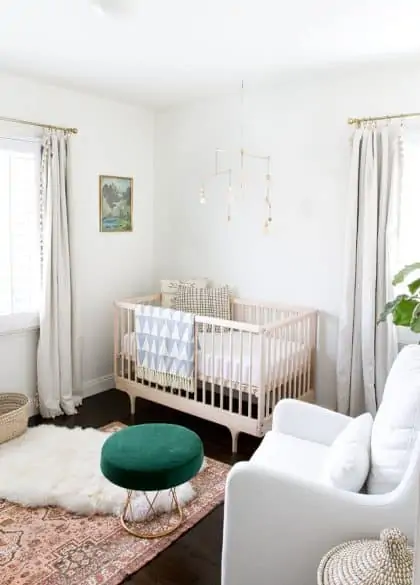 Source: Sarah Sherman Samuel
Layered rugs can bring added texture and coziness to a space, and how beautiful is that brass mobile?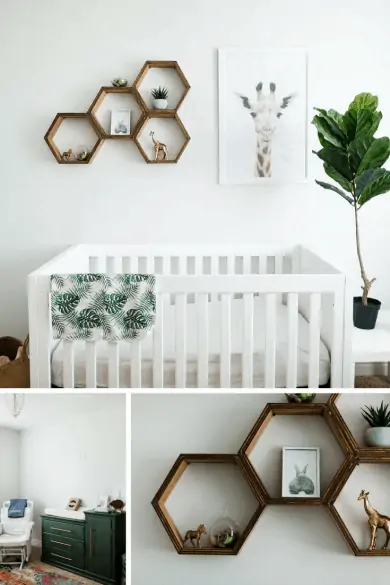 Source: Lot 801
I love how this room has a jungle and animal theme happening, but it's done in a very subtle and sophisticated way. The hexagon shelves are a beautiful way to display meaningful mementos.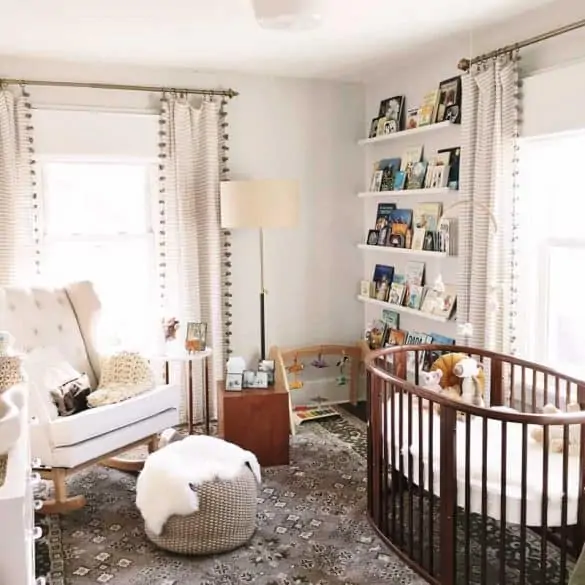 Source: Design Sponge
This room proves gray doesn't have to be boring. The rug is sophisticated enough that it will age well with the child, while the pom pom curtains add a needed playful element.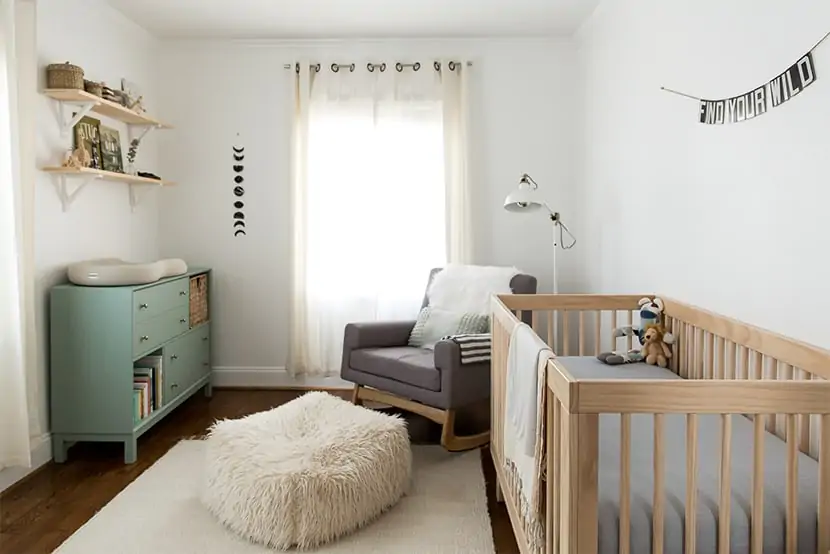 Source: Fresh Exchange
This room is mostly whites and creams, which makes the beautiful mint green dresser really pop. What a beautiful and welcoming space for a newborn nap.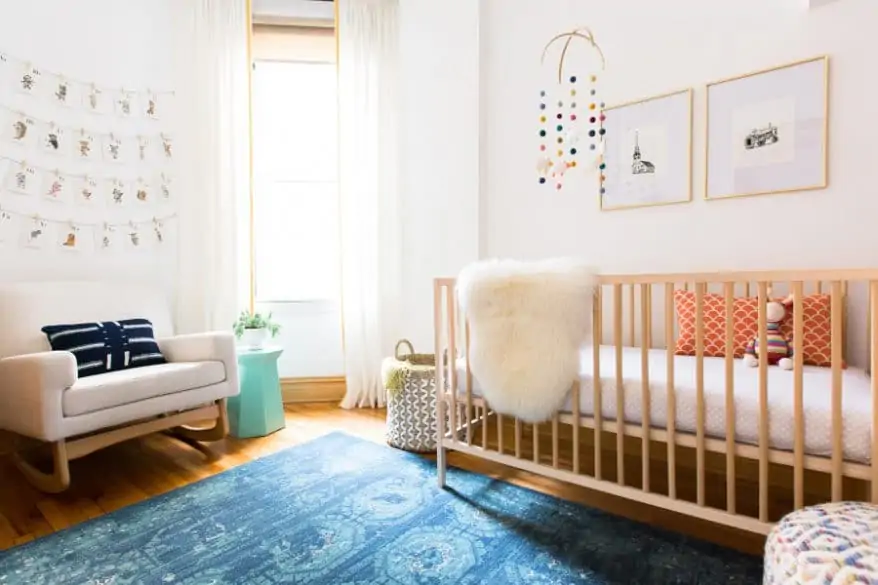 Source: Style Me Pretty
This room manages to be gender neutral, serene, and yet still colorful. The large pieces like the rocker, the crib, and the walls are neutral – allowing color to be brought in with smaller accessories. Overall it creates a refined yet fun style.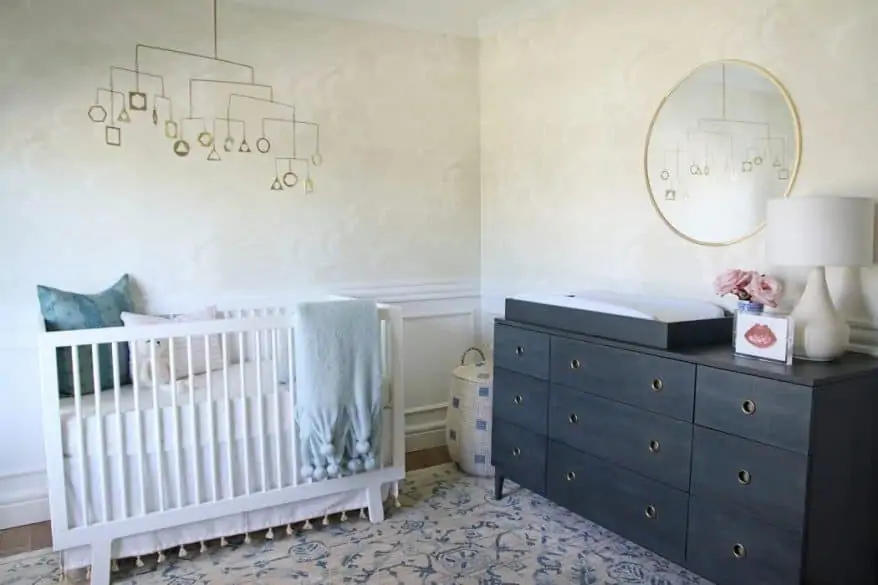 Source: Chris Loves Julia
This space was created for a girl, but it would work for a boy as well. I love the very subtle wallpaper that adds depth to the walls. The touches of brass elevate the space to another level.