Have you heard about the glow party rage? Read on to find out more about these awesome and amazing glow in the dark parties. These are fun for all ages, and why they look hard, they are super simple to throw! We have everything you need in our Glow Party Guide right here!
What is a glow party?
A glow party is a party where everything glows! These parties are fun for all ages, and very popular righ tnow. They are often held at night, since the effect of black light at night is so effective. If you're looking to have a glow party during the day, be sure to keep those windows covered! We're going to take a look at everything you need to throw the best glow party ever.
This post may contain affiliate links. As an Amazon Associate I earn from qualifying purchases. For more information, see our disclosure.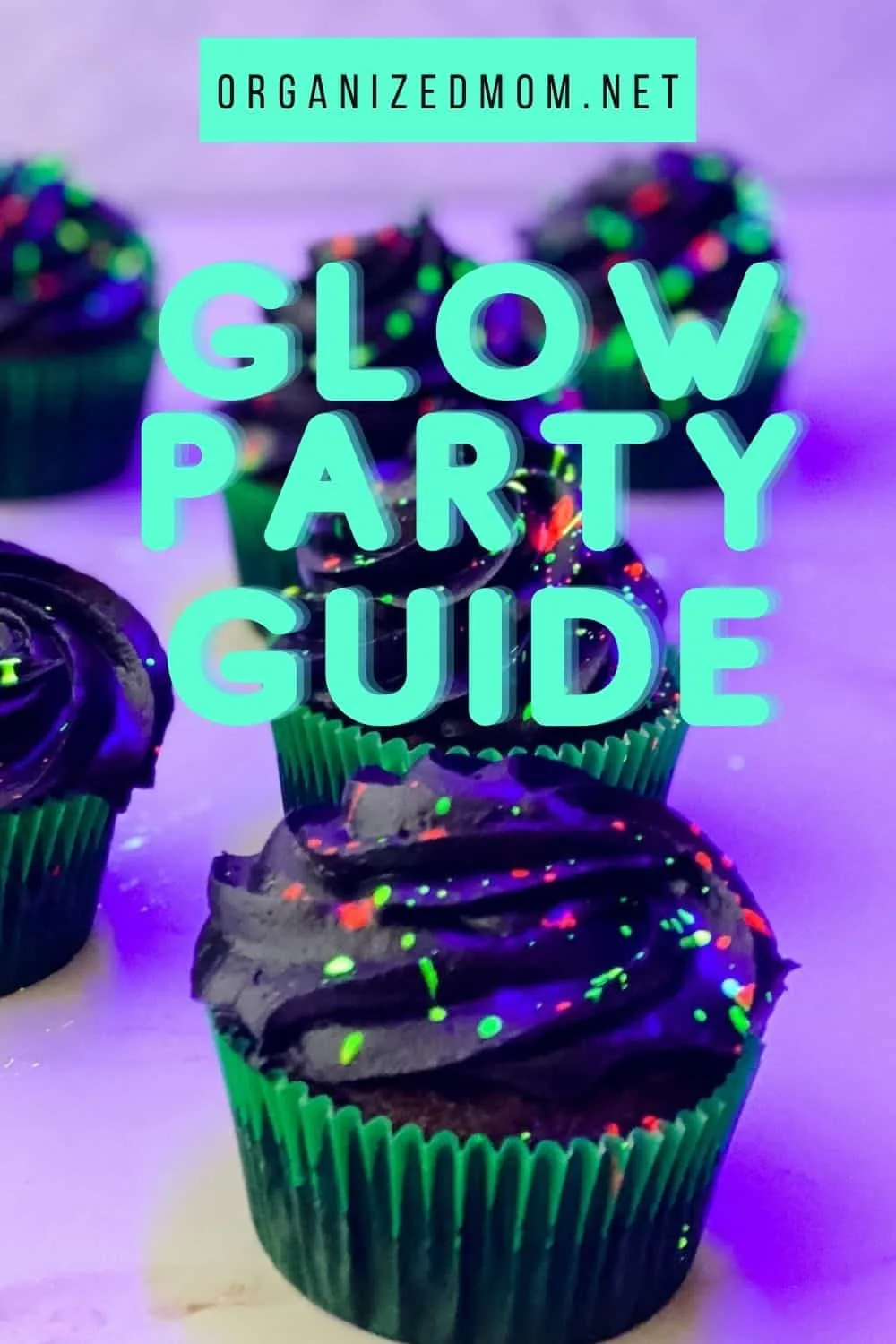 What do you do at a glow party?
Anything you would do at a regular party, but glowing! Some like to have themes for their glow parties, while others have it like any other party. All the traditional party games hold true at a glow party, and you can add some special touches that will, of course, glow!
Get More Info
This tic tac toe game is great thing to play, and so is this glowing version of jenga.
Get More Info
What should I wear to a glow party?
If you are going to a glow in the dark party, then be sure to dress in bright colors that will really stand out against your black backdrop.
The best clothing for a glow party is anything florescent and loose-fitting so it will show off all of the fun designs!
Glowing makeup is also really popular at glow parties- it's so much fun to create different looks with the help of florescent powder or paint!
Get More Info
You could use light up glittery eye shadow, or make a whole face design like this one.
Get More Info
This possibilities are really endless.
How do I set up my own glow party?
Setting up your own glow party can seem like a daunting task, but it doesn't have to be! To get started you will need a few simple things:
A large area to have your party in,
your favorite black lights (we're going to take a look at some options)
florescent decorations that will glow in the dark
glow sticks
glowing drinks
glowing food
Now, let's take a closer look at each of these items. We have everything you need to know about the best glow in the dark party supplies around.
Where to have a glow party
Either have your glow party at night, or hold it in a dark room you can black out. You can have a glow party anywhere, even your own house, or outdoors at night.
This is key to keep the light out so you can have the most glow effect from the black lights, decorations, food, glow sticks, and fun.
The Complete Black Light Guide for Glow Parties
The trick to the ultimate glow party is of course a black light. There are many different styles of black lights to choose from. Some black lights have the ability to be plugged in while others use batteries and need to be hand-held.
If you're like me, you're probably thinking of those long bulbs and tubes that you used to use as a teenager. The truth of the matter is that technology has come a long way, and now LEDs are the way to go. The best part of this is that they are tremendously cost effective.
Let's take a look at some of our favorites.
Set of 2 100 Watt Glow Party Lights
These lights are great, because they come in a two pack. Because of the way they are designed, they can also cover a larger area.
Get More Info
These are a great option for some main lighting effects, as you can see in this chart.
Get More Info
Glow Party LED Bar
This is another great option, especially for your food and drinks table. It really is unique since it is arraged in a LED bar type of display.
Get More Info
LED Glow Party Disco Balls – 2 Pack!
This is another really fun option. These are amazing glow party disco balls that have remote control and strobe light functions.
Get More Info
Glow in the dark party decoration ideas
The great thing about a glow party is that you can have as few or as many decorations as you would like, there are so many glow in the dark party decoration ideas out there, many of which are very cost effective.
You can get ready made glow party kits when it comes to decorations, that have everything you need.
Get More Info
The trick is anything fluorescent and glow in the dark, because they will look amazing under the black lights.
Get More Info
You can also head to the dollar store and get some regular party supplies, then splatter them with fluorescent paints.
Get More Info
Think about things like tablecloths, centerpiece decorations, the outside of cups, etc. You can get really artsy with neon paints and fluorescent paints, and even allow guests to help decorate!
Get More Info
This is a great way to turn it into a true DIY glow party experience, and to keep costs down.
Glow Sticks for Glow Parties!
Of course, you have to have glow sticks for glow parties!
Besides anything fluorescent, light sticks and other light accessories are an absolute must! They are a fun way to really get creative with things and have a good time.
You would be surprised what you can find at your local dollar store, my advice would to be to head their first to raid their stash of glow sticks and glow jewelry.
Believe it or not, the internet can be almost as cost effective if you can't make it to the dollar store.
Get More Info
Here is another fun set of a ton of different glowing light up accessories!
Get More Info
Drinks That Glow with Tonic Water
Believe it or not, tonic water glows with a black light! You can make many fun punches, mocktails, and even adult beverages with tonic water.
You can easily adapt your favorite beverage recipes with tonic water. For punches that use things like water or sprite, simply use tonic water instead! Tonic water is also a great mixer for many adult beverages.
Don't forget the glowing straws!
Get More Info
The Best Glow Party Food and Recipes
Of course, the best part of a party is always food! Glowing food is a must when it comes to your glow party. We have so many great ideas for glowing desserts it isn't even funny!
These DIY glow party recipes are super simple, and of course super delicious. They make for a great way to light up your night, and you can use the recipes and treats you know and love.
The trick to creating the best glow party desserts is two fold.
First is black frosting or candy. You can pick your favorite frosting, and add black food coloring to it. Likewise, you can also glow chocolate or candy coated items.
So let's start with your frosted items like cakes and cupcakes. The essential is black food coloring, which you can find here.
Get More Info
If you're coating food items like pretzels and strawberries and donuts in chocolate, used the deepest darkest chocolate you can find, or chocolate melts like these:
Get More Info
The next thing you will need is your glow coloring for decorating. There are many ways you can do this, like mix it into white frosting.
Hands down the best product to use Rolkem Lumo powder which you can find on Etsy.
You can mix the powder directly into frosting, or do what we like to do, which is make this amazing splatter effect.
Simply mix your Rolkem Lumo powder with a tiny bit of lemon extract, until you have loose consistency like glue.
Grab your favorite paint brush and load it up, flicking it to splatter your treats. You can also hold it over your treats and shake, or bang it against your hand.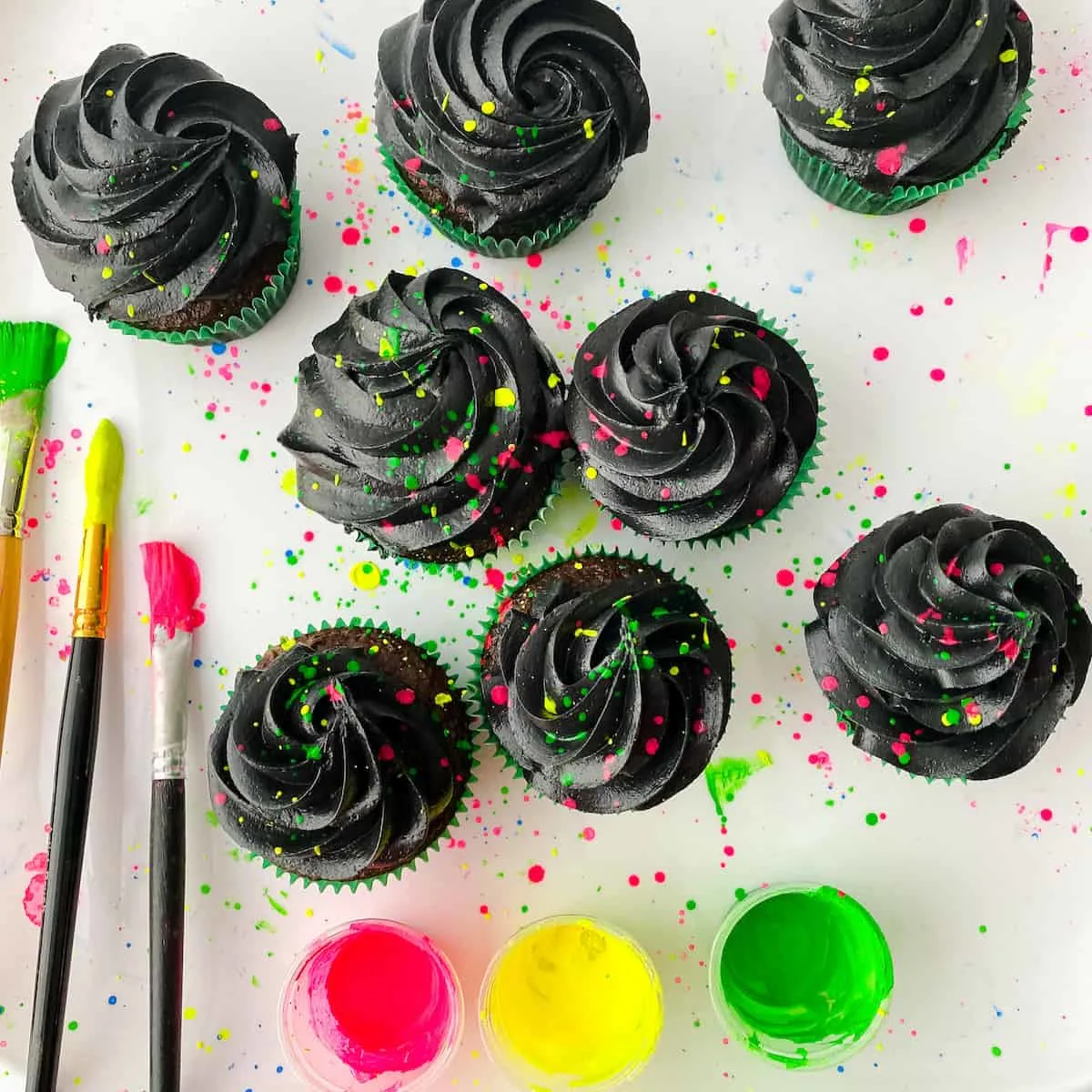 You can decorate your chocolate cover treats the exact same way!
The Ultimate Glow Party How To Guide
We've covered absolutely everything you need to have the best glow party ever in this guide! Be sure to save this page for later and share it with your glow party friends!