Gift-giving has been a stressful thing for me in the past. If I don't have an Amazon wish list or Pinterest account as my guide, I struggle to coming up with an original, thoughtful gift. A year or two ago, my mom gave me a subscription for Christmas and I loved it. It's the gift that keeps on giving! Who doesn't like to get a fun surprise in the mail?
There are lots of options for subscriptions out there…from physical products to services, it can be hard to narrow down which one is best for the loved one you're buying for. I've done some research and compiled a wide variety of choices in the hopes that you'll be able to pick a gift for those who are especially hard to buy for. You could also always share this post as a subtle hint to friends or family members if you see something you're interested in. 😉
Note that costs are approximate and there are discounts available for some of the subscriptions; I found that, for the most part, shipping is waived with a multiple month subscription. Also, there are a lot of introductory offers running for the holidays!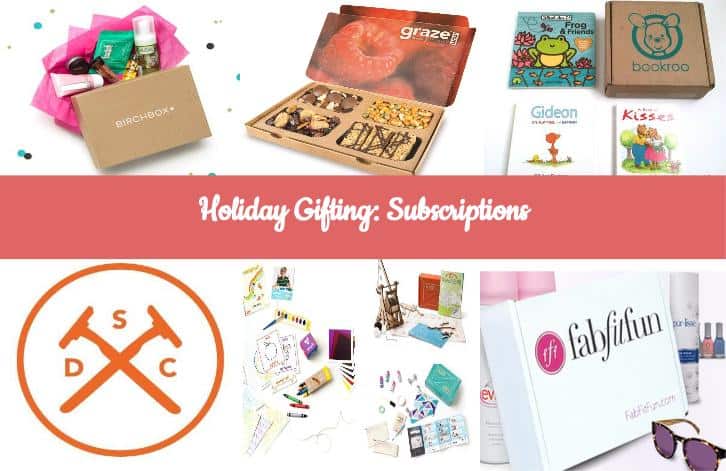 For the beauty guru
Birchbox sends 5-6 samples each month of hair, makeup, skin care, fragrance, and other personal care products. The subscriber can fill out a survey to customize their samples and receive points for reviewing samples.
Approximate Cost: $30 for 3 months
Ipsy sends 5 deluxe sized samples of prestige brands in a small makeup bag each month. Members also have access to makeup tutorials and special offers to buy full sized products.
Approximate Cost: $10/month
For the foodie
Land of Nosh is like Pinterest…exclusively for food! It's a great way to find new dishes to try while also keeping your picks organized. You can create (and save) meal plans that can also become shopping lists. Also, it has a "cook-it" feature that allows you to cross off steps as you do them, so you won't loose your place while cooking.
Approximate Cost: $8/month
Graze sends 8 snacks per box to your home or work. The snacks are high quality and contain no genetically modified (GM) ingredients, artificial colors or sweeteners, high fructose corn syrup, or trans fats. Each snack is perfectly portioned and you can modify how often you receive your boxes.
Approximate Cost: $11.99/box
For the health and fitness enthusiast
FabFitFun sends a box quarterly with full sized fitness, fashion, and wellness products. This box delivers a little bit of everything!
Approximate Cost: 49.99/quarterly 
Fabletics is an active wear apparel company. Each month, a new selection of outfits are revealed and the subscriber can purchase complete outfits or individual items. The clothing is high quality and more affordable than most athletic wear brands. Members receive a discount on products and have the option to skip the month without being charged. The first outfit is 50% off regular member prices.
Approximate Cost:$25+ for first month's outfit, $49.99+ following months
Dollar Workout Club gives the subscriber access to 5 workouts, 5 healthy recipes, and 5 motivational videos each week. Workouts can be done at home with minimal to no equipment and the recipes are simple, easy, and delicious!
Approximate Cost: $4/month
For Kids
Bookroo delivers  2-3 books to your little ones; they provide board books for 0-3 year-olds and picture books for 3-6 year-olds. The books are individually wrapped like presents and if you receive a book you already own, you get $5 off your next box. This subscription will help you instill a love of reading in your little ones.
Approximate Cost: $19.99/month
Kiwi Crate is designed for innovators ages 6-8. Each month's box has a theme, building materials, and a magazine with more ideas for experiments and projects. This is a great subscription to give your kids some "unplugged," productive fun.
Approximate Cost: $19.95/month
For Pre-Teens/Teens
Tinker Crate includes a theme and a project with step-by-step instructions, video tutorials, and a magazine with additional experiments that will last through the month. Suggested for kids ages 9-16.
Approximate Cost: $19.95/month
For Men
Birchbox Man is a grooming and lifestyle subscription box. Each box includes a mix of lifestyle items (wallets, socks, belts, etc), and grooming product samples.
Approximate Cost: $20.00/month
Dollar Shave Club sends the subscriber's choice of blade with a comparable handle monthly. Subscriber can increase or decrease the frequency of delivery and has the option to add products to monthly orders for an additional fee.
Approximate Cost: $3/month
Jacked Pack sends the subscriber 5-10 workout supplements samples from reputable brands, customized to the individual's goals. Shipping is free and the subscriber can cancel anytime.
Approximate Cost: $14.99
Now all that's left for me to do is figure out which ones I'm going to get for my loved ones!


P.S. Please share any subscriptions you love in the comments below!