When I was expecting my baby, nothing melted my heart faster than tiny adorable baby clothes. There is something so sweet and precious about preparing a new baby's wardrobe. But I had no idea how to organize baby clothes!
I was surprised how quickly my baby's closet filled up. Generous friends and family had gifted me and my baby so many clothes that I began to feel overwhelmed about organizing all of them.
This post may contain affiliate links. As an Amazon Associate I earn from qualifying purchases. For more information, see our disclosure.
If you find yourself in the same situation I was in, then I'd like to offer you some tips and tricks on how you organize your baby's clothes and keep them organized for good.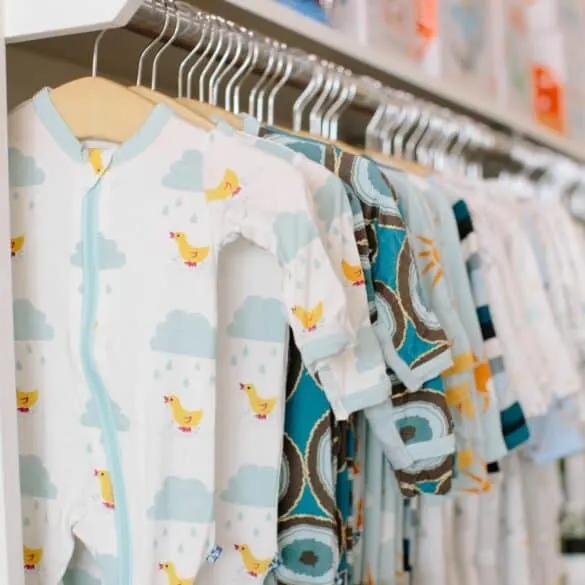 Long Term Rotation System:
Babies grow extremely fast during their first year of life. I was especially surprised how quickly my babies grew during their first three months. Because of this, it might be tempting to keep all different sizes of your baby's clothes shoved into the dresser drawers. After all, you'll need them eventually right?
The problem with this approach, is you'll most likely run out of room. Closets and dressers can only fit so much. And if you don't run out of room, then you risk all of the different sizes getting mixed in together. Nothing is more annoying than having to dig through piles of clothes looking for the correct size when your baby is having a growth spurt.
What I suggest doing instead, is buying storage totes with lids and separating your baby's clothes by size into each tote. You'll need 6 different totes. Separate the clothes into totes according to size:
Newborn
0-3 Months
3-6 Months
6-9 Months
9-12 Months
This last tote is empty and will be used for clothes you want to keep as sentimental items.
Only use one tote at a time. When you notice your baby's clothes are getting snug, then it's time to pack up all their current clothes into a tote and unpack the next size. This will allow you to save clothes for your next baby, or donate clothes that are too small. It's a great way to stay organized and makes switching sizes out super simple.
Dresser Organization:
Keeping similar items together is the best way to organize clothes. For your baby, I would organize them by:
Sleepers and Pajamas
Long sleeve onesies
Short sleeve onesies
Pants/Jeans
Leggings
Dresses/Vests
Remember you'll also need room for burp cloths, socks, headbands, and swaddles. If you have other small items, like hair bows and hair accessories, and you have room in the dresser, grab a small dresser drawer bin and place them in it.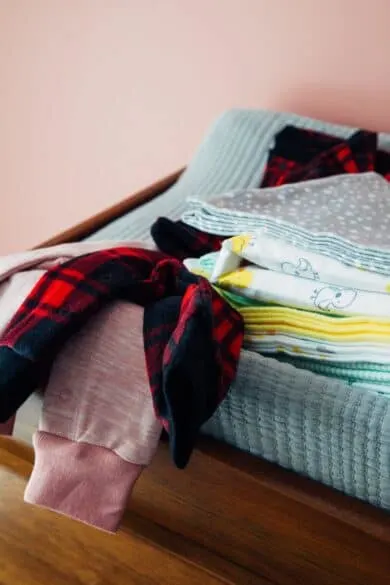 I highly recommend purchasing dresser drawer organizers and drawer dividers. These organizers and plastic bins will save you time by allowing you to quickly know where every item is and what is available. There's nothing like looking for something specific for your baby in the middle of the night as a new mom, running on no sleep and not being able to find anything because the baby's clothing and belongings have become so unorganized. Instead, try some of these organization tips to keep everything where it should be.
Another thing to consider is what you place in each drawer. Some parents will place the most commonly used items in the top drawer and the least used items in the bottom drawers. Some will sort based on sizes that the baby is in now and moving on to what they will grow into. See what you think will work for you and give it a try.
If you are limited on drawer space, consider investing in containers. Bins, baskets and crates can all be used to store items that do not fit into drawers. Additionally, they can also be stackable which is great for maximizing vertical space.
Labels are a great way to see what you have stored in each container. Put them on the outside of the bin or basket for easy access and simple visualization of what's in the bins without having ot take a look.
Pro Tip: It can also be very helpful to label the exterior part of the dresser drawers so others know what goes where. It can be very common that grandparents may offer to help do some laundry for you, especially as you're settling in with a new baby. In this case, when they have a labeled drawer, they'll know exactly where to put everything away, which is beneficial for both of you! Plus, it's helpful if you ask your older children to go get something for the new baby to wear, they'll know exactly what drawer to go looking first. And, there's nothing wrong with a little extra help in the middle of the night when you're in need of a fresh outfit for baby but your brain is still a little sleepy and can't remember where you store something specific that you are looking for.
It's also important to take stock of what you have and be sure to only keep what is necessary. If there are clothes that your baby has already outgrown, consider donating them to a local charity or consignment shop. This can help free up space while helping others or getting some money back in your pocket to invest back into your baby.
Closet:
As your baby gets older, you'll need room for coats, jackets, and baby shoes in their closet. These items are sometimes too bulky to fit neatly into a storage tote, so many parents use size labels to hang in between these items, keeping them separated and organized.
I find using closet dividers and hanging things is the best for my own closet storage space, but you do whatever you think will work with your closet space. If you have the right kind of closet door, on your nursery closet it can be helpful to get one of those over the door shoe organizer things and use the containers to hold tiny items, or even extra baby items, like shampoo, lotion, or sunscreen.
This is another great option if you don't have a bunch of storage bins on hand or if you don't have the room to store those bins.
Bedding:
Designating an entire dresser drawer in your baby's dresser to bedding items will help keep your nursery organized and functional. This drawer is where you keep the crib sheets, blankets, and mattress protectors. Then if you ever find yourself needing to change the bedding in the middle of the night, you'll know exactly where everything is.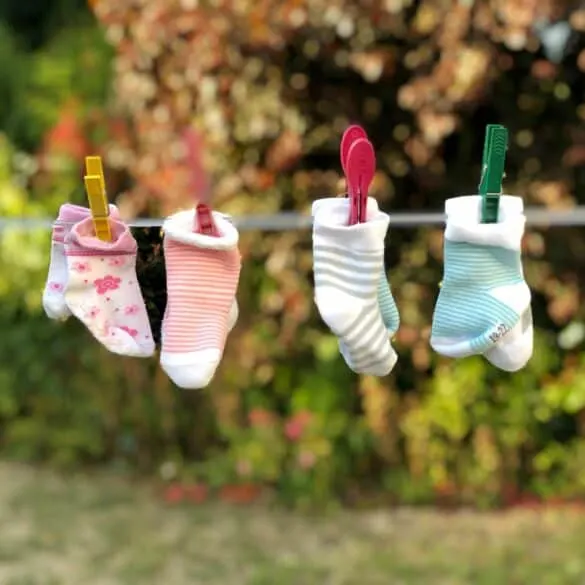 Changing table:
If you have a changing table in your nursery, it can be helpful to get a caddy or basket that hangs on the side of the table. This will give you easy access to diapers, wipes and other changing necessities or extra pairs of clothes for when you have that occasional diaper blow out. You can also use smaller bins inside the caddy to organize creams, powders, and other baby things you may need while changing a diaper.
Toys:
Organizing your baby's toys is a great way to keep the nursery from becoming too cluttered. You can either use toy boxes, baskets, or bins to store the toys. Grab a few of the cheap baskets at the dollar store to put the toys in. You'll be surprised at some of the great options they have for next to nothing there. If you have shelves in the nursery, take advantage of them and hang baskets for easy access.
Be sure to designate an area for books, puzzles and stuffed animals. This will help keep the play area neat at all times as your baby gets older and it's the easiest way to keep all their toys in one place instead of all over the house. When the toys all have a place, it's also easier to see where the clothes go as well.
Folding:
If you by chance have not heard of the Kon Marie style of folding, now is the perfect time to adopt it. Trust me, you'll be glad you did. This folding technique will allow you to be able to see each and every item, so you never have to "dig" through a dresser drawer looking for a specific onesie. Check out her short video tutorial here.
We have also seen parents who vacuum seal the clothes that babies won't need for a while. This keeps them organized and maximizes space if you have a small space to store all of your baby clothing.
I hope these organizational tips and tricks help keep your baby clothes organized and stress free.