During these unprecedented times we are all just doing the best we can do to get by day to day. Parents and teachers are having to work together to keep learning at the forefront of our children's lives.
With that being said, homeschooling is hard work. If you are having some difficulty keeping your child's homeschooling on some kind of schedule and order, then look no further!
How to Set up a Homeschool Schedule
This post may contain affiliate links. As an Amazon Associate I earn from qualifying purchases. For more information, see our disclosure.
There are many different types of homeschooling setups out there, but there are a few general tips to keep in mind when it comes to setting ups homeschool schedule.
Talk to the Teacher (If there is one!)
If you're homeschooling based on a traditional school, some special consideration needs to be taken.
The first thing that you should do when setting up a homeschooling schedule for each of your kiddos is to find out what needs to get done at what time. Reach out to each of your child's teacher(s) for a run down of which subjects to focus on. Ask a lot of questions! How long should they spend on each task?
Do you need certain supplies? Get the specifics on it all. A lot of teachers will already be doing this, but if not, do not be afraid to reach out. Once all items are in order, it will be easier to create the master schedule.
Also, keep in mind other specials such as physical education, art and music that they may need to do, too. Sometimes, teachers can work with these providers to combine or incorporate these activities in with their regular assignments.
Plan Your Day
If you don't have a teacher to lean on or get scheduling information from, start by making a list of tasks that still need to get done during the day while homeschooling.
Think along the lines of preparing meals, doing laundry, and cleaning the house. These are all things that can become valuable homeschool lessons!
Preparing a meal turns into a lesson about measuring and math, and fruits and vegetables. Laundry can also become basic math by counting the number and types of items as you're washing sorting, and folding.
Think about how you can work your lessons into your daily activities.
Gather Supplies
To streamline the homeschooling process, having a large visual will be extremely helpful. Consider purchase a white board or desk calendar that you can hang on the wall.
Give each child a color. Use their color to mark items that they will either work on each day or assignments that are due. Other ideas could be to have a smaller wall calendar for each child.
Also, put important teletherapy or online learning lessons in your phone so that you can remind your kiddo before the time passes by.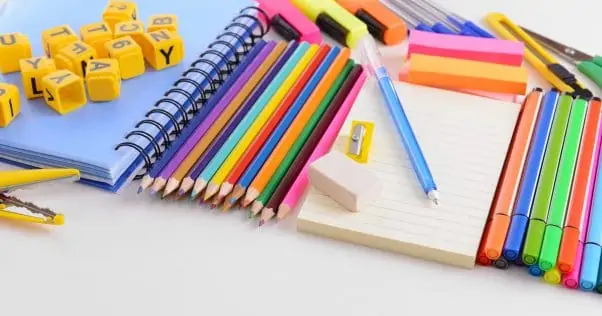 Get the Kids Involved
Allow your students space to keep track of their own assignments as well. Whenever possible, allow them options on what they want to work on for each subject. Also, get their feedback on when each subject should be done.
Ask them a lot of questions. Would they prefer to do work in the morning or the afternoon? Are there any activity ideas they may have? Getting the kids involved will help create a productive learning environment during these uncertain times.
Be Flexible
The truth is that homeschooling is very different than a regular classroom environment. Therefore, parents and caregivers should remain flexible when scheduling school work times and free time. Kids should be allowed plenty of breaks and not be forced to sit all day doing work.
Keep in mind that during a regular school day kids are provided with many opportunities to get up and move. Be flexible with their time and aware of any struggles or emotions that may rise up. Work with your child's teacher, therapists and family friends to work together to create a schedule that with be best for them to learn.