Let it snow! Kids everywhere are chanting this over and over. Moms everywhere grapple with keeping all the snow gear from ending up all over the house! With winter in full swing, you may have already experienced the challenge of keeping all the boots, hats, mittens, scarves, snowpants, coats and other snow gear somewhat organized and out of the way. As much as we love to see our kids out enjoying the snow, winter does add another pile of stuff to keep track of and organize.
Here are some ideas for keeping your snow gear organized.
Take some time to sort and purge.
First things first. As we all know, kids can go through growth spurts that have them moving quickly through clothing and shoe sizes. So, chances are likely that you probably have snow gear that they have outgrown that is just taking up room in your closet. Are there in between sizes that just need stored away until the next sibling grows into them? Or can they be donated or sold?
This post may contain affiliate links. As an Amazon Associate I earn from qualifying purchases. For more information, see our disclosure.
There are many options for selling used snow gear–consignment stores, Facebook marketplace or Facebook Buy/Sell groups, community groups, etc. Or there are always places looking for gently used donated items. You can contact your local churches or schools to see if there are any local families in need. Many places will do coat drives during the winter as well.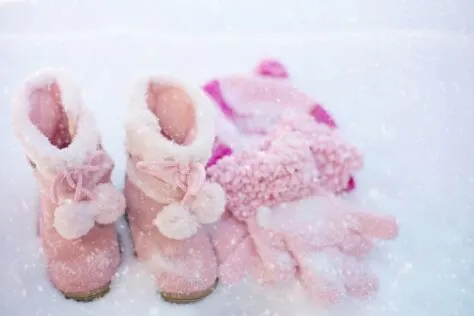 Organize your hats, gloves, mittens, and scarves.
I have found plastic bins work great for organizing hats, gloves, mittens, and scarves. I bought a set of stackable plastic drawers that I keep in our entryway closet. One drawer is for the kids and one for the adults. Keeping everything separated just makes it a lot easier to sort through, especially if you have a big family with a lot of stuff.
Another idea is to have a separate drawer for each person. That way, each kiddo is in charge of putting their own stuff away into their own drawer. Even little kids can understand this concept and can be in charge of keeping their own things put away. (Side note: At the end of winter, I take all the snow gear out and store it in larger plastic tubs and use the stackable drawers for summer gear like hats, sunscreen, etc. It's a quick and easy swap to make.)
I also keep a small plastic bin next to the front door containing an assortment of gloves and hats that are easy to grab when we are in a hurry to get out the door. I don't know about you, but my kids are constantly losing gloves. Perhaps all the missing socks and all the missing gloves are hiding out somewhere together?
I started buying the same style/color of gloves for my boys to wear. That way, when one comes up missing, you still have extra matches to choose from. I got tired of having single gloves with no matches that the kids didn't want to wear. Thankfully, my boys are close enough in age that they can share gloves, so having the same style/color works well for our family.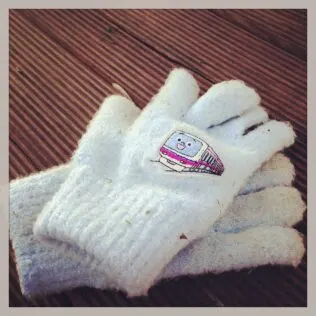 Utilize a coat rack for snow pants.
Save a couple hooks on your coat rack just for snow pants. Hanging up the snow pants allows them to dry more quickly and gets them up and off the floor. If your kids use snowpants instead of the snow bibs, you can drape these on a hanger first to get them up off the floor.
Designate an area in your garage for outdoor gear.
Whoever created rubber totes truly is my hero! If your family is involved in any winter outdoor activities, like skiing, you know those activities come with a lot of extra gear to store. Designate one area in your garage for winter gear, if you are able to.
We use a large tote to store our ski boots, helmets, goggles, etc. You can also buy racks or small shelves to install on the side of your garage to hold skis, poles, and snowboards when they aren't in use. This saves space and keeps them up off the floor, so they aren't damaged accidentally. These racks can also be utilized to store sleds.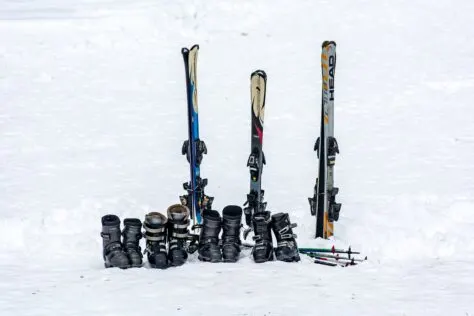 So now that your winter stuff has found a place when not in use, let's talk about the other challenging part of winter. The mess of snow in your house and what to do with all of that wet gear!
Tips for keeping your floors clear of snow.
One thing about winter that has always driven me crazy is kids tracking in snow and the wet spots on the floor that constantly needing to be mopped up. If this also drives you crazy, I recommend stocking up on rubber or plastic floor mats.
You can put one by each door and that is where any wet boots, gloves, hats, etc. can go as soon as your kids enter the house. I also put a rug in the entryway that can help soak up any snow that gets tracked in before the boots are placed on the rubber mat.
(I also recommend rubber mats for the inside of your car. They are so much easier to clean than the carpet mats that a lot of cars come with.)
Invest in a boot dryer.
I thought this would be more expensive than it actually is. I highly recommend investing in one. When boots get wet inside and aren't dried out quickly, eventually they will start to smell like mildew. Yuck! Using a boot dryer helps to greatly speed up the drying process time.
And isn't it just so much nicer for your kiddo (or yourself) to put on a pair of warm, dry boots rather than damp ones that instantly get your socks wet? You can also dry mittens, gloves, socks and hats on these as well.
I hope these tips will help you keep all that snow gear organized this winter and for years to come!