Chunks of juicy apples mixed in a sweet filling with pieces of fluffy cake all thrown together to create the perfect dessert. This Apple Cobbler Recipe with Cake Mix gives anybody the ability to create a delicious dump cake dessert. The brown sugar cinnamon sauce thickens up so nicely and really makes this such a decadent dessert.
We're all about this delicious apple dump cake recipe that has become a family favorite. Cake mix cobbler is simple enough to be used for a dessert any time of year but it special and unique enough to be featured on your dessert table during the holidays or during any birthday party celebrations. It's one of the best desserts we've made in a while and always gets gobbled up.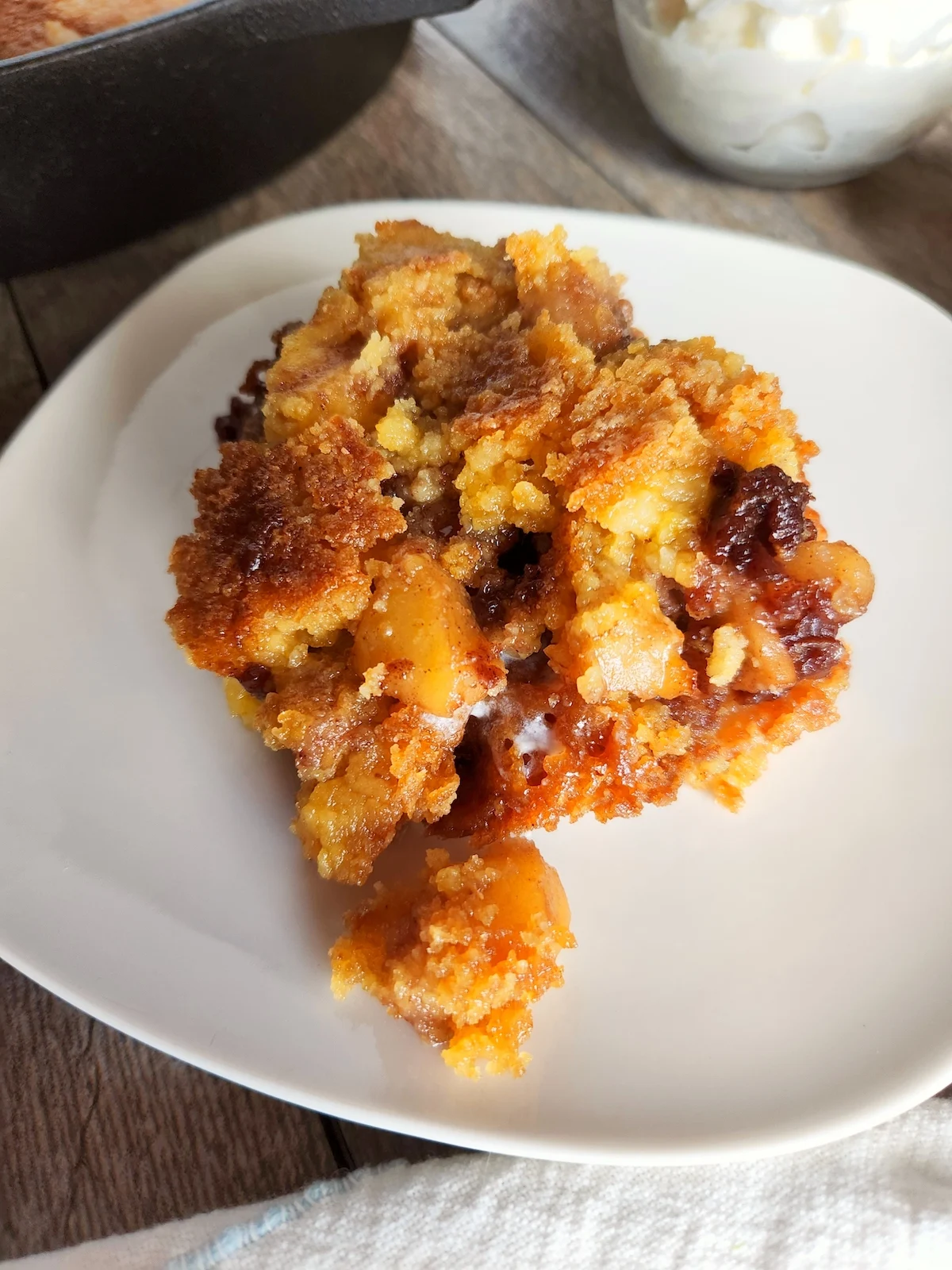 Why You'll Love This Recipe
Delicious dessert ready in only 40 minutes from start to finish
This quick dessert is a shortcut recipe using a cake mix instead of having to make it from scratch
Perfect for holiday desserts- such an easy dessert
This easy apple cobbler recipe is made with simple ingredients and is a easy way to use up extra apples
Ingredients
This post may contain affiliate links. As an Amazon Associate I earn from qualifying purchases. For more information, see our disclosure.
Get more info on the quantities and more on these ingredients in the recipe card below.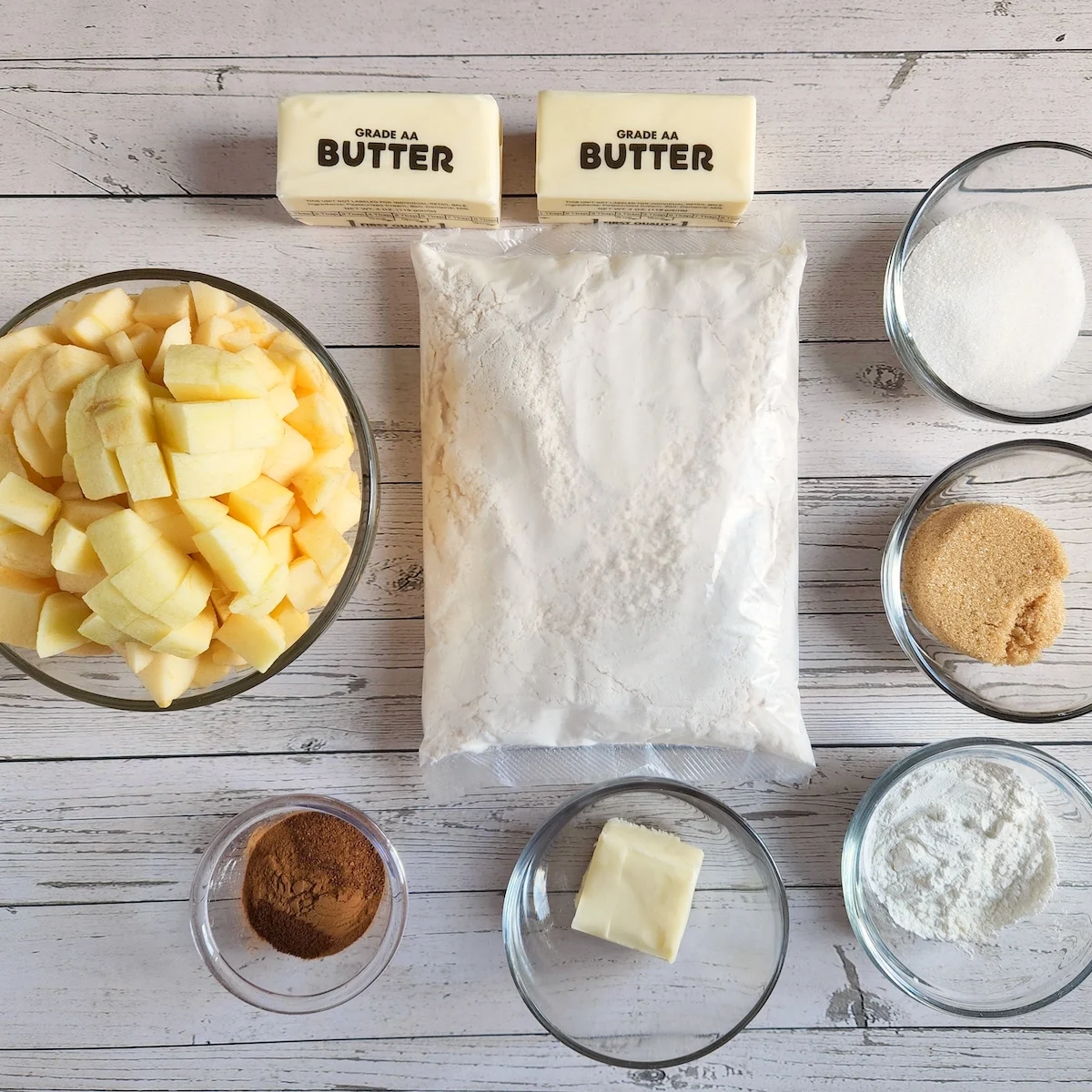 Diced apples
Butter plus
Sugar
Brown sugar
Cinnamon
Nutmeg
Clove
Cornstarch
Water
Caramel Sauce, optional
How to Make Apple Cobbler with Cake Mix
Preheat oven to 350F.
Add 2 Tablespoons of butter, diced apple, brown sugar, sugar, cinnamon, clove, and nutmag to your cast iron skillet. Stir to combine.
Over medium heat, cook the apple mixture until it's bubbling and the apples are nice and tender. This typically takes 4-5 minutes.
Mix 2 Tablespoons of cornstarch and 3 Tablespoons of water together in a small bowl.
Pour the water and cornstarch mixture into the apple mixture cook for another 1-2 minutes, until the mixtures are well combined and nice and thick.
Spread the cake mix on top of the apple mixture.
Add 1 cup of sliced butter across the top of the cake mix.
Drizzle caramel sauce along the top of the sliced butter.
Bake cast iron skillet for 20 minutes until the top is golden brown and the apple mixture is bubbling across the top.
Remove from oven, let cool before enoying.
Storage
Any leftover Easy Apple Cobbler with Cake Mix can be stored in an airtight container and kept in the refrigerator for up to 3-4 days. You can also cover leftovers of this easy apple dessert in the refrigerator on a cake plate or in a baking dish covered in plastic wrap.
Cake mix apple cobbler can be frozen to enjoy again later. Once your leftovers have cooled to room temperature, you can transfer them to a freezer safe container or freezer safe bag to be saved for up to 3 months.
Let the perfect fall dessert thaw in the refrigerator overnight before enjoying again. Reheat leftovers in the microwave or in the oven until warmed through again.
Tips and Variations
You can use a yellow cake mix, white cake mix, spice cake mix, or other cake mix variations. Or you can use your own homemade cake mix recipe.
We prefer to use fresh apples that we slice before using, but you can use presliced apples.
If you don't have a cast iron skillet, you can use a baking dish. Just be sure to use nonstick baking spray or grease your pan before adding your dessert to it. Depending on what kind of casserole or baking dish you choose to use, you may need to alter the baking time needed on this dessert.
Serve this easy recipe with a scoop of vanilla ice cream or whatever your favorite ice cream is to really seal the deal.
Leftovers seem to be even more incredible the next day. The flavors get the chance to really meld together and infuse together. What was delicious the first time you had it, somehow becomes even more tasty the next time. Watch how quickly it becomes one of your favorite recipes.
Don't let the fear of brown apples prevent you from creating this delicious dessert. See our tips below on how to keep your apple nice and fresh once you cut them.
What kind of apples should I use?
There are no right or wrong apple slices to use. Use whatever variety you prefer. We like to use Granny Smith Apples to really bring the fall flavors, but you can use sweet varieties if preferred.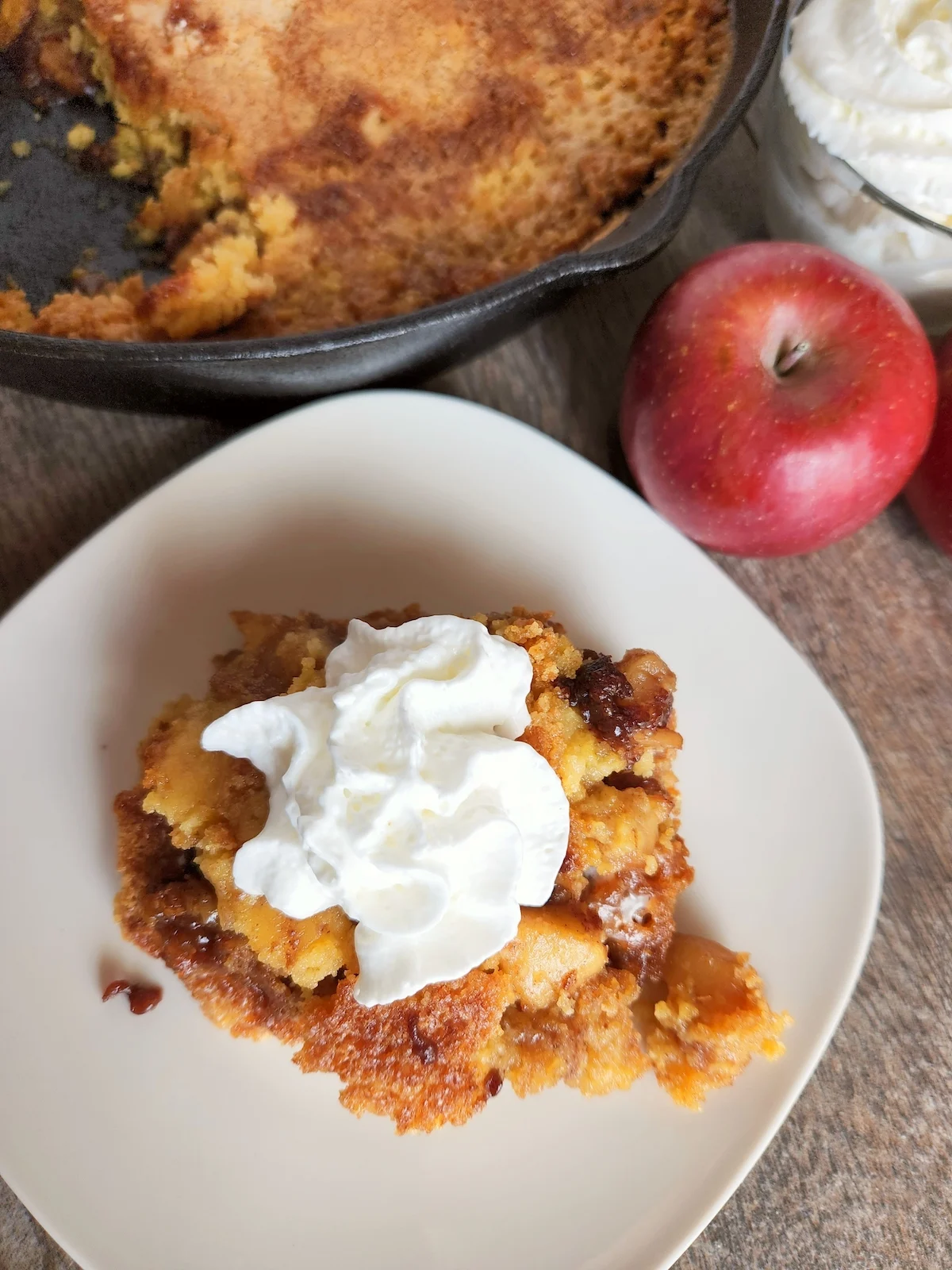 How do I stop my apples from browning?
Anytime we are using fresh cut apples in a recipe, we are always increasing the risk of oxidization of the apples, which turns them a brown color. While the brown apples are still totally edible and safe to eat, they are not visually appealing and depending upon who you are making this apple crumble for, this may or may not be a turn off, leaving the desert uneaten.
If you want to prevent your apples from turning color because of the air and oxidization, we have a super simple trick! Just add a little lemon juice to your fresh cut apples. The lemon juice acts as a natural preservative to help prevent that process from occurring and changing the color of your fresh cut apples.
It is really easy to make this simple recipe. Everyone will go crazy for a slice of this Apple Cobbler Recipe with Cake Mix!
Yield: 10
Apple Cobbler Recipe with Cake Mix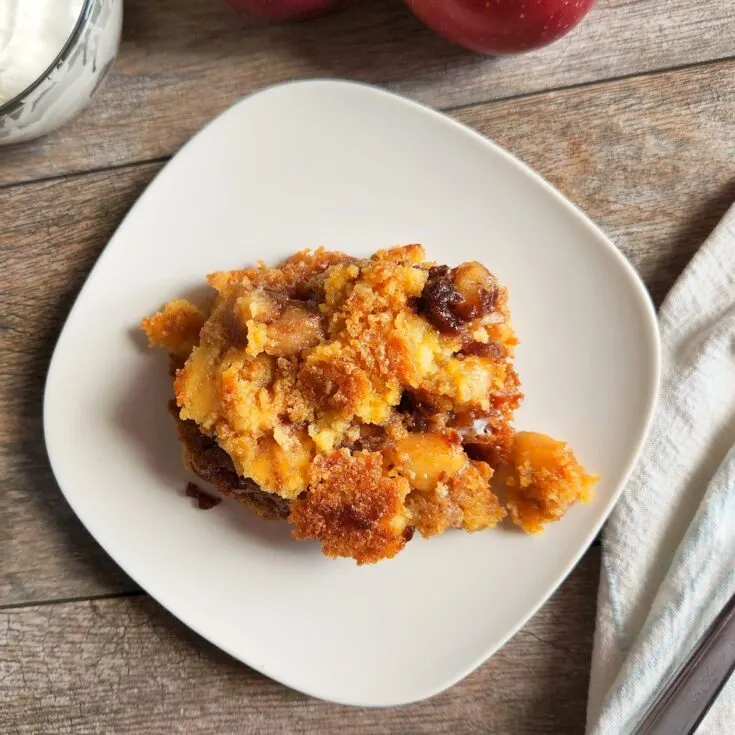 This is a quick and easy crowd pleasing dessert that is so simple to make! Cake mix is the secret to a simple apple cobbler everyone will enjoy.
Ingredients
6 cups diced apples
1 cup butter plus 2 TBS
¼ cup sugar
¼ brown sugar
3 tsp cinnamon
½ tsp nutmeg
¼ tsp clove
2 TBS cornstarch
3 TBS water
Optional: Caramel Sauce
Instructions
1.Preheat the oven to 350 degrees F.
2.In a cast iron skillet add 2 TBS butter, diced apple, brown sugar, sugar, cinnamon, clove, nutmeg stirring to combine.
3.Cook the apple mixture on medium heat until bubbling and the apples are tender. About 4-5 minutes.
4.In a small bowl mix 2 TBS cornstarch with 3 TBS water.
5.Once the apples are tender, pour mixed cornstarch and water into apple mixture and cook for 1-2 more minutes until thickened.
6.Spread cake mix on top of the cooked apples.
7.Lay 1 cup sliced butter across the top of the cake mix.
8.Drizzle caramel across the top of the butter.
9.Bake for 20 minutes until golden brown and bubbly across the top.
Nutrition Information:
Yield:
10
Serving Size:
1
Amount Per Serving:
Calories:

94
Total Fat:

2g
Saturated Fat:

2g
Trans Fat:

0g
Unsaturated Fat:

1g
Cholesterol:

6mg
Sodium:

33mg
Carbohydrates:

19g
Fiber:

2g
Sugar:

15g
Protein:

0g
Nutrition information is not always accurate, it is an estimate.