Have you been struggling to come up with a great family motto that can unite and inspire everyone? Family mottos can give your kids a real sense of identity as they try to figure out exactly who they are. They can also give them something to remember when they are out with their friends.
It creates a sense of unity and purpose that can get children through tough times as they navigate school, friends and general teenage life.
This post may contain affiliate links. As an Amazon Associate I earn from qualifying purchases. For more information, see our disclosure.
A family motto is a bit different than a family mission statement. A mission statement can be long, and include all the values you have for your family.
It doesn't need to be memorized. It just needs to be reviewed and referred to when making decisions. On the other hand, family mottos are short, and burned into the brains of the little ones. Our recent family motto was
I can do hard things!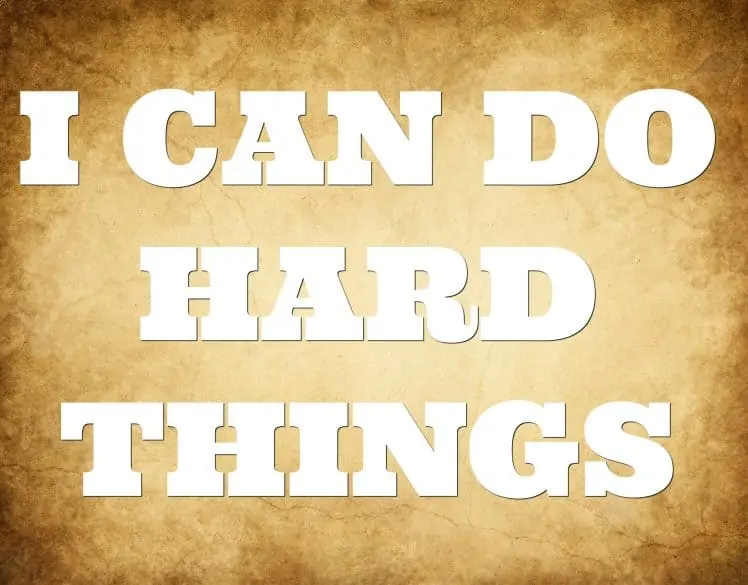 I really felt strongly that it should be our family motto, because quite frankly, I just felt like we were all falling into the trap of taking the easy route for everything! The easy route is comfortable. There's nothing scary about it. But, do we grow? NO!
I also found myself thinking about how to make my job easier, which was making me uncomfortable and sad. I should have the desire to push myself to new heights and new territories. That is the only way to become a better person, by doing hard things.
I had been reading about self-esteem lately. Self esteem for kids doesn't come when a 12 year old ties his shoes in the morning. Self-esteem comes when the 5 year old tries, and tries and finally ties his shoes, all by himself for the first time. THAT is when you grow and when you become satisfied with life. By doing hard things!
Another way kids can become better people is through service. I once saw a documentary on Mark Kaye and Jon Hunstman. As they would tuck in their kids each night, they would ask each one,
"What did you do to make someone's life better today?"
What a wonderful message to focus on. Especially in our self-absorbed society. Thinking about someone else and how you can make their life better is a beautiful thing.
So, sit down with your kids and talk about what is important to you, and what things you want them to grow up thinking, feeling and becoming. I've listed some family mottos that either we have used, or friends as a way to get you thinking about ideas for your family.
How to create family mottos
Taking a queue from how we came up with our most recent family motto, think about things that your family may currently be struggling with. Ask your family to say one thing that is currently a challenge for them, whether it is making friends, being charitable, arriving places on time, etc.
Then ask the kids to name one thing they think is a challenge for Mom or Dad, and have Mom or Dad name one thing they think is a challenge for each child. See if there are any themes among the problems.
Next have everyone do the same thing, but name something your family is totally nailing. Once you have this list of strengths and challenges, it may be easier to narrow down your options. Look up articles about those strengths and challenges. Read a few of them and see if any of the sentences stand out for your family.
If you are still struggling, we have listed a few of our favorite family mottos here:
Work Hard & Be grateful
You don't need to have the best of everything. Make the best of everything you have
Be happy with what you have, while working for what you want
Be the Good
See the Good
You are stronger than you seem, braver than you believe, and smarter than you think
As for me and my house, we will serve the Lord
We may not have it together, but together we have it all
Have Courage and Be Kind
Choice, not chance determines your destiny
Do the right thing, even when no one is looking.
Courage is the commitment to begin, even when there is no guarantee of success
Broken crayons still color
I find, the harder I work, the more luck I seem to have
Never let success get to your head. Never let failure get to your heart
Learn. Enjoy. Serve. Respect
Don't cry because it's over. Smile because it happened
Obey. Right away. All the Way. With a good attitude every day.
The greatest weariness comes from work not done.
Work hard. Play hard. Pray harder
People are more important than things.
What You Can Do, or Dream You Can, Begin It; Boldness Has Genius, Power, and Magic in It
Paddle your own canoe
We can do hard things
Try a little harder to be a little better
Stand for something
Just keep swimming
Great things never came from comfort zones
Every day may not be good, but there is good in every day
You only fail when you stop trying
Don't wait for storms to pass, dance in the rain
Make the most of every moment
Fly together
Stand up for what's right, even if you stand alone
Be amazing
Family means nobody gets left behind or forgotten
A true hero isn't measured by the size of their strength, but by the strength of their heart
Sometimes the right path is not the easiest one
Whatever you do, do it well
Do it. Do it right. Do it right now.
The things that hold you down will help you soar
So, have you found one that will work for your family? Do you have a different one that you want to share? We want to hear YOUR new family motto!, let us know in the comments! Also check out our ideas on creating a personal motto!