With four active kids who love to build snowmen, go sledding, have snowball fights, and make snow angels, we end up with a lot of snow gear! I love watching my kids play in the snow, especially now that they are older and I can watch them from my warm kitchen instead of trekking out with them, but I do not love the mess all their snow clothes make. There are piles of hats, boots, and scarves, mittens constantly go missing, and little piles of snow that melt into dirty puddles on my kitchen floor. So, here are some tips to keep your kids' snow gear organized -starting with preparing for the snowy season, handling the snow day mess like a pro, and packing it all away until next year!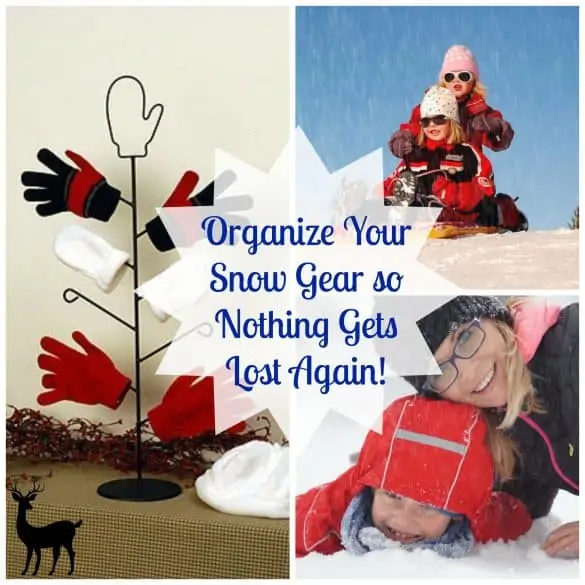 Preparing for the Snowy Season
I start my snow day preparations in the early fall. When I switch the kids' wardrobe over from summer clothes to fall and winter clothes, I haul the bin full of snow gear down from the attic and dump it out to take inventory. Then I follow these simple steps:
-Check sizes
This post may contain affiliate links. As an Amazon Associate I earn from qualifying purchases. For more information, see our disclosure.
Pull out any snow pants or boots that your children might have outgrown. Hand them down to a family member, donate, or sell at an outgrown sale or yardsale website.
-Shop
This is the time to buy new boots, gloves, snowpants in your child's current size. Check out consignment shops or outgrown sales for great deals on barely used snow gear. You'll be able to get these things for a fraction of the cost of buying new, especially in the fall as these items won't be on sale.
-Get Duplicates
Some items you may only need one of, like a warm winter coat, snowpants, and snow boots. But you'll be glad you have two of other items, like mittens and hats. When your child's hands are freezing because their mittens are soaked, you can just switch them out for another pair of dry ones – this way your child can enjoy the snow day longer and hopefully you can enjoy watching them from the window with a nice cup of hot tea!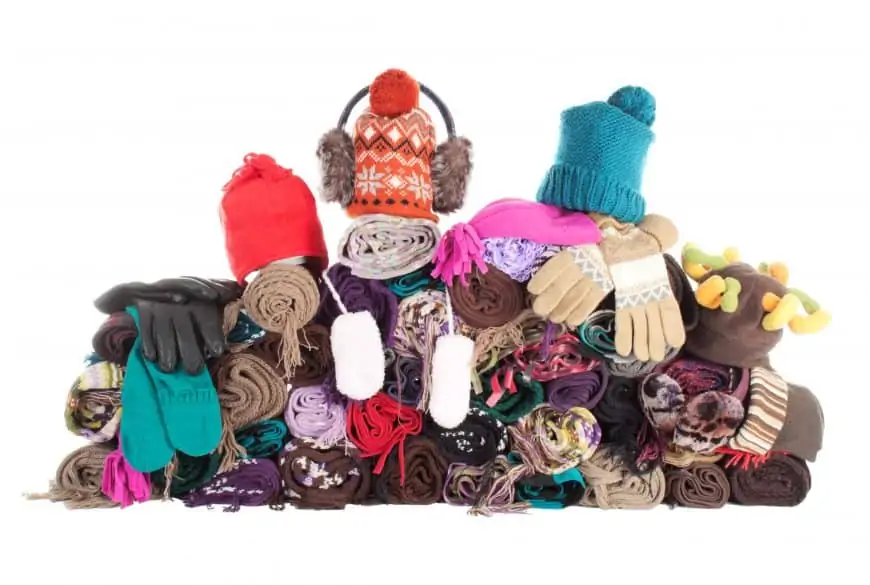 Snow Day Pro Tips
With 4 kids and about ten years of snow days under my belt, I've got my snow day system down! Here's how to keep all the the snow gear organized when it's time to play!
-Grab a Few Towels and a Boot Tray
Before you even dress your kids to go out in the winter wonderland, lay down a few towels and a boot tray, if you have one, by the door. When the fun's over and it's time to come in, take all the snow gear off and place on the towels and boot tray to save your floor from melting snow puddles.
-Set up a Drying Rack
Get out your drying rack ready to hang up wet scarves, hats, and gloves. Or, you can buy a mitten tree which will take up less room.
-Get the Duplicates Ready
If you followed the shopping tips above, you'll have extra gloves and hats for each child. If they get soaked, switch out their gear for a new dry pair so they can get back to playing.
-Empty the Dryer
When the kids are ready to come in, make sure your dryer is empty so you can toss in their coats, snow pants, and any other gear that won't dry quickly. Then, if they want to head out for round two, they'll have nice warm snow gear ready for them.
Packing It Up
When it seems like the snowy days are behind us, I pack all the gear up and store it in our attic until the next winter. But before I do that, I follow these steps:
-Take Inventory
If any of the snow gear seems like it might not last another season, put it aside to hand down, donate or sell.
The end of the season is a great time to pick up some snow gear for next year at super low prices. This is also great for those of you who'd rather buy new instead of shopping used. Buy bigger than you think you need, just in case the kiddos have a major growth spurt before next year.
The last tip I'll leave you with is this: Invest in some good quality snow gear for yourself! As nice as it is to watch my kiddos from the nice warm house, it's also fun to get out there with them and make some memories in the snow! With the right snow gear, you'll be able to stay out and play much longer! Hopefully these tips will help you tame the mess that your kids' (and your) snow gear can make.