After I asked the question the other day on what are the 3 things that are keeping you from being organized, SO MANY of you said it was your kids. And a few of you put your husbands in the mix too! Since you really can't eliminate the actual children… at least not yet anyway… we need to figure out how to get organized even with the kids around. There are two main reasons that kids are getting in the way of your organization goals. The first reason is the kids' messes. As soon as you clean up one area, they have destroyed it again in about 5 minutes flat. It's so hard to feel the need to continue to get it cleaned, when it's just going to end up messy again SO soon.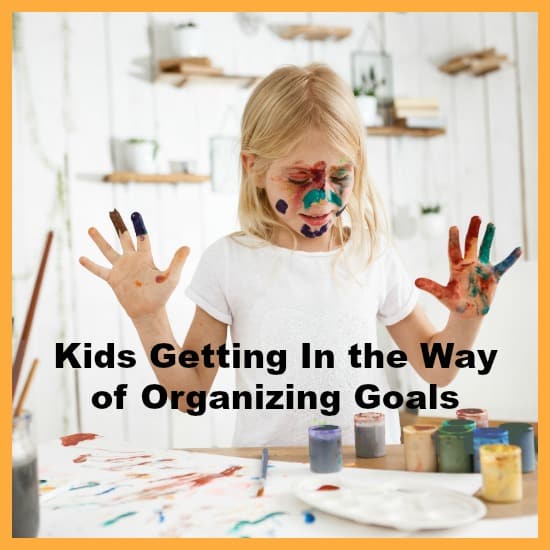 This post may contain affiliate links. As an Amazon Associate I earn from qualifying purchases. For more information, see our disclosure.
The other way that kids get in the way of your organizing goals, is that they prevent you from actually getting the organizing done. Does this scenario sound familiar? You go to clean out and organize the refrigerator. As soon as you get started the kids start fighting, and you need to go intervene. Once the treaty has been signed you get back to the fridge. Then the kids are right back at your feet asking for a snack. You get them squared away with their snacks, and back to the fridge. Next the kids are right back next to you needing help with the TV/art project/game they are playing… whatever else kids need help with, you help them out, look back at the fridge and throw your hands up in the air and say… FORGET IT!
Never fear! I have the solutions to BOTH situations for you!
When the kids are the messy ones…
Kids are notorious for leaving a disaster in their wake. It's like a mini tornado has blown through your house on most days. Not that I'm comparing our children to dogs, BUT the same theories that work for training dogs can work for training kids. Dogs learn best with immediate rewards. As soon as they "sit" you give them their treat. Then they learn, if they sit, they get a treat. It takes about 30 days of doing something consistently to make it a habit.
To instill some great habits into your kids, you are going to need to help them for a few weeks until they are doing it on their own successfully. Decide on a very small reward that you can give your child each time they do their chosen "habit". A sticker, or a marble to put in a jar, or even a penny could work as rewards.
Some of the habits you can help your kids work on are…
Place clothes directly in the hamper after you take them off
Load dishes in the dishwasher when finished with a meal
Put away toys before going on to the next toy/project
Hang up jacket and put shoes away as soon as you walk in the house
For the first week or two, you can offer the reward even when you remind them to do these tasks, but after the second week they can only earn the reward if they remember to do the task on their own. After a few weeks of them doing the task on their own, a habit will be created, and you can decide on a big reward for creating the habit in their lives. This acts as a celebration and a good way to mark the end of the small rewards. If down the road they start forgetting again, you can go back to square one.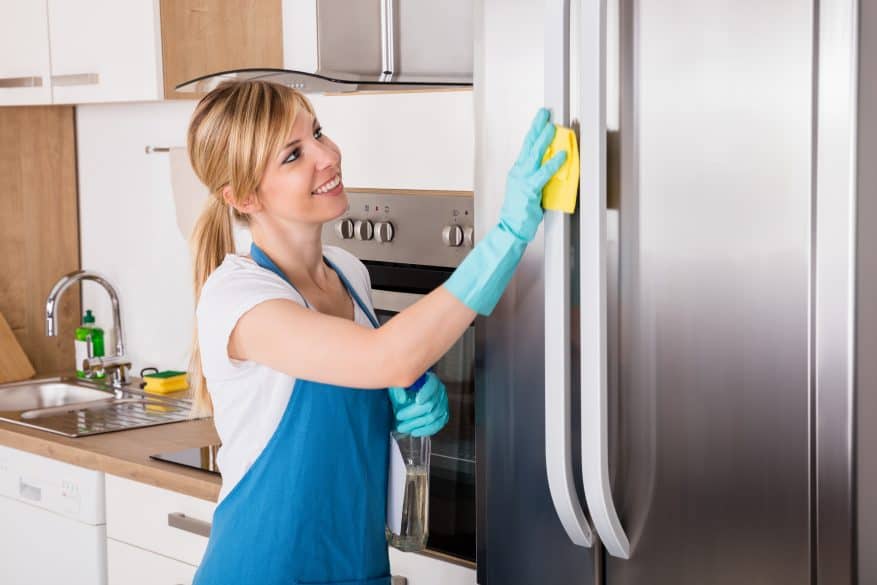 When the kids get in the way of your organizing projects…
If that above scenario sounds like your life every single day, then I totally know what you are going through! To be a mom is to constantly get interrupted no matter if you are going to the bathroom or organizing a fridge. A little bit of planning goes a long way in these situations. Even the best laid plans can sometimes fall apart, but 9 times out of 10 you could be successful!
Step One:
Figure out an area that needs to be cleaned/organized. Is that area too large to get done in 30 minutes? You may be too ambitious. Break up the task into much smaller tasks that CAN get accomplished in a short time frame. For example, if you need to clean/organize the fridge, the first day plan to go through all the food (throwing away expired items, etc). The second day plan to clean all the shelves. The third day you can clean the drawers. The fourth day you can clean the door. If the kids continue to be occupied, you can maybe continue on to the next task (kinda like stealing a base in baseball). Make sure each task is separated though so you can still feel like you are moving forward with the task instead of starting over every day.
Step Two:
Find something for the kids to do. Whether it's putting on a TV Show or movie they haven't watched in a while, or finding a project they can do on their own (don't put out an art project that they will eventually need help with cutting or gluing or anything like that, it should be something they can complete on their own). The project or activity should also be something that won't cause any fights. Such as, if there is a certain part of the project that only one person can do at a time, it may not be the best one.
Step Three:
Put something to eat and drink out with the project or near the TV. This will pre-empt any complaints of hunger during your project.
Step Four:
Once everything is set out and the kids have gotten started, run to your project. Do not pass go, do not stop at Pinterest, just GO!
Hopefully you'll be able to get at least one thing checked off your list before the kids come a callin' again.
So, for those of you who said child 1, child 2, and child 3 are the things stopping your organization progression, hopefully you'll be able to make a little bit of progress with these tips. Good Luck!!!