If there's one thing I get tired of, it's my kids borrowing my phone.
I once deleted Angry Birds thinking it would keep the troops away.
This post may contain affiliate links. As an Amazon Associate I earn from qualifying purchases. For more information, see our disclosure.
Nope. They had it right back on within 24 hours.
For this very reason my husband and I both enabled lock screens on our cell phones. We can get in with a password, kids have to stay out.
Ha, ha!
Unfortunately, if we ever lose our phones it's going to be a long process of someone finding our phones IMEI number and contacting us, if they even know how to do that.
So what do you do when your phone is lost and someone can't find your personal information? Or what if you lose your phone and the battery is dead?
Label it, of course!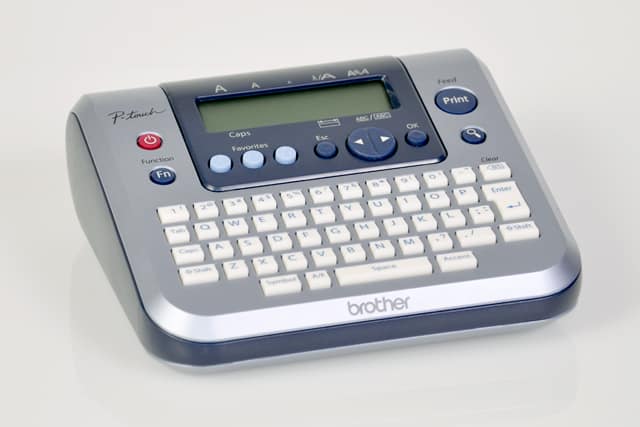 We put our kid's names on their coats, lunch boxes, backpacks, stuffed animals…
Okay, my daughter may be the only person who labels her stuffed dogs…
But we rarely label our electronic devices.
Which is crazy because I'm pretty sure an iPad costs more than a Star Wars lunch box.
Unless it's vintage.
Those babies are worth a lot!
Electronic labelers are perfect for this task. I used the Brother P-Touch, loaned to me by Sarah herself, and got to work labeling all of our devices. The great thing about the P-Touch labelers are how versatile they are with printing different fonts and sizes.
For devices like iPads, tablets, e-readers, and laptops, put your own cell phone number.
Don't forget to label your camera as well!
Labels can be discretely hidden on the back of your devices.

When labeling your cell phones, be sure to put your spouse's phone number, or a close friend or relative.
If someone finds your phone, they can't call you… with your own phone.
Physics of life my friends.
If you are worried about the labels showing, most cell phone cases will hide your label. If you don't have a case, print the label really small, no one will be able to read it when it's next to your ear. You can also use a clear label if a white or colored label stands out too much.
Have fun labeling your devices, and most importantly, don't forget to label your labeler.
You just never know.