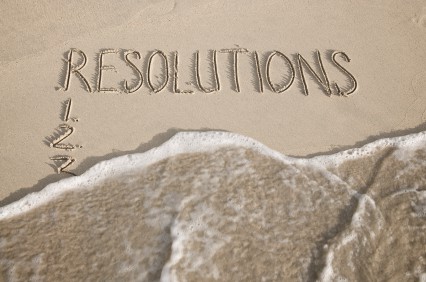 I think I mention this every year, but I feel the need to say it every year. I HATE New Year's Resolutions. Despise! BLECH! The reason for all this hatred, is that it's almost set up to fail. You try to change too much all at once, you break down a couple days and then feel like a failure for not having gotten past January 15th… AGAIN. I'm a huge fan of re-commitment. Telling yourself you'll do better the next day or even the next week, and committing yourself to improvement daily, not just at the beginning of the year, but at the beginning of each new day!
So when I saw this post from Fitarella, I thought it was a great idea! You take ONE thing, and make yourself a goal to do that one thing every day for the entire month. Make it something small, something easy, so you will do it every single day. Another key is to not make it vague. Don't say "exercise every day". Instead, say you'll do 25 sit-ups every day. If that ends up leading to an entire workout, GREAT! If it doesn't and you end up doing your 25 sit-ups right before bed that's OK too. Just make yourself a commitment to do the task every single day, especially on the days you don't want to. Then at the end of the month, pick a NEW goal for February. You can continue doing January's goal, or just go with February's goal, customize it to you. Likely, you'll have made January's goal a habit in your life, and you'll want to continue it.
This post may contain affiliate links. As an Amazon Associate I earn from qualifying purchases. For more information, see our disclosure.
I'm going to write down all 12 goals I hope to accomplish in 2012. I reserve the right to change these goals as different things become important to me throughout the year. Share with us on Facebook your 12 goals, or even just the goal you are going to set for January, and lets make 12 new habits in 2012! For accountability, check in with us on our Facebook page when you've done your goal for the day or on Twitter using the hashtag #12in12 and we will do the same! Good luck in your anti-resolutions! We are so excited to get started! Here are some ideas for you, in case you aren't sure where you want to start!
*Do a certain number of situps/pushups or another type of exercise
*Spend 10 minutes playing or talking with each of your children with no distractions
*Write a journal/blog entry
*Do one load of laundry
*Take one picture
*Learn something new
*Make your bed
*Say a prayer
*Read one chapter of a book (or scriptures)
*Don't drink soda
*Eat fruit and veggies during every meal
*Set and stick with a Meal Plan
*Don't eat out or get fast food
*Stop eating after 6 PM
*Shower by 8 AM
*Set out clothes and next day items the night before
Here are my goals for the year!
January: Do 30 sit-ups every day
February: Write in my journal daily
March: Read one chapter of Scriptures
April: Take a picture a day
May: Stop eating after 6 PM
June: Run for 10 minutes a day
July: Email inbox at zero every day
August: Give my husband a great kiss and hug every day
September: Don't eat out or get fast food
October: No clothes on the floor at the end of each day
November: Cook a real dinner every night
December: Do something nice for someone else daily
After I figured out what I wanted to do for the whole year, I kinda wanted to start more than one during January. The beauty of this, though, is the focus on creating a new habit in your life, and not get overwhelmed with several at once. So I would say, don't worry about the rest of the year for now and just find ONE thing you want to do for January and then come up with February's at the end of January. I think that will work out better.
Hopefully this list can get you thinking about the things YOU want to do! Let's do this thing!