If there is one thing any mom with school age kids can tell you it's that there is never enough time in the mornings. No matter how early you get up, you find yourself rushing around, and rushing your kids, to get everyone out the door on time. With everything you have to do to get everyone dressed and fed and out the door making school lunches is just one thing too many.
But there is a solution. You can make your kids' lunches ahead of time! Check out these 10 school lunch ideas you can make the night before.
This post may contain affiliate links. As an Amazon Associate I earn from qualifying purchases. For more information, see our disclosure.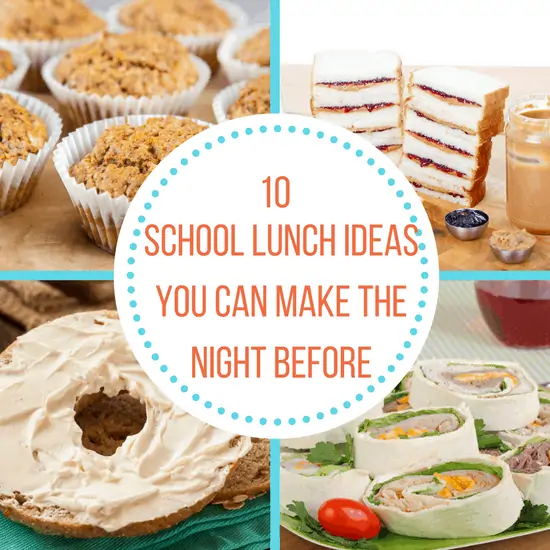 Time Saving Make-Ahead Lunches Kids Will Love
Now here are some quick and easy ideas when it comes school lunch ideas you can make the night before!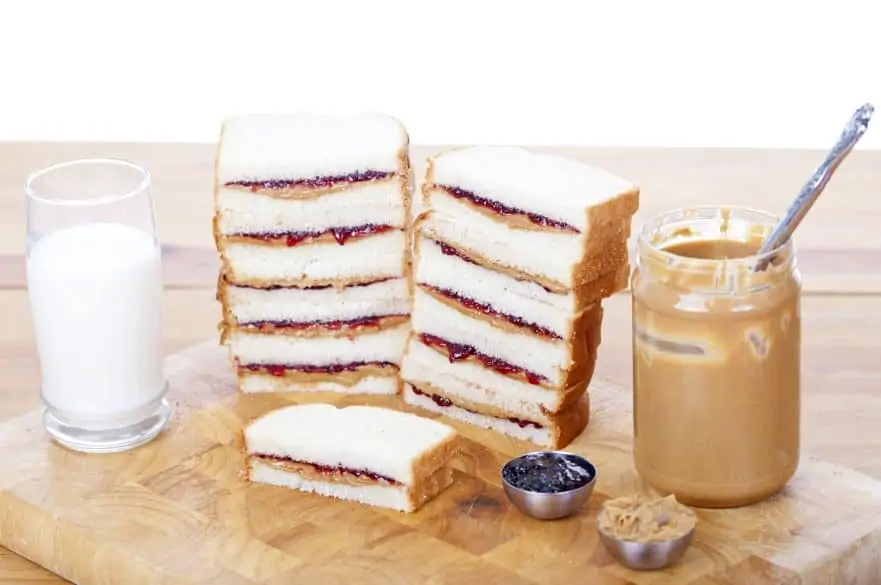 1. Sandwiches
For school lunch ideas you can make the night before, you can't beat sandwiches. And you can make this work with almost every kind of sandwich.
For meat and cheese sandwiches the biggest concern is the condiments making the bread a soggy mess. One solution is to put your condiments in containers. Your child can add as much as they want to their sandwich when they are ready to eat. Pickles also wrap up nicely in plastic wrap to be added at lunchtime.
A second solution and the one I use most often is to put the condiments between the meat and the cheese. This way they don't touch the bread and the sandwich is ready to go at lunchtime with no prep work. You will want to keep pre-made sandwiches in the refrigerator until your child leaves for school.
For peanut butter and jelly, the best way to keep a sandwich made the night before from getting soggy is to keep it in the freezer. If there are a couple of hours between removal from the freezer and lunch, the sandwich will thaw and be perfect at lunchtime.
2. Soup in a Thermos
There is nothing like a warm bowl of soup for lunch, especially on a cold day. With a good thermos, you can send that comforting warmth off to school with your child each day for lunch.
Prepping soup in the morning would defeat the whole purpose of lunch ideas you can make the night before, so to get this done you will need either a crockpot or your microwave.
My preferred method is to prepare the soup the night before and let it cook in the crockpot overnight. Then in the morning, the whole family can head off to work or school with a delicious lunch keeping warm in their thermos.
If a crockpot isn't a good option for you, then prepare the soup the night before. Then in the morning heat it up in the microwave before pouring it into your child's thermos. It will still be nice and warm at lunchtime.
Looking for some new school lunch ideas? Get a copy of our FREE school lunch planner!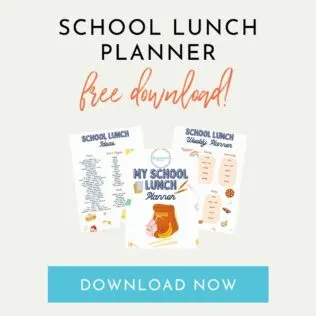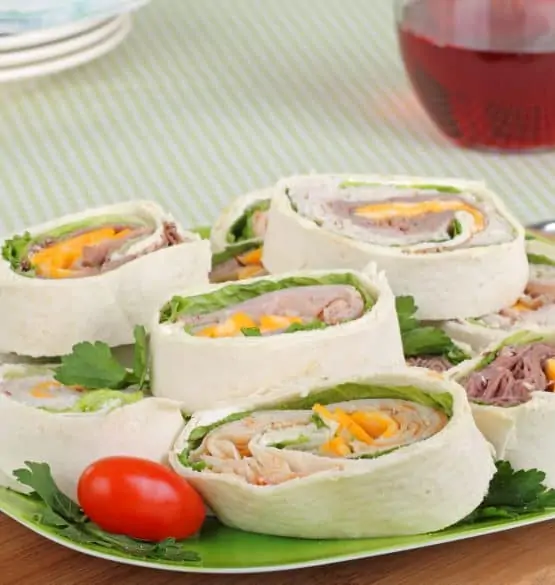 3. Meat and Cheese Roll-Ups
Meat and cheese roll-ups are easy to make and provide all the nutrition you could hope for in a lunch. Lay out your child's preferred slice of meat, layer on some cheese and veggies.
You can add cream cheese or other condiments, then roll everything together inside the meat. If you want to add some carbs, you can also roll everything into a thin tortilla or pack some crackers with lunch.
4. Hummus with Pita Bread and Veggies
Think of everything you typically add to a hummus platter. Now pack all those goodies up for your child's lunch. Hummus can be pre-bought in individual tubs or divided into Tupperware.
Then use baggies or additional lunch containers for pita bread, crackers, carrots, and anything else your child loves to dip in their hummus.
5. Pasta Salad
Pasta salad makes a great pack ahead lunch because it's something we typically eat cold. And you can pack plenty of nutrition into a good pasta salad.
Sliced vegetables and chunks of meat with your pasta and good dressing will make your kids' lunches the envy of the cafeteria.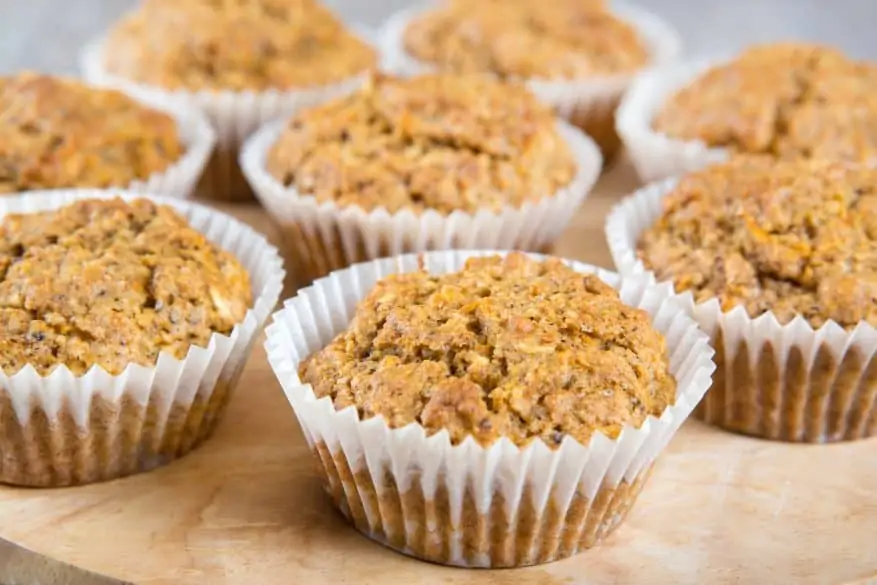 6. Muffins
A little bit of breakfast for lunch makes an easy option for lunch ideas you can make the night before. Check out this list of healthy muffin recipes for school lunches. Every one of these is healthy, filling, and delicious.
7. Chili
Just like a favorite soup, a hearty thermos full of chili will make a delightful make-ahead lunch for your kids. Include a piece of cornbread in their lunchbox and they will really be in heaven. I also like to add a little container of cheese.
8. Homemade Lunchables
We've all seen those pre-made lunches at the grocery store. Typically they include a meat, cheese, crackers and a dessert. This is something you can easily put together at home. Here are some handy tips, but don't be afraid to get creative on your own.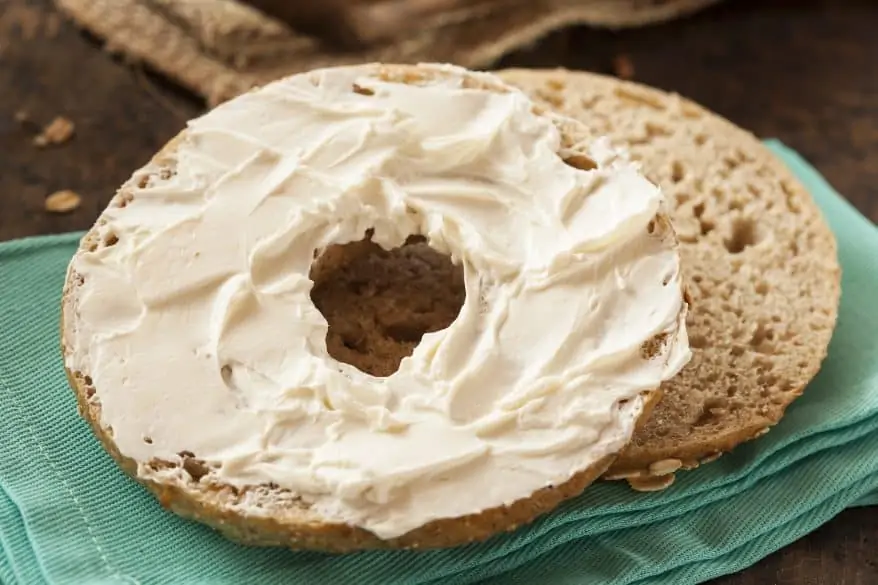 9. Bagels
Bagels are a nice change from a sandwich when you're looking for make-ahead lunch ideas. You can send an individual serving of cream cheese and other favorite bagel toppings, including meat, and let your child have their own mini bagel bar in the lunchroom.
10. Deconstructed Egg Salad
Egg salad is a wonderful lunch option you can make the night before. You can make the egg salad ahead and place it in Tupperware to be added to bread or dipped into with crackers at school.
Or if your child prefers something fresher, send along a deconstructed version of this lunchtime favorite. A hard-boiled egg with containers of mayonnaise and relish can be mixed together in minutes for a perfect lunch you can easily pack the night before.
11. Cheese Plate
Make a cute cheese tray with cheese slices, apple slices, grapes, and crackers. Bento box style lunch boxes are great for this! Kids love variety.