Making DIY Easter decorations is a fun way to add some flair to your family's holiday celebration. Easter brings to mind bright spring colors, adorable bunnies, and all the do-it-yourself decorations you can make with that combination.
If you're looking for fun DIY Easter decorations for your house, check out these ideas to get you started!
Beautiful DIY Easter Decorations
This post may contain affiliate links. As an Amazon Associate I earn from qualifying purchases. For more information, see our disclosure.
These amazing and beautify Easter decoration DIY ideas are super simple, and a great craft for kids of all ages or to do as a family. Best of all? They won't break the bank!
Now, let's get started with some ideas for your new Easter decor.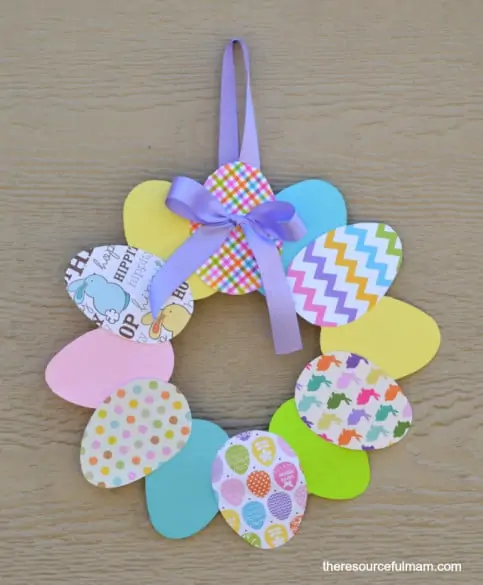 This paper Easter wreath is so bright and pretty! I love how simple it is. Although I love DIY decor, I am not a naturally talented crafter, so simple projects like these are perfect for me. You'll love this paper wreath to add some color to your Easter celebration.
The secret to this amazing DIY easter craft is of course, scrapbook paper:
Scrapbook paper is one of those great things to have on hand when it comes to crafting at all times of the year! This craft will have a great spring feel!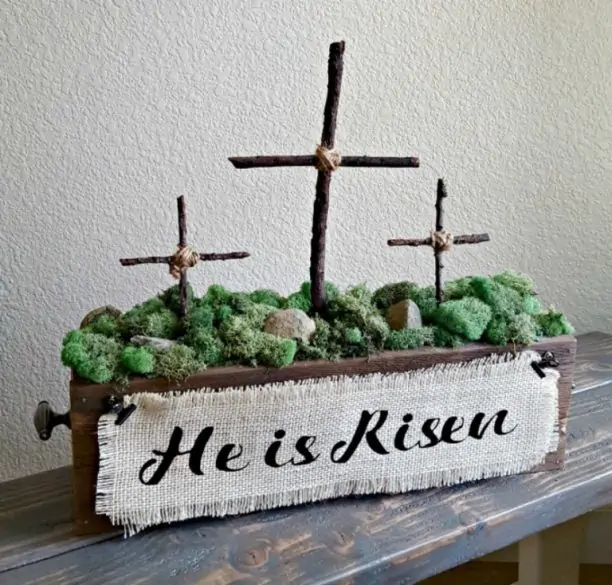 If you want your Easter decor to emphasize that there is more to this holiday than bunnies and egg hunts, this beautiful Easter box with crosses might be for you. This project is simple and looks nice anywhere in the home.
While there are detailed instructions, if you aren't the craftiest person, this DIY easter box is still within your reach! It truly is an amazing piece of DIY easter decor.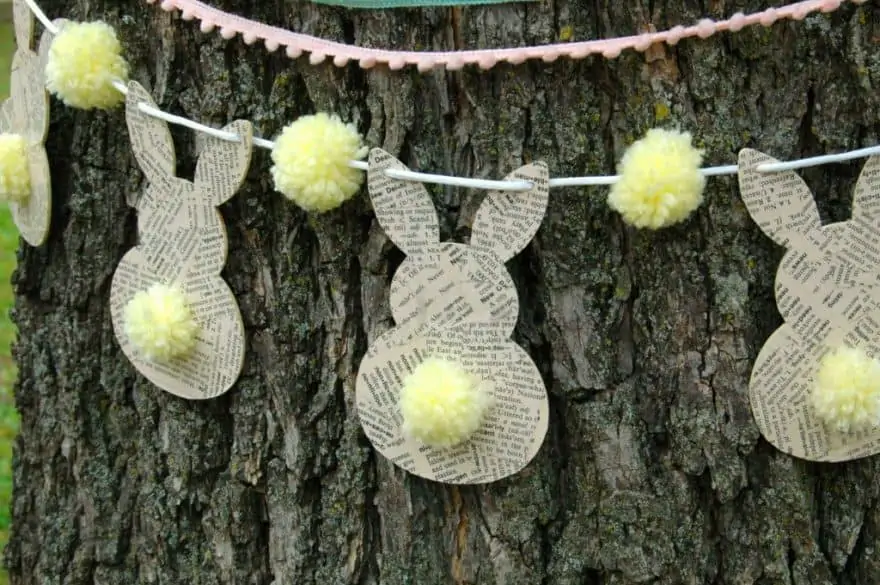 This Easter bunny bunting makes the perfect decoration for your mantel or the front of a dessert table at your Easter celebration. The book page aspect makes this project truly unique and I loved how it turned out, it is really a beautiful decoration.
The result is something completely different than the Easter decorations you see in the store. And that's the fun of DIY crafts.
You could also use scrapbook paper instead of book pages! Some pretty paper with flowers would make adorable bunnies.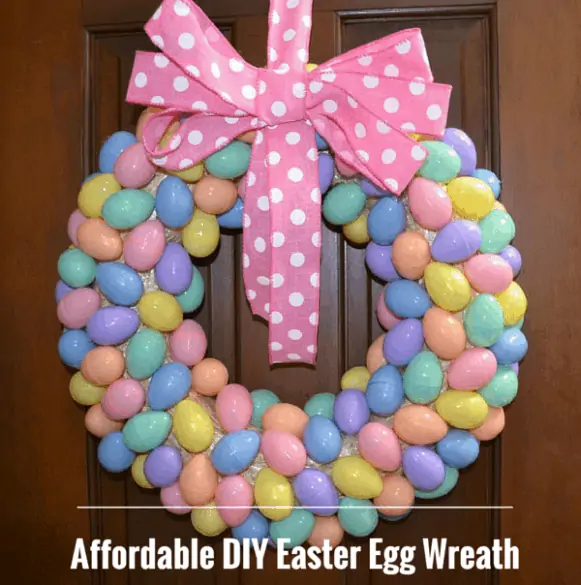 If Easter for you is all about the eggs, you'll love this wreath, it's full of them! I love the bright colors. And my kids loved this decoration for Easter.
The best part is that of course Easter eggs come in all sorts of great colors out there. We like these!
If your reason for making your own Easter decor is to save money, this project is a good one. It's inexpensive but looks nice on your front door or in your home.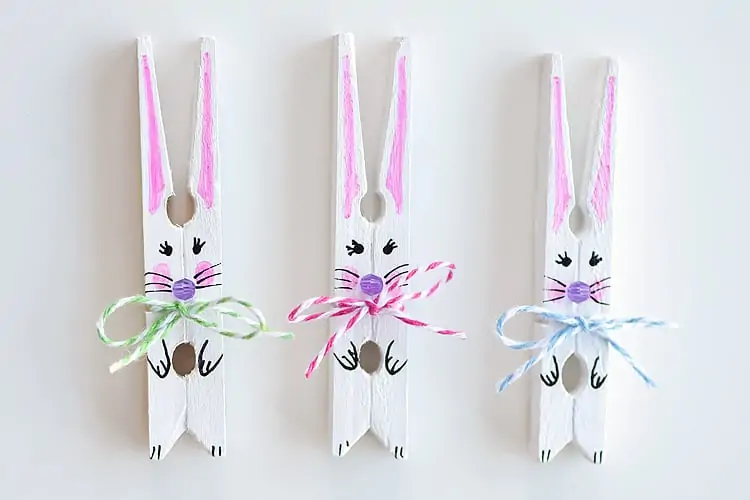 If you want some small Easter decor to add a little charm to your table or a mantle or shelf, these clothespin bunnies are perfect. They remind me of the clothespin reindeer many people make at Christmas.
The detailed instructions are pretty simple, and you don't need much in the way of materials.
While you need some clothespins, the only other thing you really need is white paint, and some markers which you probably already have.
For some reason, I love clothespin crafts. If your kids are artistic, they can help with these. You'll all be delighted with the finished product.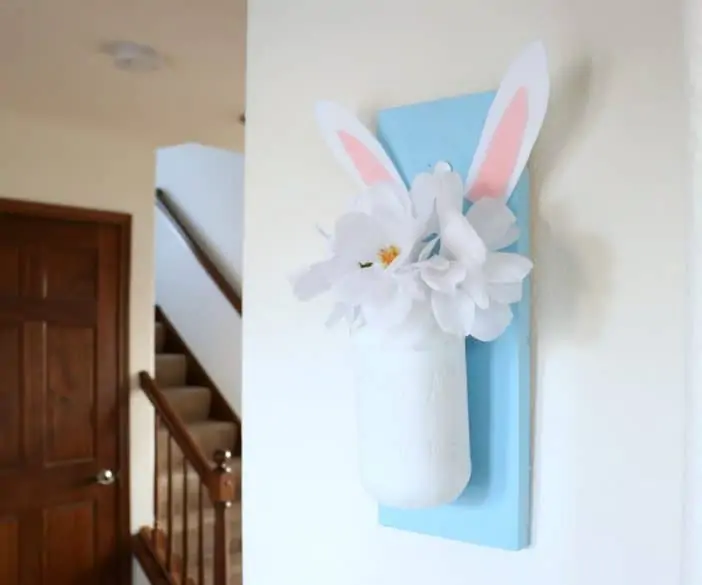 If you love mason jar decorations, this DIY Easter craft will be a fun one for you. And this craft is versatile. You can remove the bunny ears after Easter and leave the jar up as a fun spring decoration.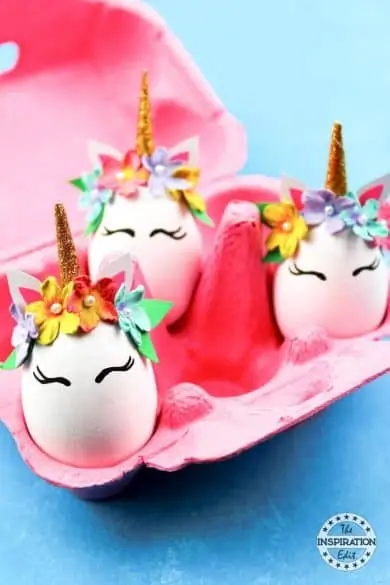 Do you want to add a fairytale twist to your DIY Easter decor? Check out these unicorn eggs! They are so cute! And these will make wonderful table decorations.
If you happen to have young children, they will be delighted with these eggs. They might even be able to help make them.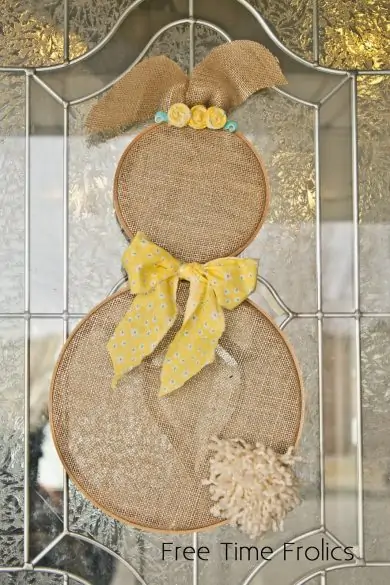 If you want to decorate your door but are looking for something different than the usual wreath, check out this embroidery hoop bunny. This craft is actually fairly simple. And the end result looks like something you could buy in a store.
This is yet another quick and easy Easter wreath everyone will love, and is a great decoration idea.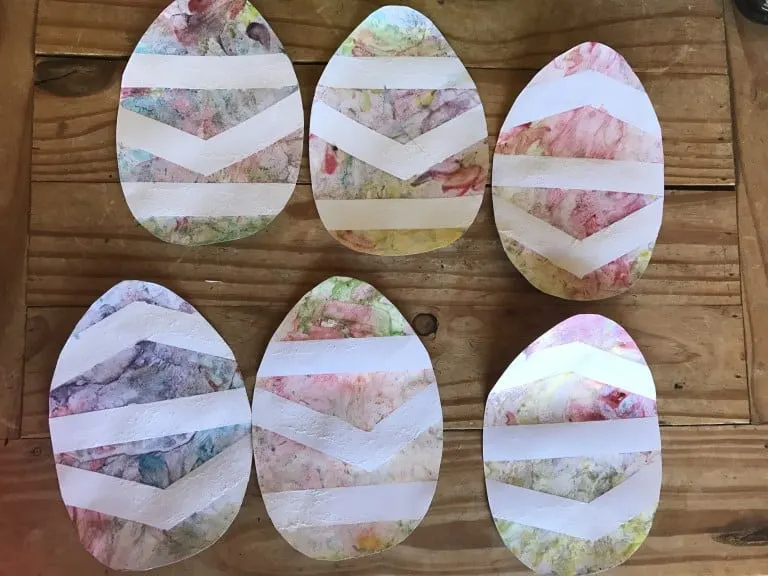 If you're looking for an Easter craft to enjoy with your youngest family members, this edible baby paint is perfect for you. It's nice to let your toddler paint without hovering around anxiously to snatch the paint away if they move it towards their mouth!
Cut out some paper eggs and let your little ones create colorful Easter craft masterpieces. These really make some beautiful Easter egg decor!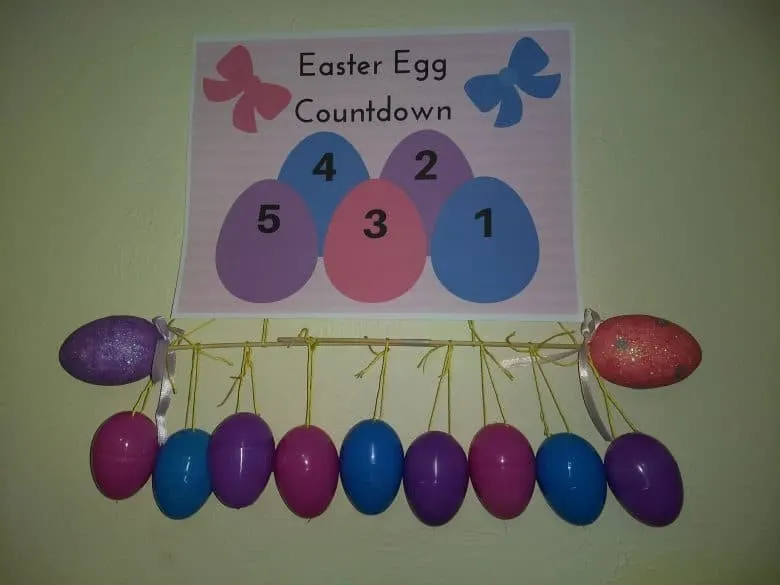 This is a wonderful Easter decoration that will look great in your family room or living room.
If your kids are anxiously awaiting the upcoming Easter holiday, they will love this Easter egg countdown craft! It's similar to an advent calendar for Christmas.
The countdown allows your kids to open an egg every day in the days leading up to the holiday. They will enjoy making the countdown string with you and then opening it for a surprise each day!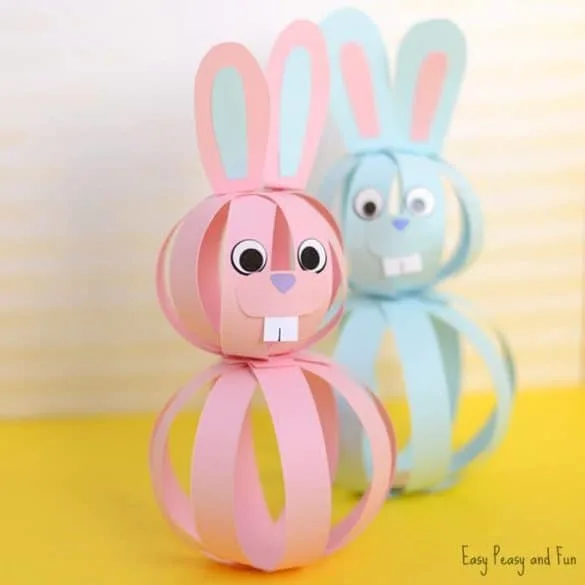 No Easter craft list would be complete without an Easter bunny craft. These easy paper bunnies are adorable. And they are incredibly easy to make. These paper Easter bunnies look great just about anywhere!
I love that they are three dimensional so you can set them on a table as a cute centerpiece decoration for the holiday.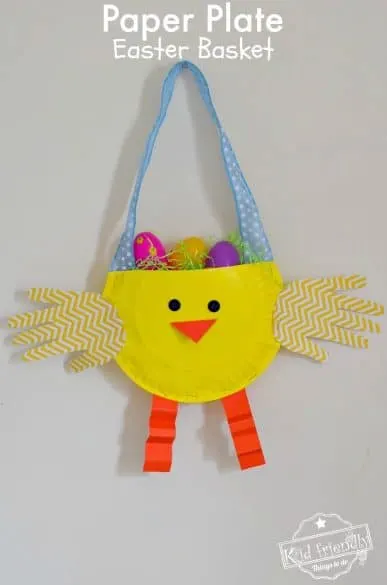 I was excited to make these paper plate chicken Easter baskets with my kids because I love the idea of a DIY Easter basket. These baskets are small and adorable. This simple tutorial is great even for the youngest in the family.
These Easter chicks make perfect decorations for Easter. And the project itself was really fun. I love little yellow chicks for Easter and for spring so these are perfect!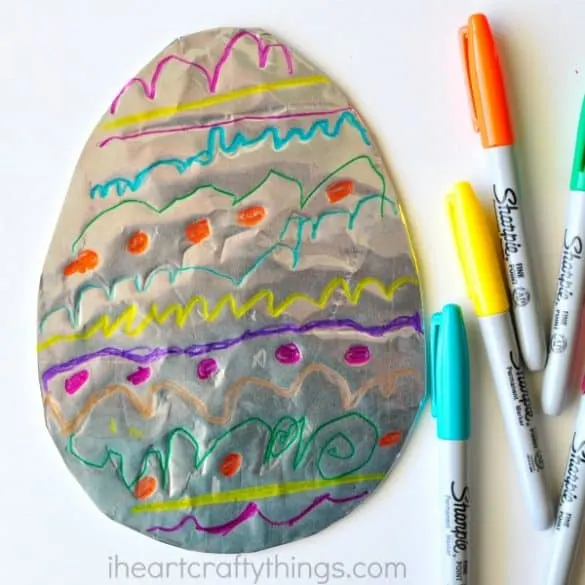 This craft is so simple, you can set it up for your kids within just a few minutes. Save an old cardboard box to cut out your eggs, cover them with tin foil and let your kids color away. My only caution is that you need to use Sharpie permanent markers.
There is nothing messy making this Easter decoration unless your kids are the type to go rogue with the markers and end up coloring more than the foil eggs. Just to be sure, you may want to keep an eye on your kids while they're coloring.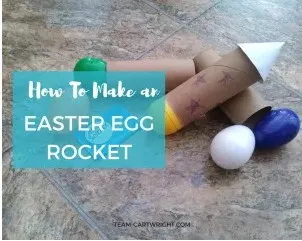 If you're looking for something with a little more pizazz than a craft with paint or glue, give this Easter egg rocket a try. It's not just for looking at! This rocket can go!
This is a Easter decoration that can really do double duty!
This is as much a science experiment as a craft so it combines fun and learning. My kids loved it! I'm sure we will be making more between now and Easter.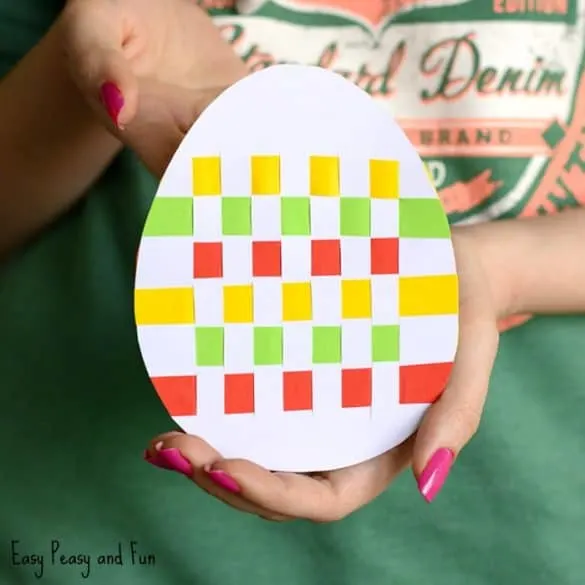 I remember paper weaving from when I was a child in preschool or Sunday school making crafts. It works great with these Easter eggs.
And it's a great way to have your preschooler work on their fine motor skills. The result is pretty and makes a nice decoration to hang on the wall or refrigerator.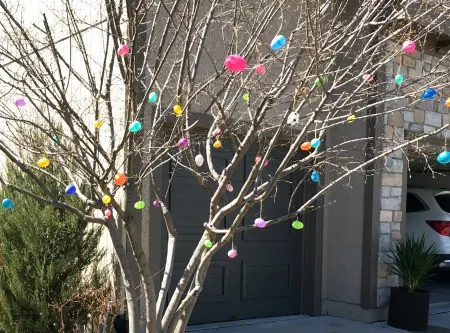 Decorate a small outdoor tree with inexpensive plastic eggs for a quick and easy Easter Tree DIY. This is a fun way to add a little Easter decor outdoors!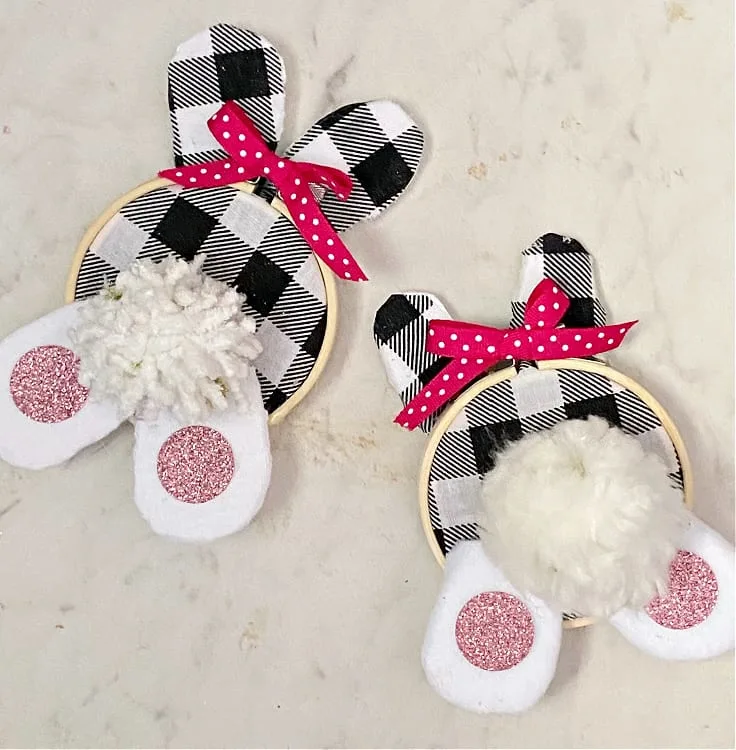 This Easter decoration is so simple, and so much fun. You can make an adorable embroidery hoop bunny! This is a great craft, and you can do it with any fabric you would like.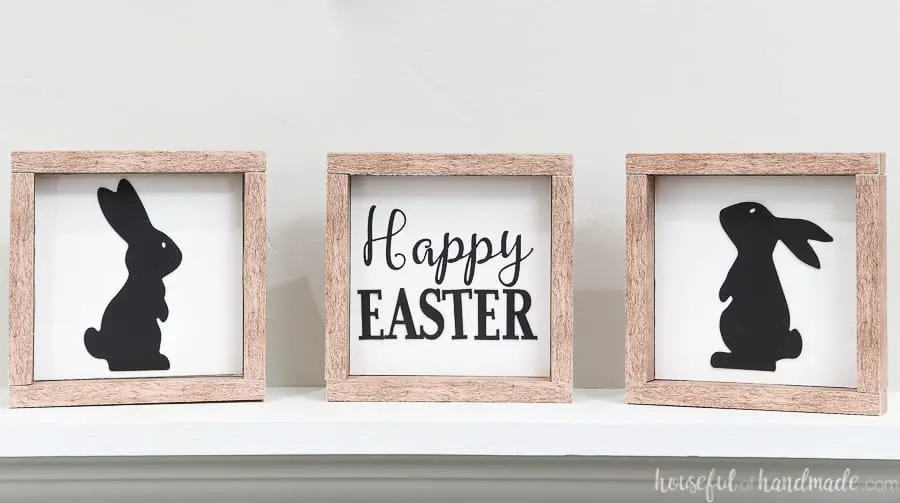 This guide has everything you need to make your own DIY Easter sign-no power tools needed! Get creative, and let everyone make their own Easter sign.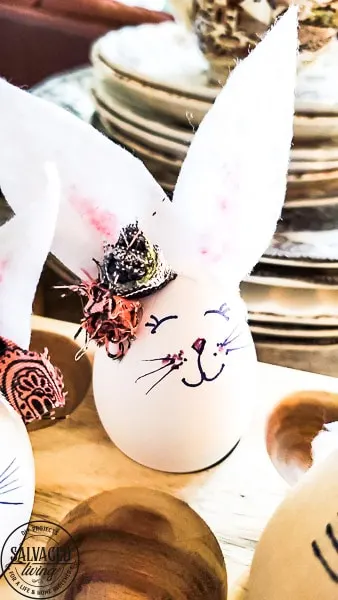 This sweet Easter bunny egg craft is easy and inexpensive to make. It puts a unique spin on the traditional Easter egg!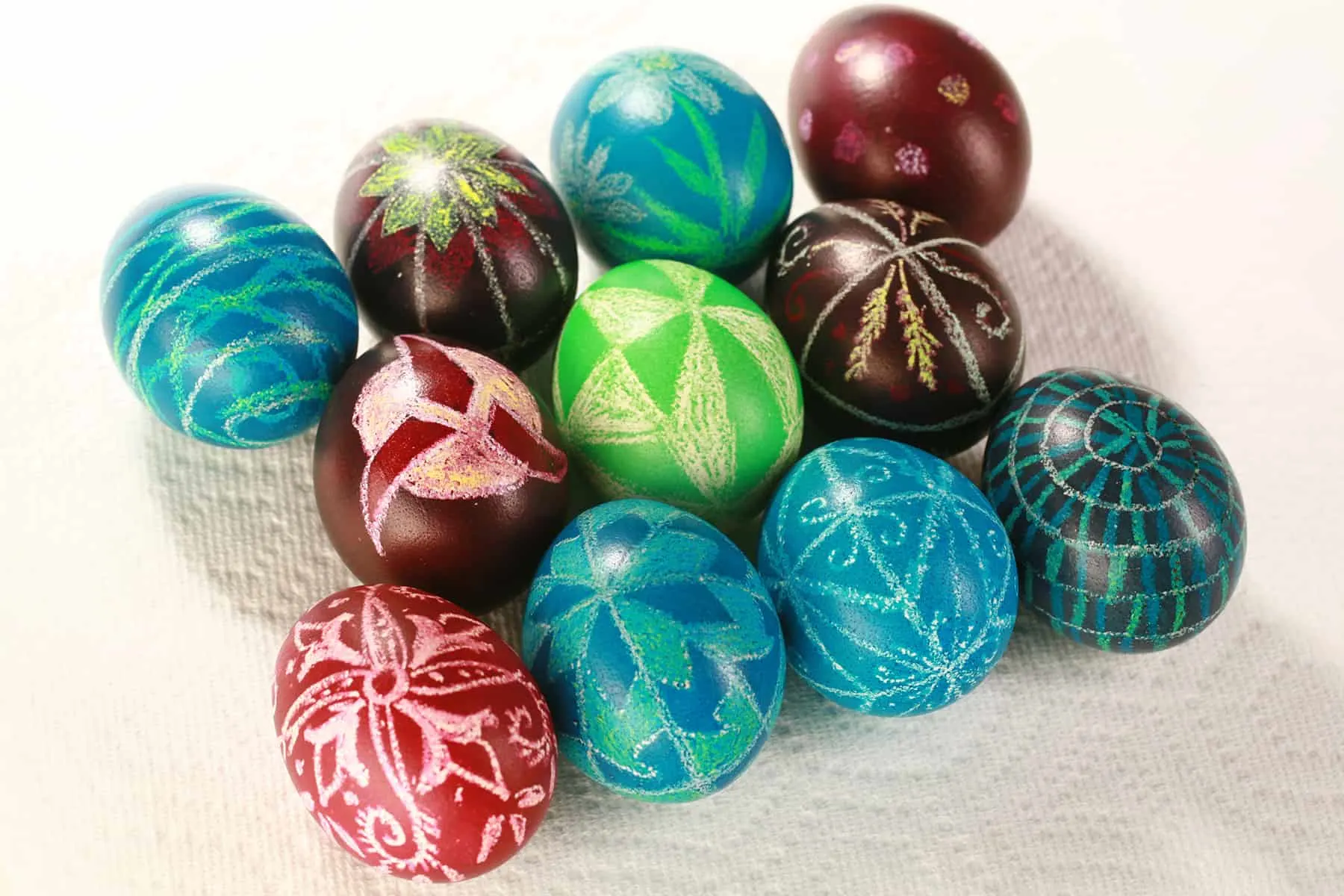 Pysanky is a beautiful, intricate Ukrainian Easter Egg technique. This Easy Pysanky tutorial requires no specials skill or equipment, and is great for kids… or date night!
This is a beautiful Easter tablescape with easy decorations anyone can do.
Make your Easter table a little bit more festive with custom painted napkins and a free printable paper Easter napkin ring.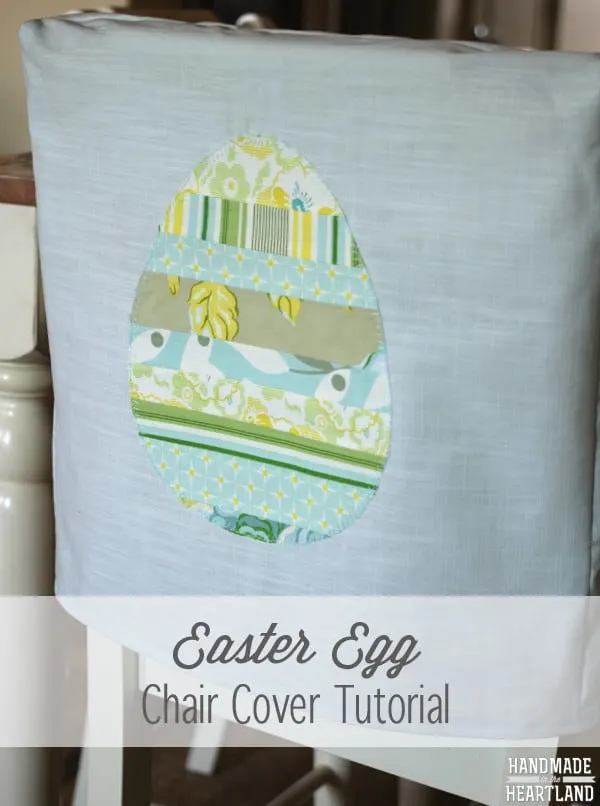 Decorate your dining room with these easter egg chair back covers! This is a great way to use up fabric scraps.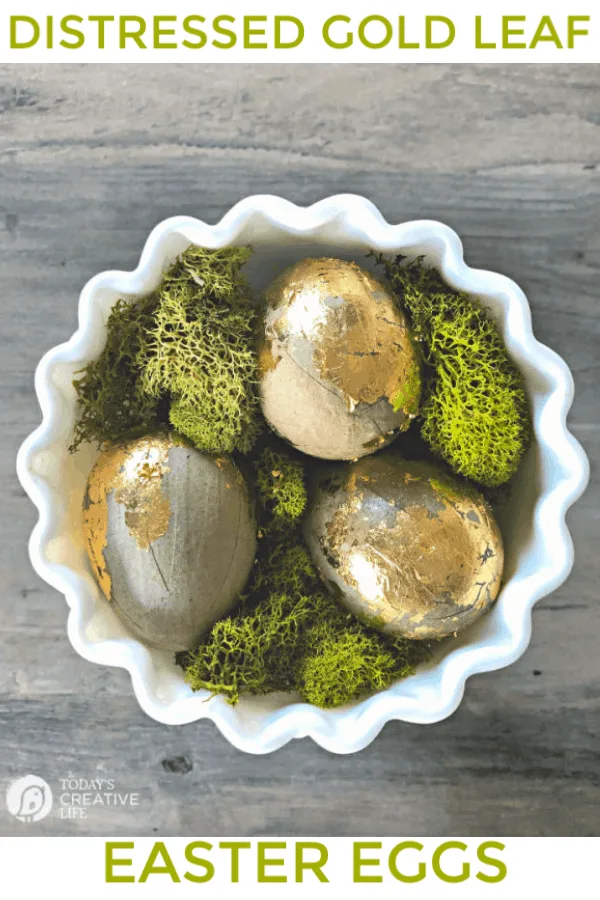 Make your own Golden Egg with this fun DIY craft.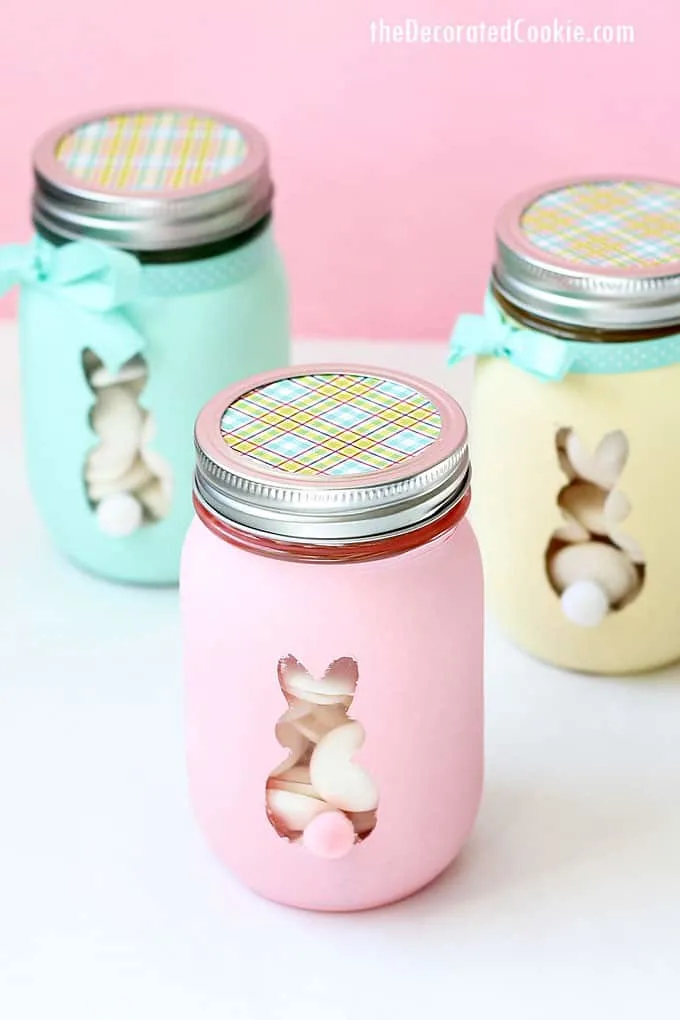 Easter bunny mason jars are a cute and easy holiday craft to make. Fill them with candy or votive candles and use them for Easter decor or as Easter gifts.
Whether you're gearing up for Easter or just decorating for the coming of Spring, DIY Paper Mache Eggs are fun to make and look lovely in your home.
How do you make Easter special at home?
When it comes to making Easter special at home, we love to spend time as a family. These simple DIY Easter decoration crafts are a great way to bring the family together, and spend some quality time.
Go ahead, impress people, tell them you made it yourself! That's one of the best things about DIY decor when you get to show off the results.