Peanut butter is so popular it gets its own day! Celebrate National Peanut Butter Day January 24th with these fun and tasty ideas.
Peanut Butter has a special place in many of our hearts. So much so that it gets several days on the National Calendar. January 24th is National Peanut Butter Day. Next comes March 1st National Peanut Butter Lover's Day. Don't forget April 2nd National Peanut Butter and Jelly Day. Followed by June 12th National Peanut Butter Cookie Day. Last but definitely not least the plain old peanut gets its own day on Sept 13th National Peanut Day.
This post may contain affiliate links. As an Amazon Associate I earn from qualifying purchases. For more information, see our disclosure.
Peanut Butter For Breakfast
No better way to start off National Peanut Butter Day than by having peanut butter for breakfast! Sure you could put some on toast or a banana but why not toss some into a smoothie! You can use crunchy or smooth peanut butter or even try some of this peanut butter powder.
To make a chocolate peanut butter smoothie start with 2 frozen bananas. Next add 1/2 cup peanut butter. Then 2 Tablespoons of cocoa. Finish it off with 1/2-1cup of milk depending on the consistency you like. Blend it up and TADA! You've started National Peanut Butter Day off on the right foot.
Peanut Butter For Lunch
Sure you could go with the old standby of a peanut butter and jelly sandwich. Always a winner. Or even kick it up a notch by adding potato chips to the inside of your PB&J (I've never tried this but I hear it's a winner). Want to simplify your peanut butter lunch. How about using it as a dip. Cut up some celery, apples and bananas. Then add in some pretzels or Wheat Thins. You could even do bagel chips or bagel pieces. Using peanut butter as a dip is a great way to have it for lunch. To make it even easier you can get your peanut butter packaged for on the go.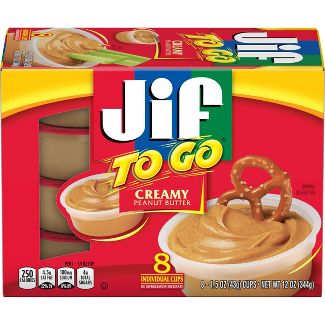 Peanut Butter For Dinner
Hmmm, what's for dinner? Try adding peanut butter to dinner with this Thai coconut curry shrimp recipe from foodiecrush. This recipe does not contain a ton of peanut butter (2 Tablespoons) but it's enough to get the job done and add some serious flavor to a yummy dish.
Peanut Butter For Dessert
There is an endless list of desserts that contain peanut butter. Sometimes peanut butter is the star (peanut butter cookies) and sometimes it plays a supporting role (muddy buddies). Whichever way you choose to include it into your dessert you can't go wrong. If you are looking for peanut butter to be the star then you have to try this peanut butter chocolate chip cookie recipe from Dinners, Dishes, and Desserts. It has the creamiest texture and just the right amount of chocolate chips to balance things out. It is our go to recipe for peanut butter cookies.
Whatever time of day it is there is something to eat with peanut butter. So get excited to celebrate National Peanut Butter Day this January 24th.