Looking for a fun birthday party idea that your child and all the party guests will enjoy? Then you can't go wrong with a Lego Party! Everyone loves building and playing with Legos. It doesn't matter what age someone is, they're bound to fall in love with any of these Lego party ideas.
Plan your next birthday party with all our of party tips and find some fun party themes so you can craft the perfect birthday party for your birthday guest of honor. It doesn't matter if they're a Lego building novice or part of the seasoned lego building team, they're sure to love an awesome lego party.
This post may contain affiliate links. As an Amazon Associate I earn from qualifying purchases. For more information, see our disclosure.
Planning a kid's party doesn't have to be stressful or take days or weeks on end trying to find the perfect menu, decorations and games to play. In this post, we've gathered all our favorite lego party ideas so you can check each thing off your list and get excited for the upcoming party.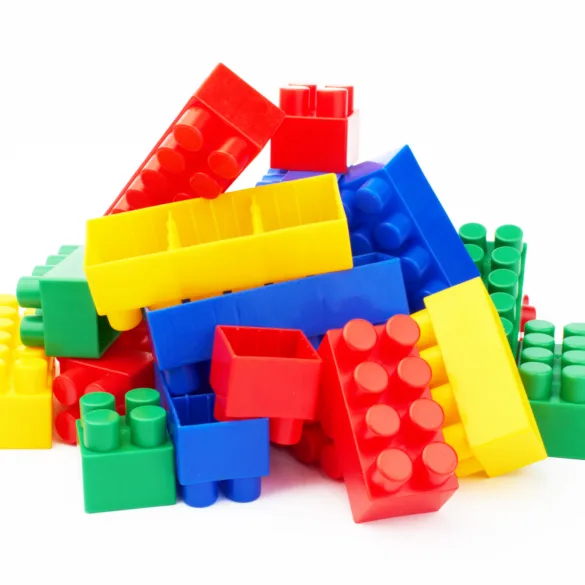 Lego Party Ideas
If you have a kid who loves the Lego movie, or maybe just one that enjoys playing with Legos and building all the new Lego sets, they are sure to love all of these great ideas for throwing the best Lego Birthday party. Let your kid invite all their friends for a fun Lego building party.
Get ready for the Lego party by finding all the best Lego party ideas and making sure your own legos are organized and stored (unless you're using some
Make party planning easy with all of the things we have rounded up for a Lego party theme below.
Once you have the date, time, and place lined up for your party, you can gather your guest list and send out these fun Lego themed party invitations to them. While you're at it, be sure to get some fun coordinating Thank You cards! These cards are fun as they have options for your kids to choose, rather than feeling overwhelmed not knowing what they should write to each guest.
Lego Party Food and Drink Ideas
Paper Products: Serve your party food in trays, paper plates, and bowls in the primary colors that the original Legos were made in.
Drink Ideas: Drinks can be served in these fun building block cups or in regular cups with these fun curly lego straws.
Fun food to serve at the party: If you're looking for fun food ideas, this site has created some fun food ideas in shapes of the Lego blocks like pizzas, Lego cookies, rice krispie treats that look like building blocks, and other fun party themed desserts. These would be a great addition to your party menu!
Cake time: A lego party wouldn't be complete without a Lego birthday cake! If you need a few fun ideas, check out this lego cake site.
You can also just make a classic homemade birthday cake with your kids favorite cake flavor and icing flavor and then decorate the cake with lego building blocks and small lego characters from their personal collection. You can guarantee that nobody else will ever have the same Lego cake ever again! Don't forget to add their favorite lego figure to the top.
Lego Party Supplies & Decorations
Set up your party area with this basic party supply pack with Lego themed plates, cups, and a Happy Birthday banner.
Or go all out with the party decorations and grab this pack with the basics and other things like cutlery, cupcake toppers, cake toppers, and more. This party pack even has party streamers and balloons to really set up a fun lego themed birthday party with.
If you don't want to get the lego themed plates and cups, you can get a bunch of plates, cups, cutlery, etc form the dollar store and just get them in the primary colors so they look like the classic original lego block colors.
Lego Party Activities
There are a ton of lego games you can find, make up, or buy to keep your party guests entertained. Here are a few of our favorite party games for your Lego party.
Get creative: You can grab a bunch of the classic lego sets where the party guests can get different colored lego bricks and make their own creations at the party table. Get a copy or two of this Lego Party book and have fun party themed activities for them to create.
Also, you can search the web for lego party printables to use for your party too. With so many ideas, you can find fun activities to try and ways to decorate for your party with printables!
Build bracelets: Let the kids create their own bracelets with the charms that remind you of lego pieces. Building friendship bracelets like this is always a fun activity.
Build a birthday cake: Or grab a few of these Lego cake sets and have them all help build a fun Lego birthday cake for the birthday girl or birthday boy.
Get competitive: If you have older kids, you can set out a few lego building sets and hold a few different building challenges for all the guests to complete. You can see who can build things faster, or who can build something to look the closest like an example and hand out small prizes to the winners.
Photo Time: Hang a Lego photo backdrop for your guests to take pictures of their creations in front of. Or grab some photo booth props so your guests can take some silly pictures.
Play a game: They make lego themed games of the kids favorite party ideas. If you have some kids full of energy, watch them play this Lego version of the classic Twister game and see them get twisted like a pretzel trying to win. You just can't go wrong with a classic game like that.
Or you can have them compete in an outdoor obstacle course or relay race in groups.
Take a swing: Have a pinata for kids old enough to take a whack and fill it with candy, lego blocks, and other fun things like tattoos, stickers, etc.
Don't forget the goodies: At the end of your party, make sure all of your guests leave with their party favor bags in hand! Add some fun candy, Lego crayons, stickers, Lego block sunglasses, and these fun lego rings and bracelets as your party favors to each goodie bag as a thank you to the guests for coming. You could even use these fun building blog party bags to give out to each guest. They're like a backpack but are made ot look like a Lego building block. Stuff them with a few favors and they'll be on their way.
Share your favorite lego birthday party ideas with us in the comments below and if you have other lego-themed party ideas we should add, feel free to share them too!
Now that you have all the best lego activities, party food, and decoration ideas, get to planning out the best birthday bash!