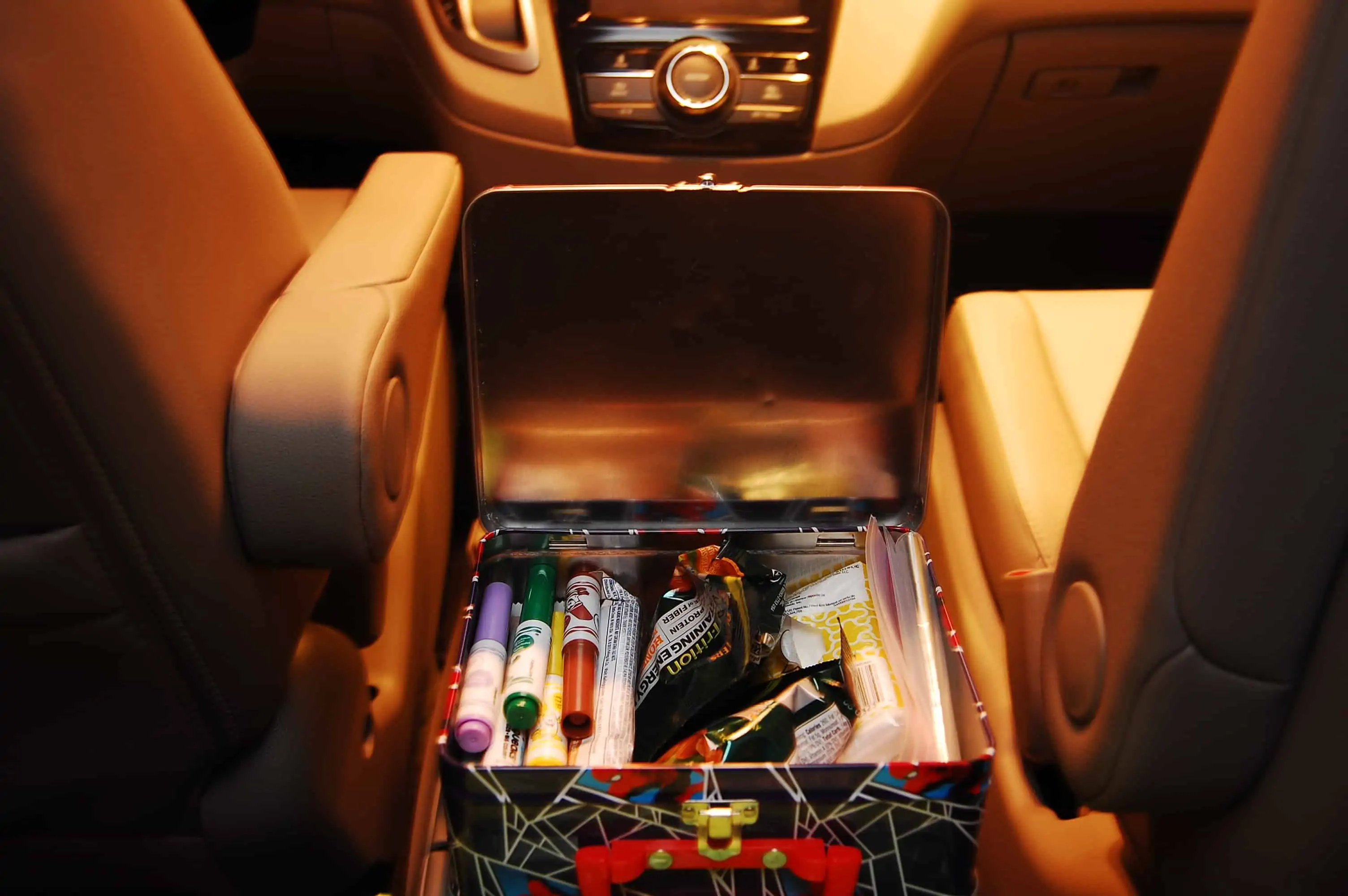 Since we spend a good portion of our day in the car, there are often times where it's better to just wait somewhere than to go all the way home. I've finally figured this out with my daughter's piano practice. It's about 10 minutes away. The practice is 30 minutes long. I would spend 10 minutes getting home, only to be home for 10 minutes, and then have to go right back. The need for a supply kit in the car becomes more and more of a necessity the more places you end up driving.
This post may contain affiliate links. As an Amazon Associate I earn from qualifying purchases. For more information, see our disclosure.
So what makes a good supply kit? It will have everything you'll ever really need when out running errands. From snacks for you and for your kids, to jumper cables.
You can get super creative with the containers as well. Old lunchboxes work great to store snacks and other "on the road" necessities, while a large plastic container in the trunk of the car will easily store your emergency essentials like flares and jumper cables.
Small Supply Kit (located in an easily accessible location to all passengers)
Baby Wipes
Paper Towels
Kleenex
Feminine Hygiene Products
Trail Mix
Protein Bars
Hard Candy
Books
Paper & Markers
Glow Sticks
Pain Reliever
Band-Aids
Comb/Brush
Gallon Zip Lock Bags
Tools to Carry
Flashlight
Funnel
Ice Scraper
Jack
Jumper Cables
Locking Pliers
Lug Wrench
Penknife
Adjustable pliers
Screwdrivers
Tire pressure gauge
Tow Strap or Chain
Supplies
Aeorsol tire inflator
Antifreeze or 50/50 coolant mix
Blanket
Board (to place under the jack in case of soft ground)
Brake fluid
Can Opener
Fire Extinguisher
First Aid Kit
Flares
Gallon jugs (empty to carry water or gasoline)
Gloves
Hand sanitizer
Safety Glasses
Spare Tire
Documents
Auto club membership card
Credit card (or emergency cash)
Insurance ID Card
Owner's Manual
Service record or log
Vehicle Registration
Ken Garff Honda of Orem loves my readers and is giving them $500 off a car! Just print out the coupon from this link and bring it into the dealership!
Disclosure: Ken Garff Honda of Orem has granted me the use of a car for a specific period of time, but is not compensating me in any other way for my honest reviews of the features of the new Honda cars!