It's five minutes before the school bus arrives, and you just realized you haven't packed your kids' lunches. We know the feeling. Instead of messing with plastic baggies, paper lunch sacks, and a big time-consuming mess – invest in a quality lunch container.
These little gems come with convenient compartments, snap-on lids, and some models are even spill-proof. Here are a few of our favorites that will make lunch prep, and your life, a little easier.
The Best Lunch Containers for Kids
This post may contain affiliate links. As an Amazon Associate I earn from qualifying purchases. For more information, see our disclosure.
If you're looking for a food container for lunch, there are many different things to think about. Don't worry, we have you covered with a number of selections to help you make the right choice.
Let's take a closer look at some of these amazing food containers that are perfect for lunch.

This Bento Box comes with 3 compartments and a spoon. It's the perfect size for a child's lunch portions and is made with BPA-free plastic and silicone. Plus each compartment is leak-proof, to avoid any foods mixing together. Did we mention it's dishwasher, freezer, and microwave safe?
Best of all, there is two of them! Probably the number one rule of lunch containers for kids is to always have a backup in case one gets left at school!

This adorable food storage container is shaped like an owl. This little owl box may not be as big or sturdy as some of the other options – but could it be any cuter?
We think it's great for a preschool age or kindergartener, and you can't beat the price. It features two compartments, comes with a spoon, and is available in a variety of pastel colors. We want one of each!
Looking for some great new school lunch ideas? Download our FREE school lunch planner!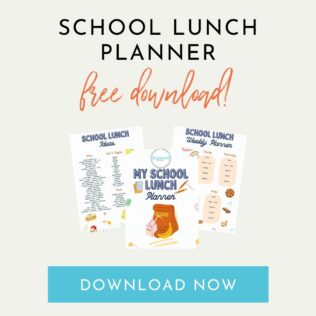 If you send your kids to school with food that should be kept warm or hot – the OmieBox is a great option. The cost is on the pricier side, but it features a stainless steel vacuum insulated thermos for warm foods.
Plus double walled insulated compartments to keep the other foods (like fruits and veggies) nice and cool.

If you have more than one school-age kid, you're probably looking for something affordable and durable. These reusable boxes come in a pack of four, so there are plenty to go around.
Use a different colored lid for each child. And the boxes feature a stackable design, so you can conveniently store them in the fridge the night before without taking up too much space.
These food storage containers have three compartments each, so if your child likes a good variety, this is a great fit.
This 14-piece Lunch Container Value Set is great for multiple kids. Combine different sizes in your child's lunch box to meet their needs.
The selling point on these particular containers is they have a removable ice pack that snaps right into the lid.
If plastic isn't your thing, this stainless steel option might be more up your alley.
It features three compartments and is virtually indestructible. Just keep in mind the compartments are not leak proof, and are better used for dry foods.
This is all around a great food container that is perfect for kids who are fan of robots!
This is a great option when it comes to food lunch containers. We love the stackable design allowing for even more compartments.
This would be a great option for older kids and teenagers because it holds more foods, and may have too many parts for little ones to keep track of.
This lunch box is as sturdy as they come. It features five separate leak-proof containers, drop-proof rubber-coated edges and two kid-friendly latches. We love the little circular compartment perfect for dips!

This option comes in comes in several designer colors, one for each child!
It has six compartments, one with its own lid. The flat square design is sleek and stylish. If you have a child that is looking for some variety in their lunch, than this may be the lunch box for you!