With Easter just around the corner, this Spring-loving Mama has been busy planning how our family will celebrate this year's festivities. First on my list is something that just so happens to be a long-standing tradition in our family.
It's one that is near and dear to my heart, and I want to share it with you today! The bunny cake is an easy, festive baking activity for families to share in celebration of the holiday. And the best part? Even the youngest of toddlers (such as my own) can partake in the fun.
This post may contain affiliate links. As an Amazon Associate I earn from qualifying purchases. For more information, see our disclosure.
Find your apron, grab some jelly beans, and follow along while I walk you through the process of making your very own bunny cake!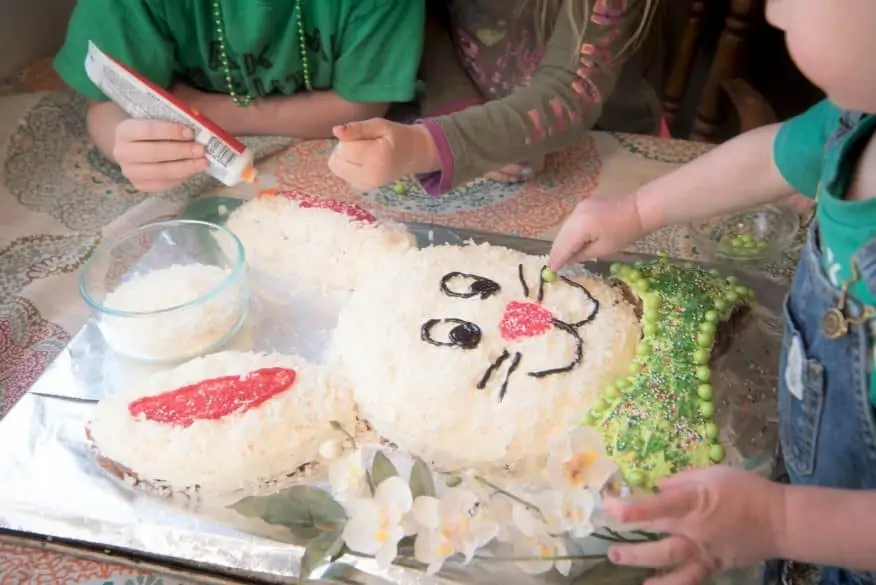 How to Make a Bunny Cake with Two Round Pans
To create the shape of the bunny, you're going to need to start with two round cakes. In years past I have used two 9-inch round pans, but you could also make super cute mini-bunnies with 4-inch round pans if you wanted to let each of your kiddos decorate their own cake.
What else you need to make a Bunny cake
Now, lets dive into what else you need to make a bunny cake this Easter.
You will need:
Cake mix or a recipe. Any standard cake mix will do, or you can of course make your cake from scratch.
Two round pans. We already covered this, but these are important!
Your favorite color icing for the bunny. The most traditional color is of course white, but we do other colors when the kids ask for it!
Icing pens to decorate the bunny. You can again, pick all of your favorite colors to decorate the bunny. I suggest black for the whiskers and facial features, but feel free to be creative!
Candy and sprinkles to be creative! Candy and sprinkles for this bunny are a nice creative touch!
We use a piece of cardboard covered in tin foil. You an also use a big enough baking pan covered in foil, but remember this bunny has eats!
How to Make a Bunny Cake
Now let's go step by step on how to make this bunny cake for Easter.
After having my share of cakes fall apart in the process of taking them out of the pan, I finally discovered a nearly foolproof system of prepping the cake pans for easy removal later on.
First, you'll want to trace the bottom of each pan onto a sheet of waxed paper. Then, cut out these circles, place them in the bottom of the pan, and grease and flour the pan. The cakes will slide right out later on.
For this project, you can use any flavor of cake that excites your taste buds. I choose to make our bunny out of carrot cake each year because to me it seems to be the most "Easter-like."
Bunnies, carrots… they just go together, right? Don't have the time (or desire) to make a cake from scratch? Pick up a boxed mix from the store. Your cake will come out just as cute– I promise!
Next, make and bake your cakes according to the directions or your recipe.
When your round cakes have finished baking, you should allow them to cool completely before handling. This will help to ensure that they don't fall apart on you.
Once cool, you can slide them on out of your pans and place them on your work surface. (Don't forget to peel the waxed paper off of the bottom of each cake.)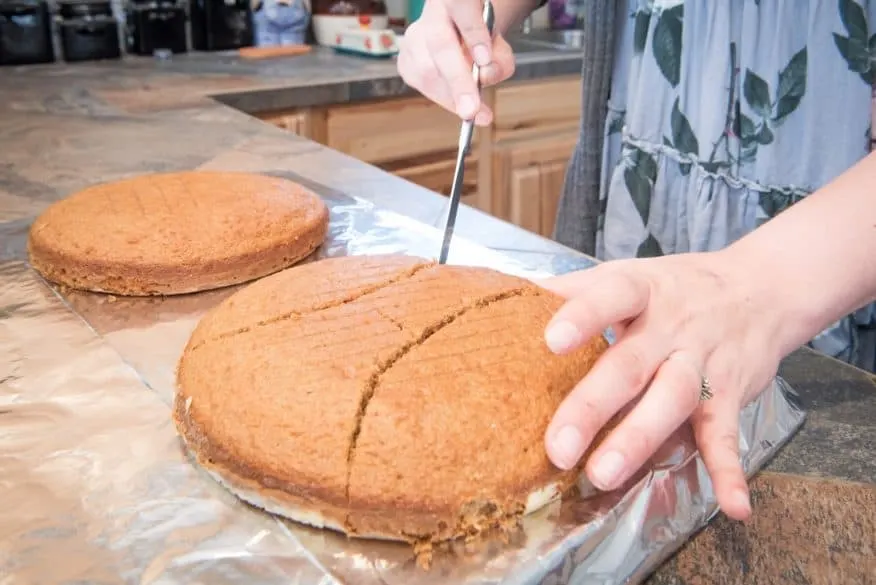 Do you remember how I promised you an easy cake? Well, it doesn't get much easier than the fact that this cute cake only requires two cuts! You'll leave one of your round cakes whole, and cut the other like a baseball, with a half moon cut on either side, as shown.
The remaining whole round cake will become the bunny's face. You'll use the two outside pieces of the cut cake to form the ears, and the middle section will become the bunny's bow-tie. Simple, right?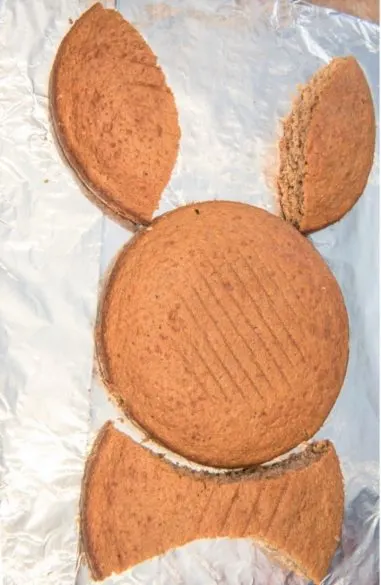 This is where you and your kiddos get to let your creativity shine! I give our bunny cake a quick slather of white icing before I let the kids go to town decorating.
You can really use anything to decorate with, but some of our favorite toppings are jelly beans, colored chocolate candies, and sprinkles. I also like to spread a bit of white coconut on top to make the icing look more like "fur"; fluffy bunnies are the cutest!
Above all, remember to have fun!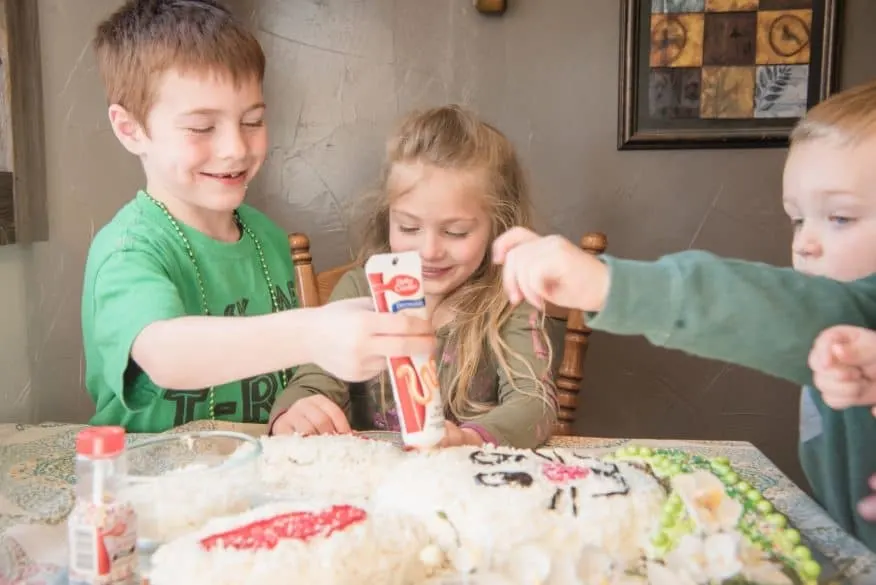 Some years our cake turns out looking worthy of being featured on "Cake Boss," and other years it turns out looking like it was decorated by a bunch of kids (because it was!), but every year it's made with love; isn't that all that really matters?
Don't forget to snap a picture of your kids with their masterpiece. If you make this a tradition, you'll enjoy looking back at how they've changed from year to year.
Then grab a fork, and dig in!
Everything You Need for the Easter Bunny Cake
Need some supplies? We have you covered!
Get Round Pans
Get Easter Sprinkles
Get Black Decorating Icing
Get Colored Decorating Icing

Guest Author, Casey Huff, is a teacher turned stay-at-home-mom. She and her husband live in rural Colorado with their two sons and two ornery Labradors.
Casey blogs at Etched in Home. Her mission as a writer is to celebrate parenthood and relationships, and shine light on the reality behind it all; the good, the bad, and always the real.
When she's not writing, you can find Casey chasing her Littles around, hiding in the pantry, or doing anything else to avoid dealing with the always-present mountain of laundry that haunts her days.