Who says Easter baskets need to be filled with candy and sweet treats! Why not get creative this year and make your child a themed Easter basket based on what they really love?
Easter Baskets for Kids
Here are our favorite Easter Basket ideas for kids! These baskets are some great unique ideas for you and your kids this easter, and will be loved by all.
This post may contain affiliate links. As an Amazon Associate I earn from qualifying purchases. For more information, see our disclosure.
Here are some ideas to get you started when it comes to putting together themed Easter baskets.
Arts and Crafts Easter Basket
For your creative kiddo, fill their basket with new art supplies! What kid doesn't love new crayons and fresh markers! You can also add play dough, modeling clay, paper, stencils, paint sets and more!
Outdoor Fun Easter Basket
With Easter comes warmer weather. Help your kiddo be ready to play outside by making them an outdoor fun themed basket.
Fill with all their warm weather favorites: sidewalk chalk, bubbles, jump ropes, a new Wiffle ball and bat, and a playground ball.
For older kids you can choose tennis rackets and balls, a basketball, kites and more.
Gardening Themed Easter Basket
If your child loves being outdoors, consider a gardening themed Easter Basket!
Kids love to help in the garden. Fill their basket with kid-sized gardening tools, gloves, rain boots, watering can and seed packets!
It is also a great time to start planning your spring garden as a family!
Baking Themed Easter Basket
If your child loves to help in the kitchen a baking basket is just the thing!
Fill their basket with baking mixes, sprinkles and decorations, colorful cupcake liners, and a spatula. You can even add in a chef's hat and an apron just their size.
Movie Night Themed Easter Basket
For a movie night basket, buy their favorite movie and add some popcorn, snacks, and maybe even a new comfy snuggle blanket.
Watching a favorite movie together as a family is a great way to wind down on Easter Sunday and put their gifts to use!
Water Play Easter Basket
Since summer is coming make a water play basket! If your child is anxiously awaiting warmer weather (or you already live in a warm climate) this makes a great, fun Easter Basket idea that will get them outside!
Fill with water guns, water balloons, googles, toy boats, and a cute beach towel.
Beach Themed Easter Basket
If your family visits the beach in the summer you can create a beach themed Easter basket filled with shovels, buckets, water shoes, sunglasses, and a sun hat.
Book Based Easter Basket
For kids who love to read, an Easter basket filled with books is perfect. You can also add in a book light, bookmarks and maybe a figurine, toy, or stuffed animal of their favorite character.
Favorite Toy Easter Basket
We love doing Easter baskets with whatever our child's favorite toy currently is! Here are a couple we have done in the past for example.
Dinosaur Themed Easter Basket
If your child is obsessed with dinosaurs, make the basket's theme a dinosaur and fill with lots of their favorite creatures and maybe even dinosaur shaped candies!
Lego Themed Easter Basket
If your child's favorite is Legos, add in a Lego set, some mini figures, and maybe even a copy of the Lego movie.
A Favorite TV Show Easter Basket
What's your child's favorite tv show? Make a basket all about their favorite show with toys and maybe even a DVD too!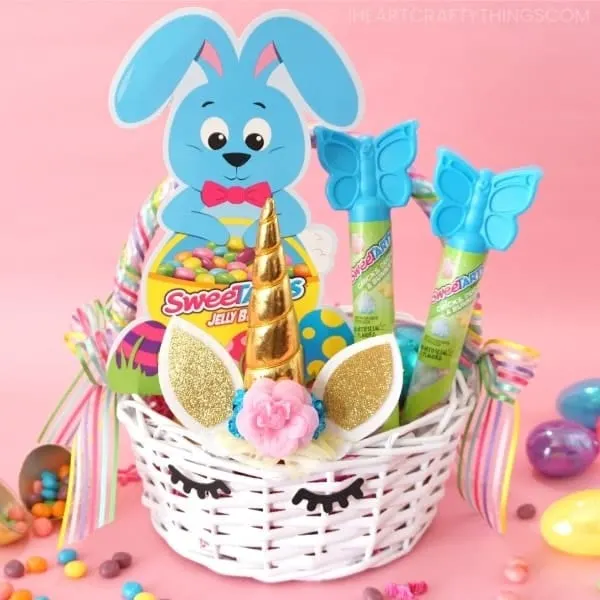 If you know a child that loves unicorns (and let's face it, who doesn't love unicorns) check out this simple DIY unicorn basket. It looks amazing, and is simple to make!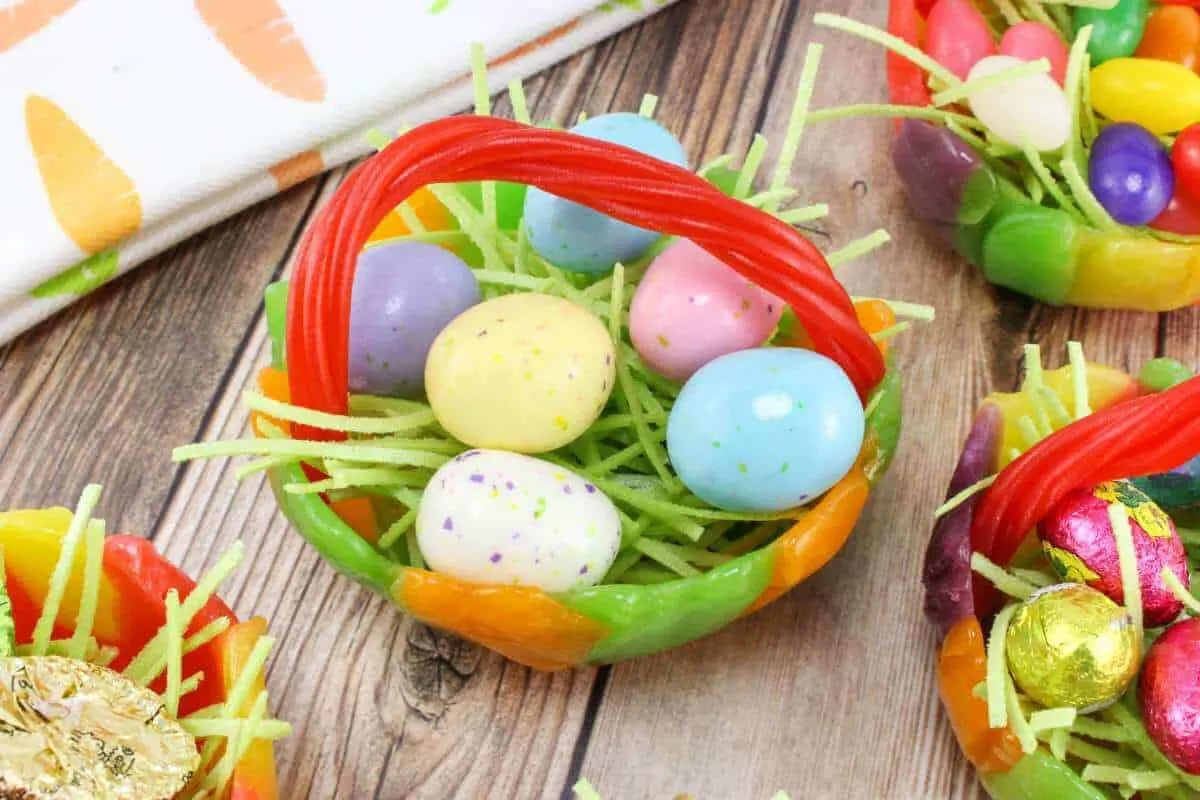 If you have a young chef on your hands, consider this edible easter basket! This Easter Basket is special since it is 100% edible and made with a ton of great classic candies!
This is also a great activity to do with your young chef around easter time!
Lily Pulitzer Themed Easter Basket DIY Craft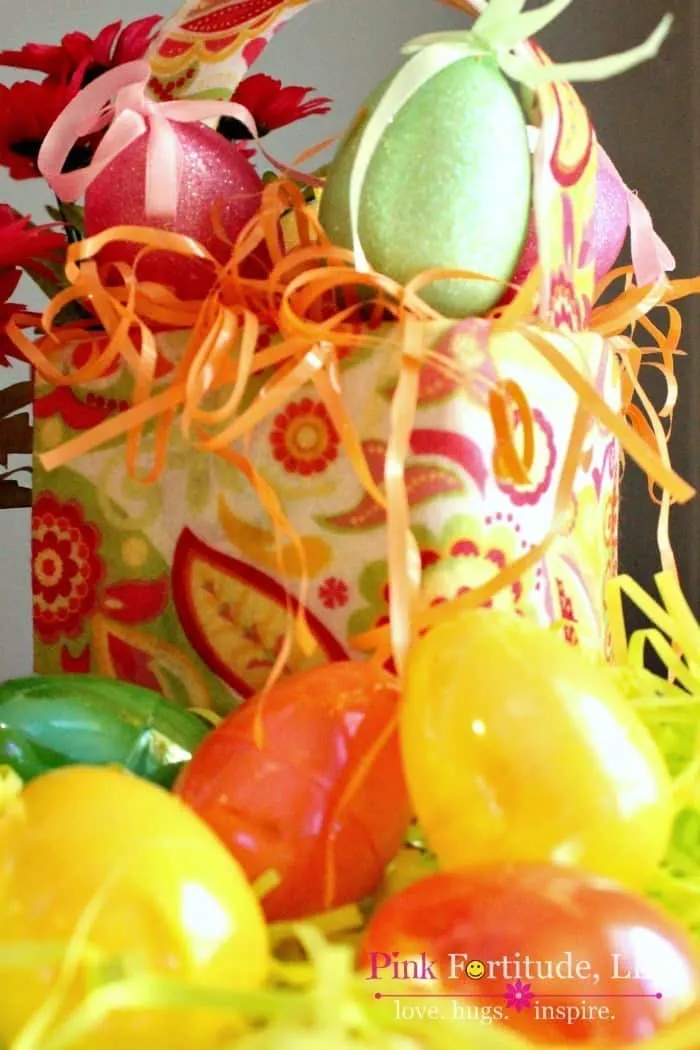 If you love the amazing prints of Lily Pulitzer, consider this themed Easter Basket craft! Your little fashionista will be thrilled when they see this one on Easter morning!
Awesome Homemade Easter Basket Ideas
A themed Easter basket doesn't mean you can't add in the traditional candy either! But it is a great way to treat your kids to some of their favorite toys and cut down on the amount of candy they'll get.
So by all means, grab some plastic eggs filled with jelly beans and chocolates and add a few into their themed basket.
We hope you enjoyed our awesome homemade Easter basked ideas, and found some inspiration!