Tell the truth – would you let anyone peek in your makeup drawer right now? Like most of our hidden storage, it's probably a bit of a mess. And with busy mornings where we put our makeup on as we rush out the door, things are never properly put away. But if you're ready to start keeping your makeup tidy – there's no need to spend a lot. Here are 5 do-it-yourself makeup desk ideas to tidy up your beauty supplies.
The best makeup desk ideas from around the net
Wall-Mounted Makeup Brush Cups
This post may contain affiliate links. As an Amazon Associate I earn from qualifying purchases. For more information, see our disclosure.
Source: A Beautiful Mess
To clear up counter space, use the wall for your makeup brushes. Using chic copper cups, leather string, and a wood board – you can make this classy wall-mounted makeup holder.
Makeup Magnet Board
Source: Cosmopolitan
This handy magnet board would work in the bathroom or a bedroom vanity table. Adhere magnets to the back of your makeup compacts, and stick them on a metal board. Paint the metal board to give it a decorative finish.
Recycle Candle Holders for Makeup Storage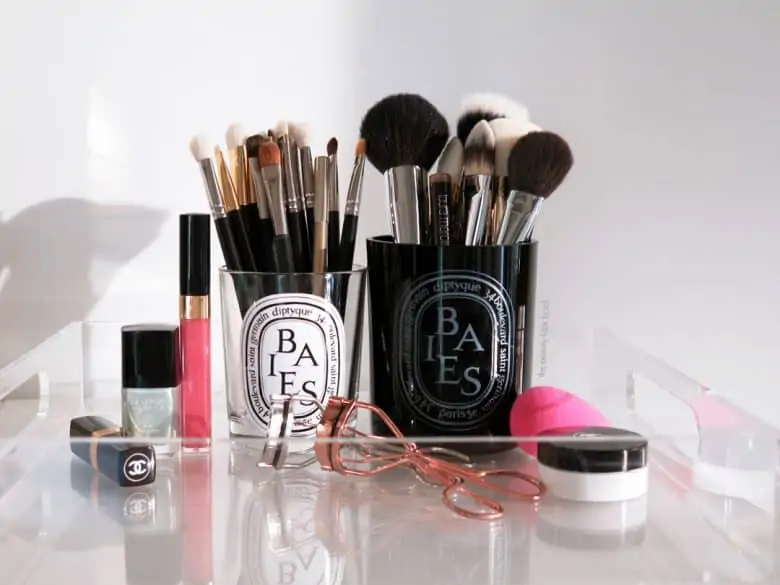 Source: Beauty Look Book
When you've used all the wax in your candle – don't throw away those beautiful glass candle holders! You can reuse them for elegant makeup storage. To get rid of stubborn wax remnants, fill the candle holder with hot water. The water will soften the wax, making it easier to wipe away.
DIY Drawer Dividers
Source: Stephii Mattea
If you have a designated drawer for your makeup, consider making your own dividers! This tutorial will walk you through how to make them out of foam board – which is easy to work with and affordable.
Spice Rack Makeup Holder
Source: Domino
Transform an ordinary wooden spice rack into functional and beautiful makeup storage. Simply paint the wooden rack and add vinyl lettering to label each shelf. A spice rack is the perfect size to hold all your items, without taking up too much counter space. Or you can mount it on the wall.