Get inspired by these family command center ideas!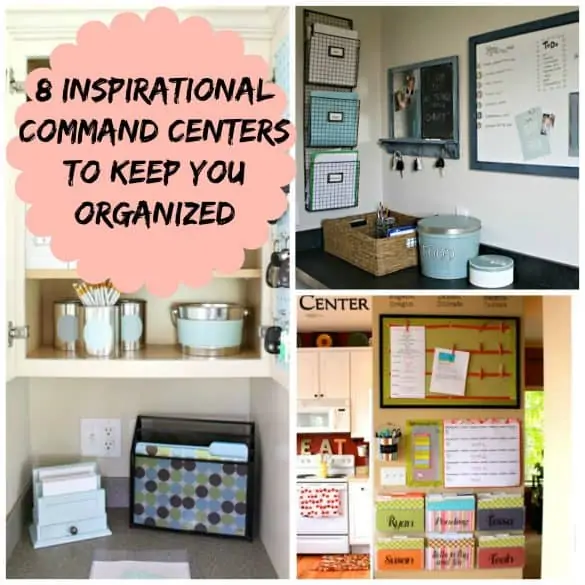 This post may contain affiliate links. As an Amazon Associate I earn from qualifying purchases. For more information, see our disclosure.
If you use Google to define "family command center", you get the definition of "any place that is used to provide centralized command for some purpose". So like NASA central command. And I am sure your family is like mine and it sometimes feels like you are on some grand mission to Mars. School work, volunteering, work responsibilities, church obligations, bills, kids sports teams, coupons from the mail, dance classes, calendars, music lessons, play dates, menu planning, grocery lists- need I go on?! Your family needs a place that contains and organizes everything that goes on in your lives. A family command center! Here is a roundup of all the best command center ideas on the internet. Just a little time and effort can help you feel like the commander of your troops. And your little soldiers will appreciate the organization too. When everyone is on the same page, we accomplish more!
The best family command center ideas from around the web
This one uses wall baskets to keep paper clutter at bay and keep things organized. Simple labels on the baskets make it easy to put things where they belong.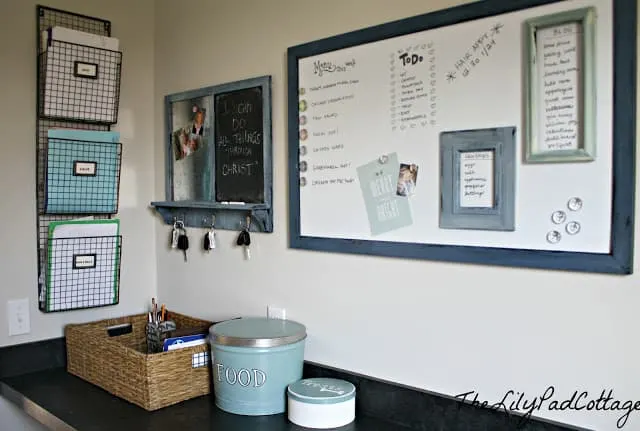 Utilize a Corner of the Laundry Room Counter
The laundry room is a common drop zone and you can keep a command center right where a lot of the action is. And notice the car keys on the hooks on the wall. Great idea to keep them at the command center!
Use Some Cabinets to Conceal the Command Center
You would never know that the cabinets hold all the household info. The pegboard and magnet board on the inside of the cabinets utilize as much space as possible. Nothing wasted!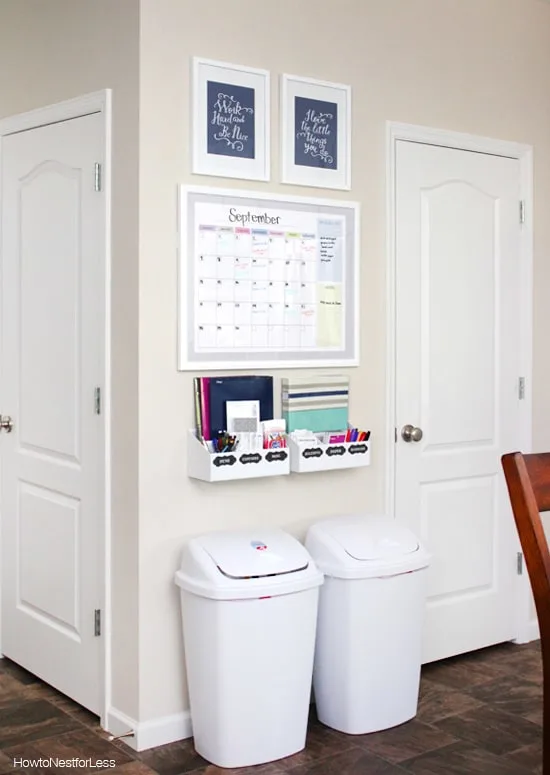 To avoid clutter, any organization expert will tell you to quickly get rid of things you don't need. So keeping a trash can and recycling can right by your command center makes it easy to stay organized.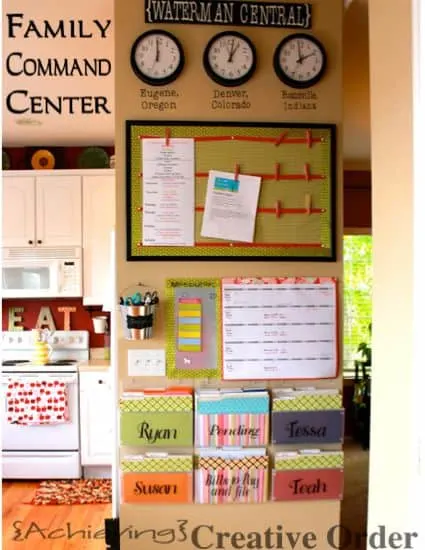 File Folders for Each Family Member
What a great way to keep things organized! Quell paper chaos by putting things where they belong right from the beginning.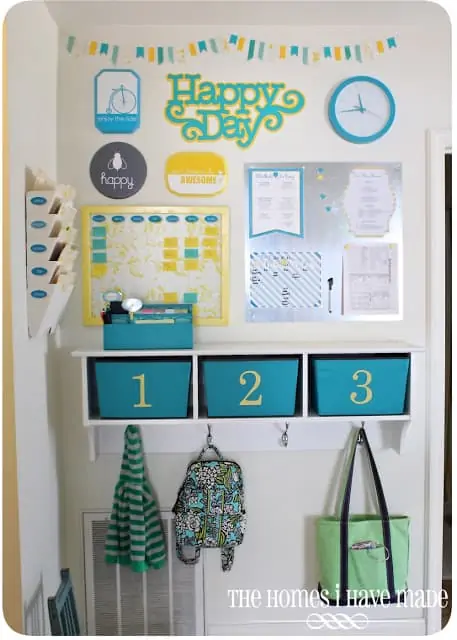 Keep School Backpacks at the Command Center
Avoid the morning chaos of finding backpacks and school work by keeping it all at the family command center.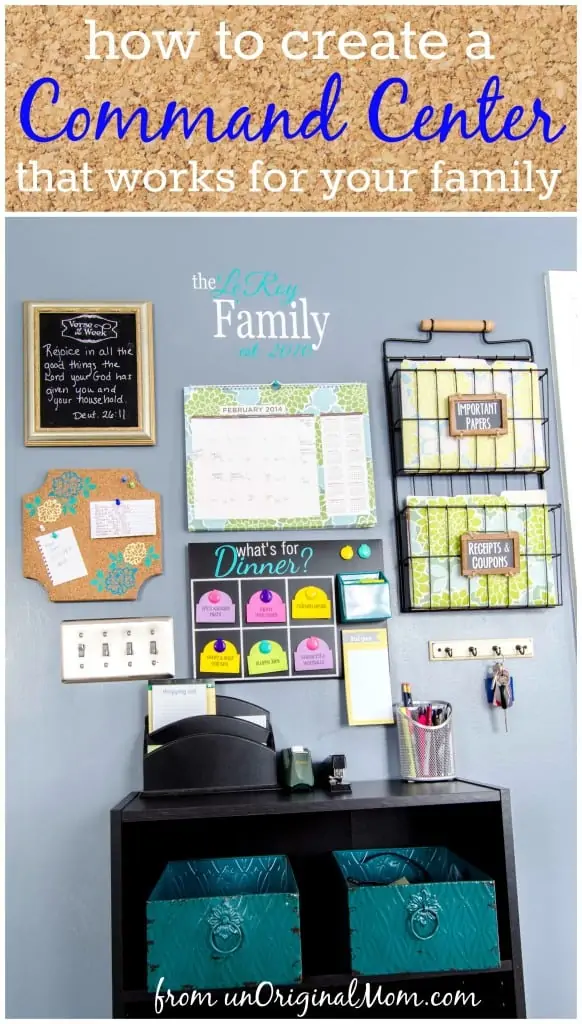 Include Your Menu Plan in Your Command Center
While people are checking the command center for the schedule, why not take a look at what's on the menu for the day?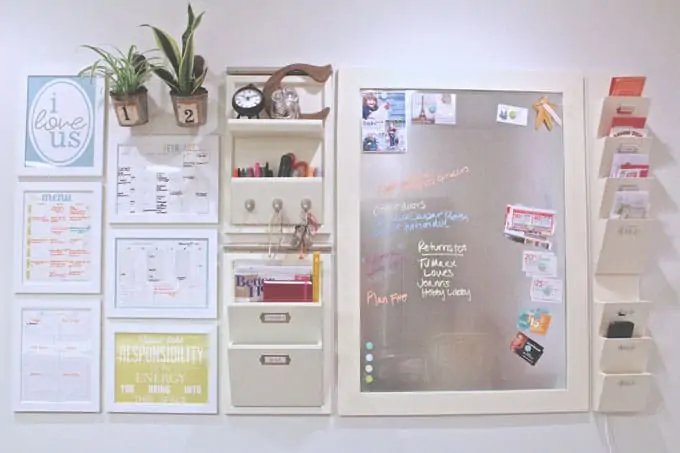 A magnet board can be a great way to put things right where the family can see them. A flyer for the school play, family pictures or a great report card are something that everyone should be able to find! Try a magnet board. You also might want to consider finding one that you can write on with chalk pens.
Hopefully these command centers have sparked your organization imagination. Just visualize it now! The family on the same page, your troops informed and aligned! It doesn't just have to be a fantasy. Try a command center and see how it changes your household.