Sometimes the area under the sink can become an area to put anything we can stuff in there. But by using a few basic organizational tips, you will be able to make the most of under sink storage in no time!
Before You Get Started…
The best place to start when trying to organize an area is by sorting. Sorting allows you to see how much you have of each item. You might find you have multiples of items you only need one or two of, or even that bottles are empty or the product is expired. Once you've sorted it all out and gotten rid of the excess, then you'll know which items will be best for you to continue the organization process: bins, baskets, small drawers, hooks or shelves.
Command Hooks
This post may contain affiliate links. As an Amazon Associate I earn from qualifying purchases. For more information, see our disclosure.
I've shared how you can use command hooks to organize your kitchen, but did you know you can also use them to organize the area under your sink? If you are looking to organize the area under your bathroom sink, you can stick a command hook or two on the cabinet door. Then you can hang your hair tools, like your blow dryer or flat iron, up by the cord. You can also put command hooks on the inside of the cabinet door under your kitchen sink and hang a basket to put your scrubby brush and sink stopper in.
Wire shelves
If the area under your sink is tall, take advantage of the vertical space. Purchase a wire shelf with legs that you can stack items on top of. Combine this type of storage solution with bins or baskets stacked on top of the wire shelf. You instantly double your storage space!
Bins and Baskets
Under the sink in our bathroom, we have a number of bins, both with and without lids on them. The ones with lids hold items such as travel size products sorted by type (for our travel or when we have a guest), hair curlers (for my daughter) and other small items we need to store but also have easy access to. I recommend buying a group of bins that are all the same size so they stack easier. The bins without lids are used for lotions, body sprays and other items that can fall over easily.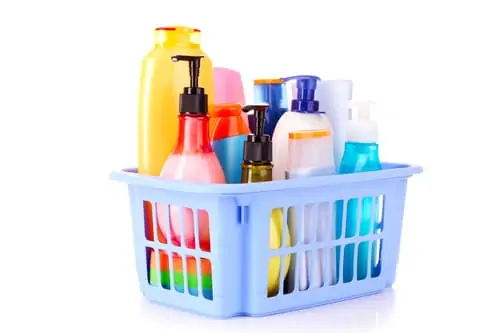 Small drawer units
Another great way to make the most of your under sink storage is to buy small drawer units. I have many of these in different areas of my home, including the bathroom. In my bathroom, I use a larger one for storing brushes, hair care products, elastics, clips, etc. I have a smaller one in a different bathroom. I store small hand sanitizers, mini lotions and other items that are too small to go in one of the larger bins.