When it comes to storage in your garage, are you making the most of your space? Like many families, my husband, kids and I own a variety of outdoor recreation equipment, tools, and yard maintenance items we store in our garage. Just over six months ago we moved to a new home where our garage storage space was cut in half. While at the same time, because we moved into a smaller house, our need for storage space actually increased. Fortunately, with some creative thinking and my husband's skills for DIY projects, we've been able to maximize our garage storage space. Here is how we did it.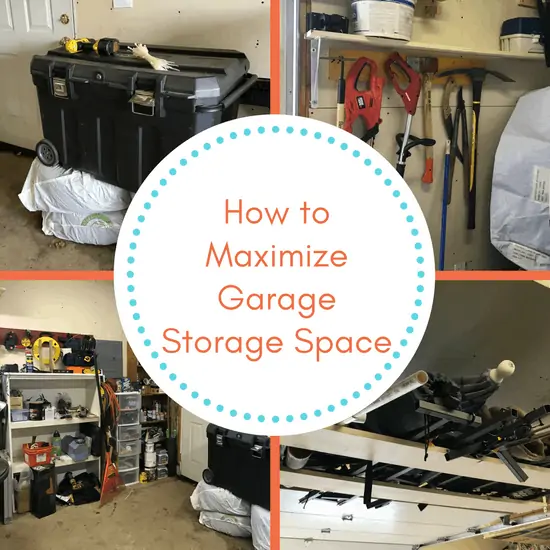 How to Maximize Garage Storage Space
1. Add Storage Racks to Your Ceiling
This post may contain affiliate links. As an Amazon Associate I earn from qualifying purchases. For more information, see our disclosure.
By building a simple DIY rack and suspending it from the ceiling we were able to make use of ceiling space for storage. The rack now holds most of our lawn chairs, our patio umbrella, a deer stand and a few other odds and ends.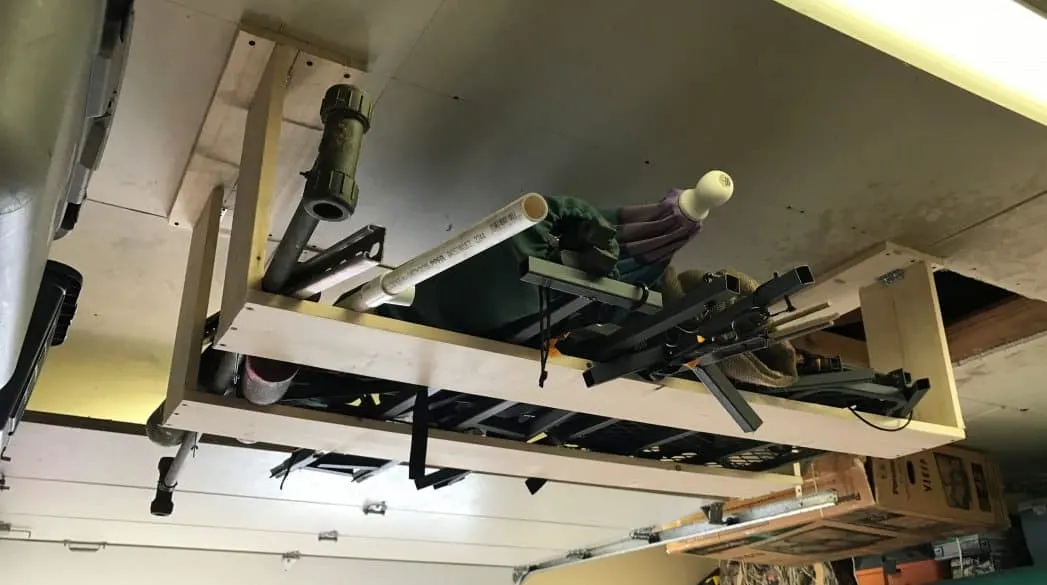 I've held on to the box for our television through several moves, including the most recent one. It makes it much easier to transport our television safely. Tying the box to our garage ceiling with hooks and string solved the problem of storing it out of the way. It weighs very little but takes up a large amount of space, so this is a perfect solution.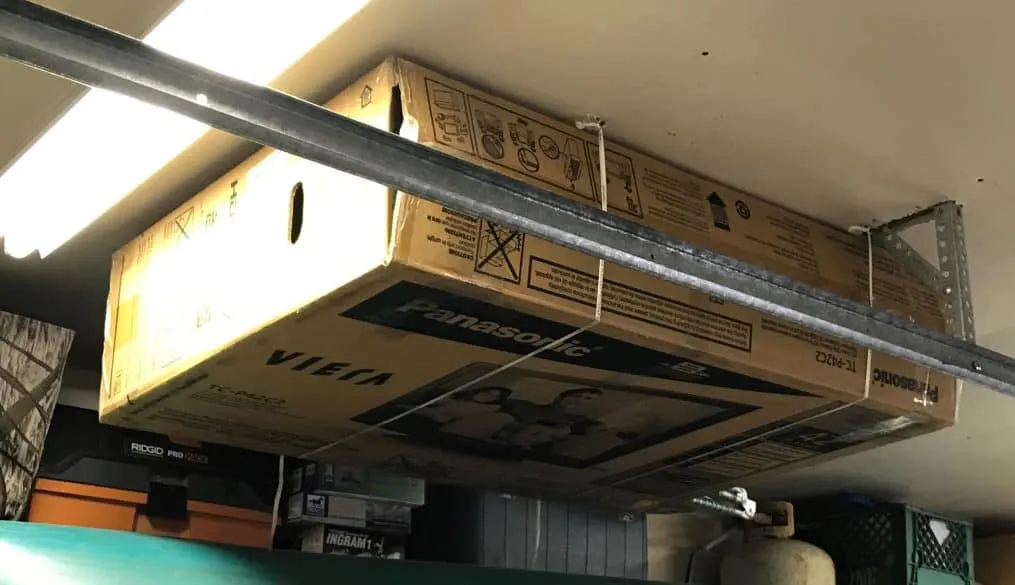 2. Use All of Your Wall Space
It's helpful to assess your garage space before organizing and storing your things. Once you've moved in most of your large items, look at the remaining wall space and find the best ways to utilize it.
On large open walls bring in or build shelves for storage.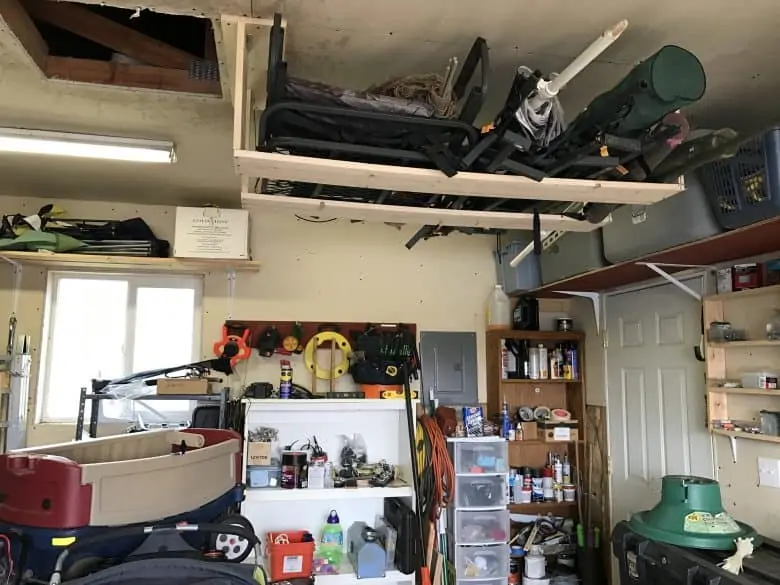 Use the entire wall, going all the way up to the ceiling. High shelves are great for Christmas decorations, or cushions from your summer patio chairs, anything you don't need access to very often.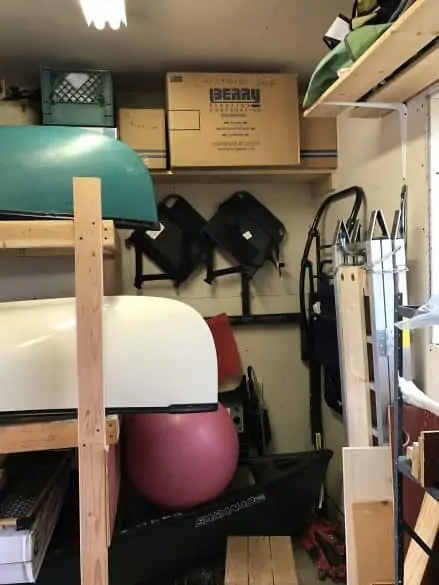 Pegboards or nails are the perfect places to hang tools. This keeps them off the ground and allows easy access.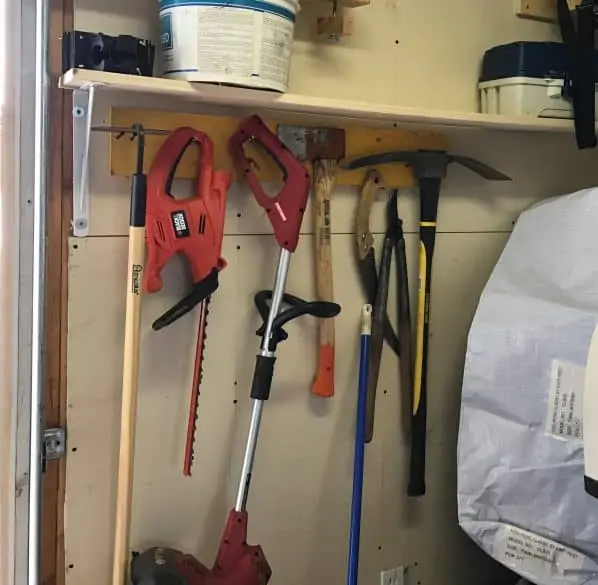 Nails are also a good way to hang up fishing nets, lawn chairs, canoeing gear, and other miscellaneous items.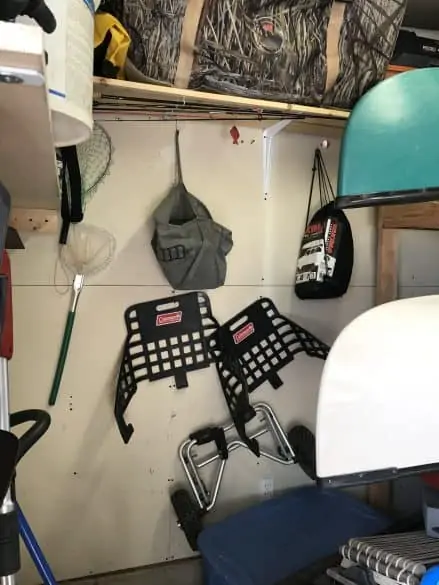 3. Keep Large Items Mobile
When working with a small space, it is useful to keep larger items mobile. My husband built our canoe rack for our three canoes, on wheels. It rolls easily in and out of its space. This allows for adding storage to the wall behind it. It also makes it easier to access anything stored around it without bumping or scraping the canoes or yourself.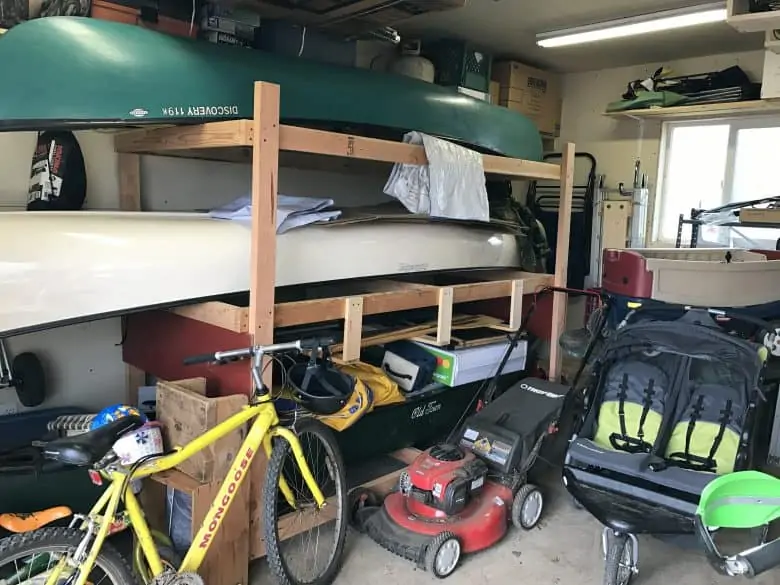 A motorcycle dolly keeps the motorcycle mobile as well, for easy access to anything stored around it.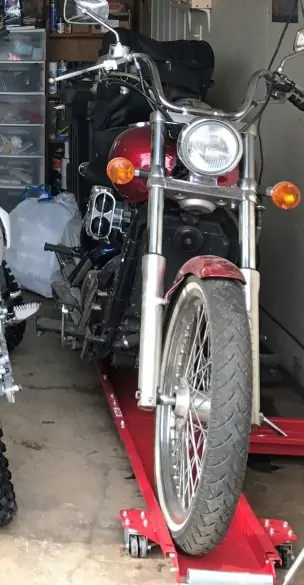 4. Set Up Dual Purpose Storage
Take advantage of any opportunities for letting your stored items multi-task. Storing things inside of our canoes is one example of this. Obviously, canoe gear goes inside, but other small items can be placed inside as well during the offseason.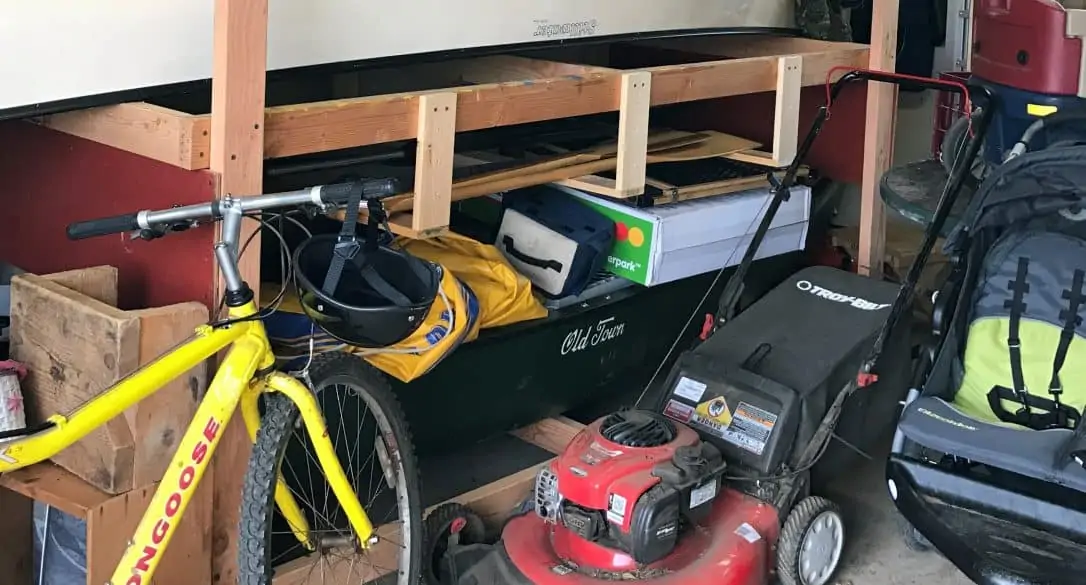 The best dual purpose storage in my garage is the storage tote on top of our off-season tires. It's the perfect size and height for a workbench. And it has been used to hold tools and aid in various DIY projects. Although the tires and tote take up a lot of room, we were able to save space by not needing to bring in a separate workbench.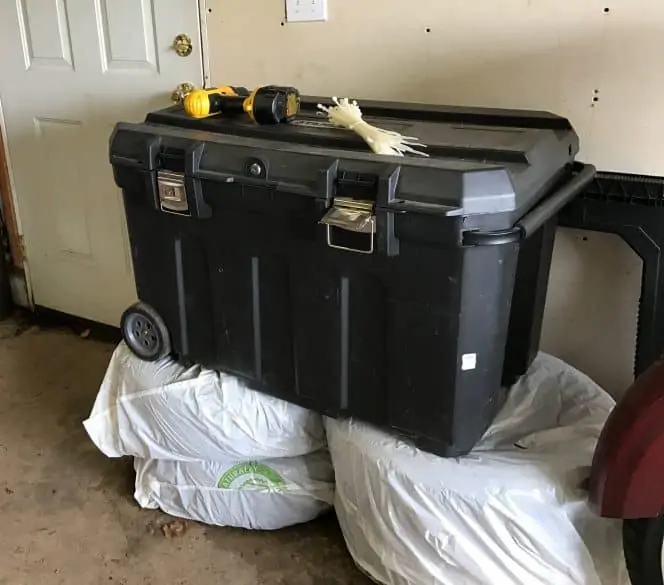 How to Do It on a Budget
1. Repurpose Old Book Shelves and Cabinets
All of the shelves in our garage that we didn't build ourselves are old bookcases re-purposed. Many of these were a little beat up but still completely functional. I also have seen old kitchen cabinets repurposed as garage storage. If having matching shelves and cabinets isn't worth the expense of purchasing new, this is a great way to organize and save money.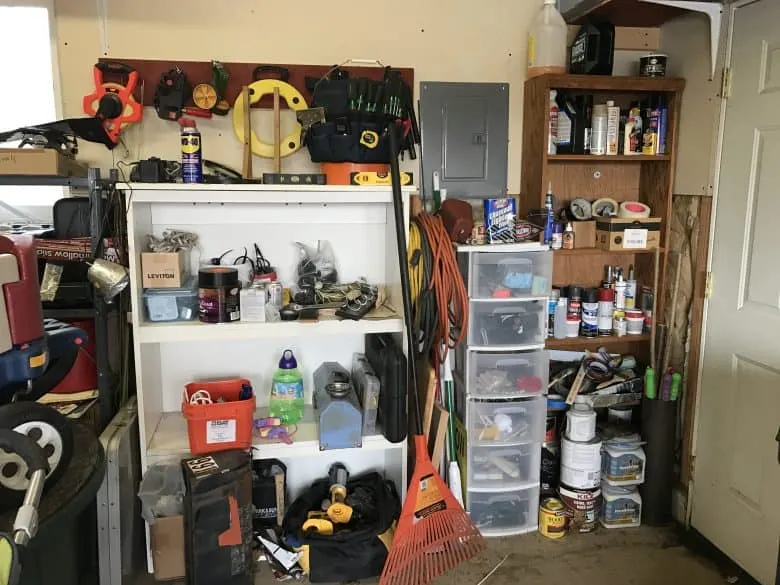 2. Organize with Plastic Tubs
Plastic tubs are inexpensive and available in a variety sizes. If you figure out what sizes you need you can store most small items in a tub, neatly packed on a shelf out of the way.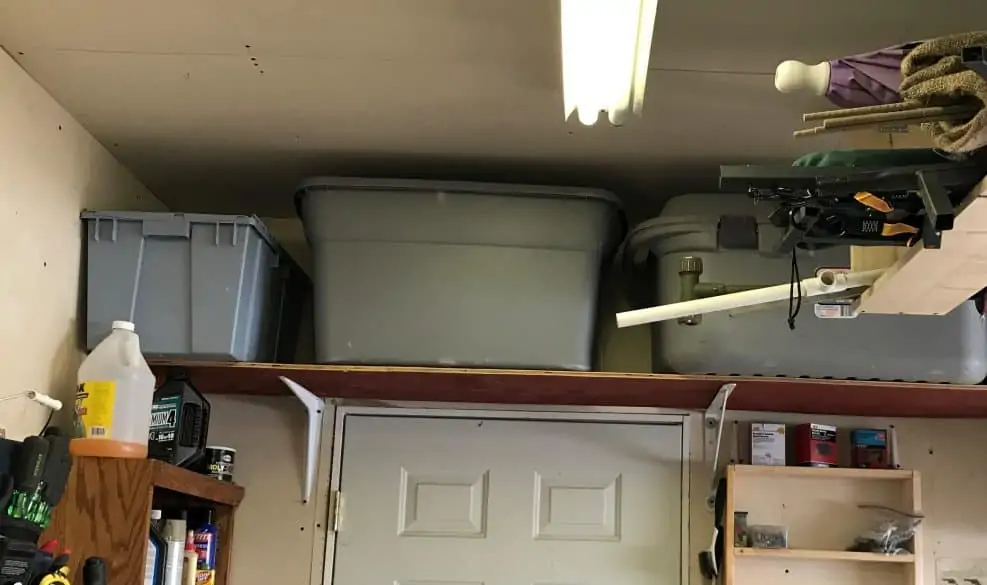 3. Build Your Own Storage
A storage shelf can be as simple as a board on some L-brackets. Or nailing unpainted boards together into a simple shelf. Building racks, and adding nails to a board for hanging tools are things even an inexperienced DIY person can accomplish. The materials are typically inexpensive, especially if you find ways to repurpose wood you already have.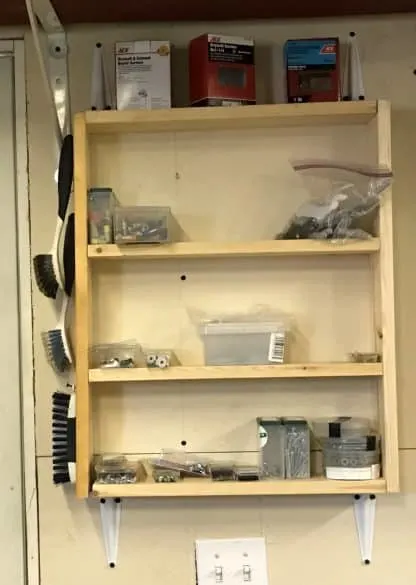 Customize to Your Space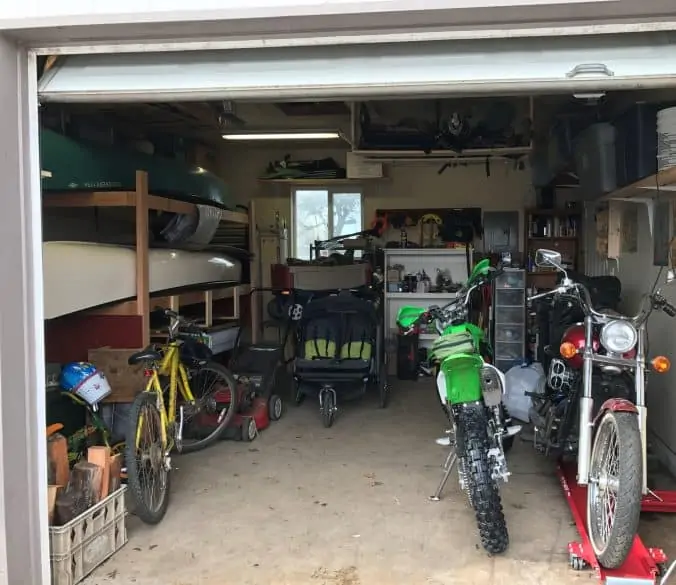 Maximizing your garage storage space doesn't need to be complicated or expensive. And the beauty of these ideas is they can be customized to fit any space, big or small. I hope you are able to utilize some of these ideas to make the most of your garage storage space.