With Easter coming up, you may be looking for some non-candy Easter basket ideas. While some candy is fun (especially in their eggs), I like to limit my kids' candy intake by giving them items other than sugar in their baskets.
However, sometimes it can be difficult to come up with non candy Easter basket ideas, which is why we came up with this list.
This post may contain affiliate links. As an Amazon Associate I earn from qualifying purchases. For more information, see our disclosure.
You'll find some great ideas you might not have considered below, guaranteed to please your child no matter the age.
The Best Non Candy Easter Basket Ideas
Here are simple non candy Easter Basket ideas that are easy to find, and won't break the bank. These non candy Easter gifts will be loved by all!
Coloring and Activity Books
There are so many great coloring and activity books to choose from! My kids' interest in the type of coloring or activity book they want to do changes all the time so having a variety is helpful.
We have regular coloring books, books with mazes, dot-to-dot books (ones that go a little higher than 20 or A-Z), as well as color by number.
Putting any of these coloring or activity books in my kids' Easter basket would definitely be a win, especially if I give them a new special pack of crayons or markers to go with it.
Bubbles for Easter Baskets
With Spring in the air and summer close behind, bubbles make for a fun and inexpensive gift to put in an Easter basket. I've found that if I can limit the amount of time my kids spend trying to dip the wand in the bottle to blow the bubbles themselves, the longer they stay interested.
That's why a bubble gun toy or a larger battery powered bubble blower is a great option. If your kids want to "do it themselves", you can easily put together a bubble snake blower or create a giant bubble kit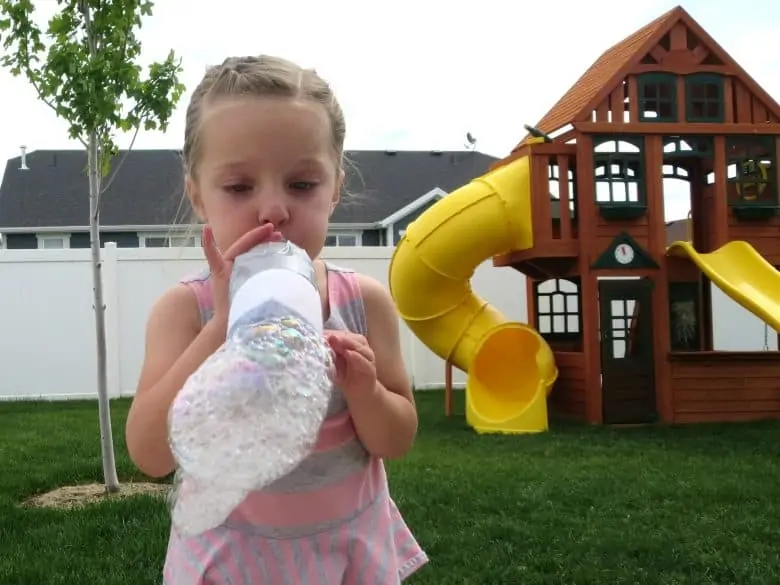 Lacing Cards
One of my kids' favorite activities to do is lacing cards. We have a few different sets, ranging in size and theme. Some we've bought and others I've made for them. You can often find them online, or even in the Dollar Spot at Target. They are great for quiet bags, church or riding in the car.
I like this DIY set from Sunshine & Munchkins that is Bible-themed to fit in with Easter, but you could easily make lacing cards out of any character or shape.
There are also lots of other great non candy options out there when it comes to lacing cards as well.
Board and Card Games Non Candy Easter Gifts
The age of the child whose basket you're filling is a factor when it comes to choosing board and card games. For ages 3-6, consider games such as Candyland, Chutes and Ladders and Hi Ho Cherry Oh!.
For ages 4-8, you can start looking into card games, such as Uno, or games like Guess Who?, Trouble and Jenga. I like picking games that help teach my kids how to use a strategy to win or where they have to be active.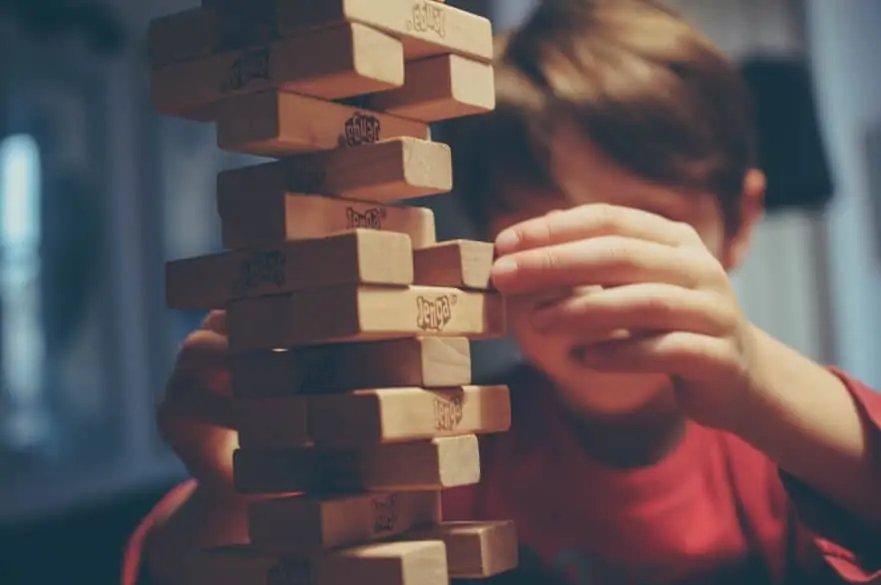 Gift Cards, the Ultimate Non Candy Easter Gift
Does your child have a favorite place they like to go for a treat? If so, putting a gift card into their Easter basket might make a great little gift for them.
You could even turn it into a parent-child night so you can spend a little one-on-one time together! Another gift card option could be to give them money on a card for something your child is saving up for toys, video games, clothes and so on.
Magformers for Non Candy Easter Baskets
If you have children of multiple ages, Magformers are a great option for a non-candy Easter Basket.
These magnet based building blocks will are a great toy for children of all ages, and a great way for children of multiple ages to play together.
Best of all? They build logic and thinking skills besides being just plain fun!
Small Light Easter Toys
For some inexplicable reason, this is one of my children's favorite Easter toy ever.
These little chickens are super squishy and adorable, and can be pulled and squeezed.
I picked some up last year, and for some strange reason, they were a huge hit. We still have them around almost a year later, and the kids still play with them.
Non Candy Easter Eggs
There are a variety of small toys out there that come in Easter eggs. These are a great substitute for candy filled eggs, and are fantastic for an Easter egg hunt.
These construction vehicle ones were a huge hit with my kids.
These sticker filled Easter eggs were also a big hit.
Slime Filled Easter Eggs
Not for the faint of heart, but did you know there are slime filled Easter eggs out there?
We loved this selection with Easter colored slime!
Build Your Own Filled Easter Eggs
Did you know that empty Easter eggs come in all shapes and sizes?
You can buy larger empty Easter eggs and put anything you want in them, like small stuffed animals.
These Easter eggs are 8″, and we save them and re-use them every year for larger items. You'll be surprised what you can cram in an egg like that!
The Very Best Non Candy Easter Basket Ideas
These are great non candy Easter Basket examples that will lead to tons of fun on Easter morning. When you select from this list, no one will even miss the candy!