Have you ever walked inside an elementary school classroom and marveled at the buckets, bins, and cubbies all around the room? Ever wonder how teachers manage to stay organized with so many kids to keep up with every day? For teachers, organization is a must. The more organized a teacher is, the better they can do their job. This got me to thinking recently about whether classroom organization can be translated into our homes. So, I went to my son's school to find some organizational tips you can learn from teachers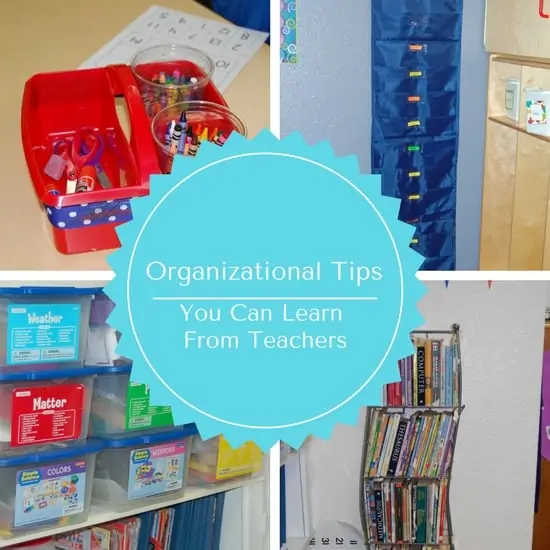 This post may contain affiliate links. As an Amazon Associate I earn from qualifying purchases. For more information, see our disclosure.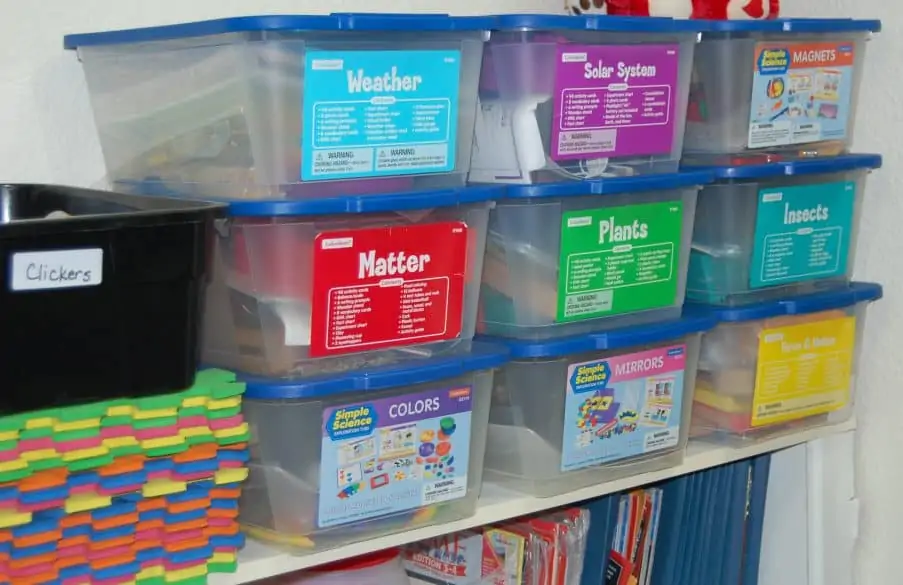 Drop Zone
Do your kids walk in the house and just drop their stuff wherever? Ever notice that they don't do this in their classrooms? This is because teachers create a designated "drop zone" for kids to put their things when they come into the classroom. In many classrooms, this is a cubby area where students can put their jackets, hats, backpacks, and lunchboxes. Watch any classroom as kids enter in the morning and you will see them all go straight to this area and put their things up without being asked. The teacher has given them a place to put their things and taught them to put these away as soon as they come into the class.
You can train your kids to do this at home too. If you have a mud room, this is a great place to set up cubbies, hooks, and/or bins for their stuff. If you don't have a mud room, make a space somewhere close to the entrance and give them a place for their things. It really doesn't take much space for this. You could use some bins on a shelf, baskets on the floor, or an affordable shelving unit. I would recommend a separate hook or bin for each member of the family. Give them a spot for their coats, shoes, backpacks, and anything else they may come home with. Use smaller bins for items like keys, wallets, gloves and ID lanyards.
This will help control the chaos and prevent mistakes, like your husband ending up with your son's homework. This will also help keep your house from looking like a war zone. Additionally, it will make getting out of the house in the mornings a little bit easier.
Art Gallery
Any parent of a preschool or elementary school student knows that they can produce an avalanche of papers and artwork. It is all so cute and sweet that it is difficult to just throw away. But, if you don't have a place to keep it, it can quickly become a huge clutter bomb in your house. Yet, teachers don't have this problem, even though they have 20 times the kids that you do. Why? Because they have a system in place to handle all those papers. Many teachers have an "art gallery" either inside or outside of their classrooms to showcase some of that amazing work their students do.
An art gallery is a wonderful way for you to show off your child's creative juices while also controlling the clutter. There are several different ways you can do this. It can be done by simply attaching the ends of a string or ribbon across a part of your wall and then using clothespins or clips to hang the artwork. Or you can attach clothespins to a piece of foam board, hang that on the wall, and then use it to display your child's work. Another option would be to hang a large bulletin board and use it as a display board. By putting your child's papers on display, you can declutter your home while still enjoying the fruits of their labor.
Homework Station
At school, each child has a work space with whatever supplies they need to do their work within easy reach. Some teachers use chair back pockets to hold students' supplies. Others place plastic containers in the middle of the table with cups holding crayons, scissors, glue, and pencils. Still others have students to keep their supplies in a pencil box inside their desk. Regardless of which method they use, when it is time for kids to go to work, they have what they need to get the job done at their fingertips.
To make homework easier and smoother at home, set up a homework station where all needed supplies are at your child's disposal. This station can be as large or as small as you need it to be. It can be as permanent or portable as your space and daily routine requires. The point is to make homework a habit by having a designated place to do it and eliminate the time spent looking for supplies by putting all needed items together in the same spot.
Family Communication Center
Teachers, especially those in elementary schools, need a system for passing out papers, sending home notes, and communicating back and forth with students and parents. Many of them use a system that includes some combination of mailboxes, binders, bins and/or folders. It doesn't matter what the system is, as long as the teacher and students are all on the same page with what the system is and how it works.
At home, you should also create a system for keeping track of important papers, notes, and other communications. An easy way to do this is to set up a family communication center. This needs to be a place where your family can keep all of those report cards, permission slips, important reminders, and other papers needed by the various members of the family. Set up mailboxes for each person. You can also have one slot for bills and another for general family papers. It's also a good idea to include a calendar and memo board in this area to keep track of things like doctor's appointments, school plays, and other dates. By having a central location for all of these items, you will make it less likely papers get lost. You will also minimize the time you spend looking for things.
Library
Literacy is one of the greatest gifts we can give our children. The more access kids have to books, the more likely they are to read, and the more their reading skills will improve. Because of this, almost every teacher I have ever seen has a library in their classroom. It doesn't usually take up much space, but it is always present. Some teachers use plastic buckets to hold their books. Others use a small bookshelf. My husband, who teaches third grade, uses an old CD rack to hold books.
It is important to create a library for your children at home too. Fill it with books that spark your child's interests. Find a small place somewhere in your house to keep all of your children's books. It can be in their room, the playroom, near the homework station, or in your den. If you don't have the space for a bookshelf, be creative with storage solutions for books. It doesn't matter how you keep them. The important thing is for them to be visible and accessible to your children.
Conclusion
Teachers are amazing people. Not only do they keep up with a whole room full of kids each day, but they also manage to shape the lives of those children. In order to do this though, they must be organized and have systems in place to make the day run smoother. There are a lot of organizational tips you can learn from teachers if you just stop and watch them and look around their classrooms. This article gives you a few of these tips to get you started. I hope you are able to organize your home by learning from your kids' teachers.