There's no denying that 2016 was a mess for everyone, but with the New Year comes new opportunities to get organized. While you might have already attempted a few of our smaller suggestions for feeling organized in 2017, there is one significant clean-up project that is best completed before you forget your New Year's resolutions: the garage.
For most Americans, the garage quickly becomes a catch-all for the entire house. Holiday decorations, tools, incomplete projects, broken toys, poorly fitting clothes, and all sorts of other stuff you don't want in your daily life gets relegated to the drafty, remote room that should be keeping your expensive vehicles safe and secure. Without a steadfast system, you will see your garage descend into chaos, and never again will you find anything without at least an hour of sifting and searching.
This post may contain affiliate links. As an Amazon Associate I earn from qualifying purchases. For more information, see our disclosure.
This year, you can change that. In the span of just one weekend – albeit one long, grueling weekend – you can reestablish order in your garage by adhering to this simple, six-step plan.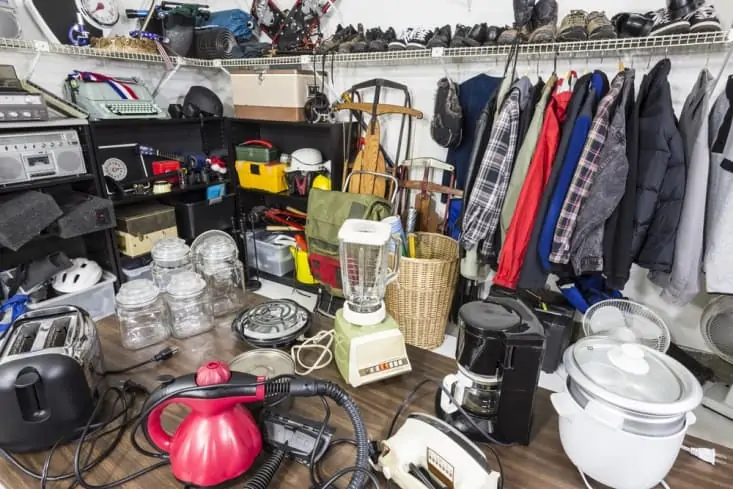 Step 1: Remove Everything
Believe it or not, this first step is the hardest. Though it only requires an hour or so of relocating everything in your garage to a space outside your garage – like your back yard, your driveway, or different locations around your home – it is the most dreadful step of all six. However, it is also the most important. Once your junk is no longer hidden in heaps and jumbles in your garage, you have no choice but to complete your New Year's project of sorting, cleaning, and organizing. Regardless of how little you want to do it, you should throw on your raggedy chore outfit, tie your hair up, and move items out until your garage is utterly empty.
Step 2: Sort Everything
Now that you have laid hands on every item you stashed away, it is time to make some tough decisions: what to keep and what not to. Typically, professional organizers advocate sorting items into three piles: keep, donate, and throw away. Items you keep should be used at least once per year or else have supreme sentimental meaning, such as winter clothing or your grandmother's diary; items you donate should be what you don't really use anymore and is in good condition, such as your family boat or recently outdated tech; and items you toss should be unusable, such as damaged furniture or expired food products. You might further refine your keeps pile by organizing it into types of items, such as decorations and tools – or you can save that part for later.
For the sake of speed and convenience, you might choose to accomplish this step while you are removing everything from your garage. However, if indecision halts your removal progress, you should just wait to sort stuff until the garage is empty.
Step 3: Take Some Stuff Away
Once you have completed making your piles, you should get rid of the stuff you want to donate and toss. By allowing it to sit in limbo for even a few weeks, you are acclimating yourself to the idea of keeping it around, which means you should get it out of your home, stat. For big stuff, like that ignored boat or old vehicle needlessly taking up space, you might need to contact a charity willing to schedule pickups, but for everything else, a quick trip to the thrift shop or the dump should suffice. Anything you want to save for friends or family can be dropped off at their houses during that trip, too.
Step 4: Clean Everything
I doubt you can remember the last time you thoroughly cleaned your garage. Now that the clutter is out, you can spend a few hours power washing the floors, scrubbing the walls, and dusting any shelves. You might take this opportunity to add a fresh layer of paint – perhaps a bright, fresh color to add more life to the typically dreary space. You can also stain the concrete or lay tile and install a new garage door to add some style.
Step 5: Plan
You might be tempted to shove the items you're keeping into your shiny, clean garage and forget about them once more, but then you'll have the same disorganized troubles you had before you started. Instead, you should survey the items you are keeping and create a map of your garage, placing different types of items in different areas. As much as possible, you should keep stuff off the garage floor; when items are housed on shelves and racks, the space feels more open and organized. You can invest in vertical storage options, like pegboard, to help accomplish this goal.
Step 6: Stay Vigilant
Even after you enact your plan, placing items precisely where they belong, you still aren't done with your New Year, New Garage project. Cleanliness and organization is a journey, not a destination, which means you must be devoted to maintaining your plan for months and years to come. If you stay vigilant, you will be rewarded with a beautiful, orderly garage forevermore – and you'll never have to do this awful chore again.