This past summer our family loaded into our car and hit the road. We took a 17-day, 3200 mile, road trip through 12 states. This was, by far, the longest and most ambitious road trip we had ever attempted.
In preparation, I was, of course, looking for plenty of ways to keep the kids entertained (read: quiet) for many hours in the car.
This post may contain affiliate links. As an Amazon Associate I earn from qualifying purchases. For more information, see our disclosure.
I circled back around to something we did on a previous (much shorter) road trip. I had bought my kids each one of those multi-colored pens (you know the ones like from back-in-the-day where you click down the color you want – they still have those!) and a blank book from Target's Dollar Spot. My kids were fascinated by the pens and used them to draw and write in the blank books every day. It ended up being a journal for the trip. The idea for what to do on this much longer road trip grew from there.
The idea: As-We-Go Road Trip Scrapbooks.
For the kids' birthdays, just before our trip, they got a Polaroid camera to share (another back-in-the-day novelty). They each had a fresh blank book which worked out to have enough pages for every day of our road trip to have a 2-page spread. We bought enough Polaroid film (in bulk on Amazon) for each of the kids to take a few instant pictures a day for their scrapbook. I packed some mounting squares, washi tape, colored pencils, and other craft supplies in a small (shoebox size) bin. I purposefully kept the supplies simple and to a minimum – there is only so much room in the car and too many scrapbooking supplies would surely end up creating a mess.
At every stop on our road trip, we'd let each kid have a turn with the Polaroid camera to snap a picture of whatever they liked. They'd also grab some free brochures and hang on to their tickets. Occasionally, one would spend some of their souvenir money on a postcard to add to their book. When we got back in the car after a stop, the kids would break out their supplies and get to work – mounting their Polaroid pictures and ticket stubs, cutting brochures, drawing pictures and writing captions.
Creativity and Individuality
Each of my three kids had their own style. My one daughter loves crafts of any kind; she took her time perfecting the layout of each page. My other daughter's style was less planned; she liked to just slap some of her favorite bits onto the page with lots of colorful tape. My son preferred drawing and writing over cutting and taping.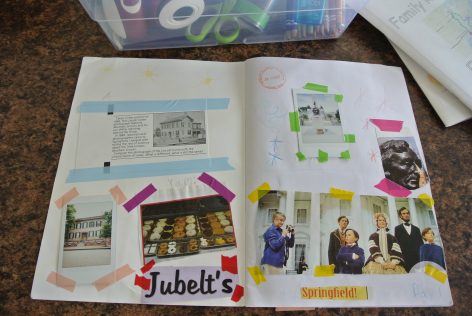 This quickly became my favorite car activity for road trips. Not only did it keep my kids busy for a while without electronics, but the best part was that it became a souvenir of the trip for each of them to look back on.
We have another road trip in the works for next summer and I am already stocking supplies for our next As-We-Go Scrapbooks.
Some tips if you are planning As-We-Go Scrapbooks for your next road trip:
Number or date the pages of the blank book ahead of time so your kids don't run out of pages before the trip is over.

If bringing colored pencils, remember to bring a pencil sharpener, as well.

Be sure to have a trash can for all the clippings, scraps, and garbage.

Avoid any supplies that might melt (or explode) if left in a hot vehicle.

If you are visiting any National Parks, look for their passport stamps; you can also stamp your scrapbook.

Writer Elizabeth Joyce has been featured on Scary Mommy, Perfection Pending, and KidTripster. She is a family historian, cancer survivor, mom via IVF/FET & gestational surrogacy, anxiety struggler, budget traveler, and simple, ordinary life enthusiast. Elizabeth lives in Illinois with her husband, son, and twin daughters. You can find her on Facebook, Twitter, and writing about writing over on her blog, I May Never Write A Book.