During the winter, the idea of bundling up and going outside to play can sometimes seem less than appealing. But the truth is that fresh air and outdoor play is important for kids year round.
It's important for adults too. If winter weather has your family spending too much time stuck in the house, check out these 10 ideas for fun outdoor winter activities for kids!
This post may contain affiliate links. As an Amazon Associate I earn from qualifying purchases. For more information, see our disclosure.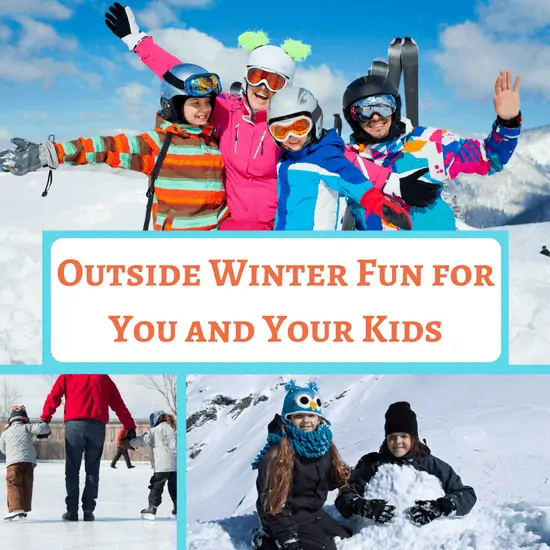 Outdoor Winter Activities for Kids and Toddlers
Sometimes, it can be hard to find an activity that is great for the whole family. That's why we have 10 awesome outdoor winter activities that are great for kids and toddlers alike! These are guaranteed to be fun for the whole family!
1. Take Winter Hike
Hiking is one of my favorite activities year round. And it is definitely something that can be enjoyed in the winter. Head out on a favorite summer trail to see what it looks like during the winter. Or seek out locations with pine trees and winter wildlife to be enjoyed best at this time of year.
2. Have a Winter Bonfire
If it's cold outside, what you need is a bonfire! Bundle up the family around a winter bonfire. If you dress warm and bring blankets the fire should provide enough extra heat for you to enjoy s'mores and hot cocoa.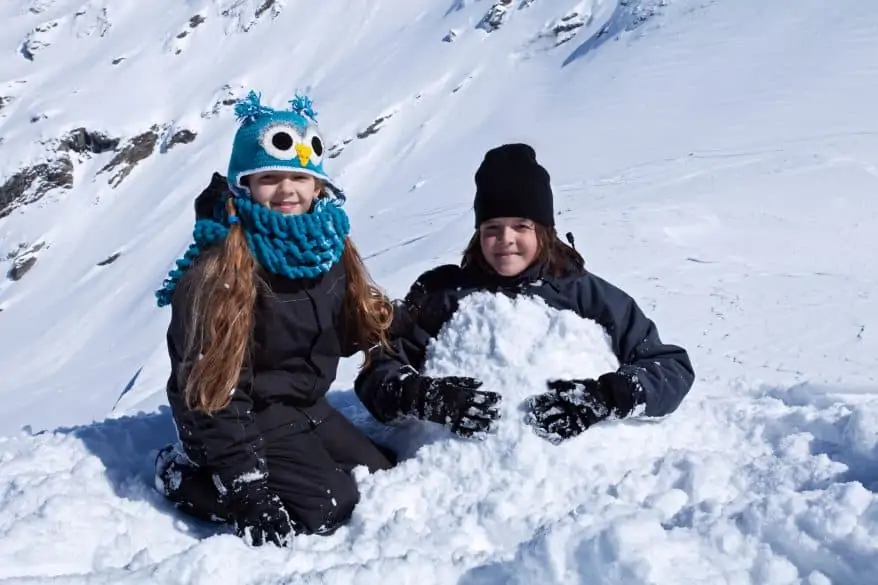 3. Play in the Snow
Playing in the snow is a fun way to enjoy the outdoors in winter. As an adult, you'll find few things can make you feel like a kid again more than a snowball fight or building a snow fort.
Help your kids build a snowman or enjoy watching them make snow angels for added fun.
If you're in an area without winter snow, have fun with your kids coming up with your own versions of these activities. Have a snowball fight with balled up socks. Make "snow angels" in beds of pine needles or build a fort with fallen winter branches.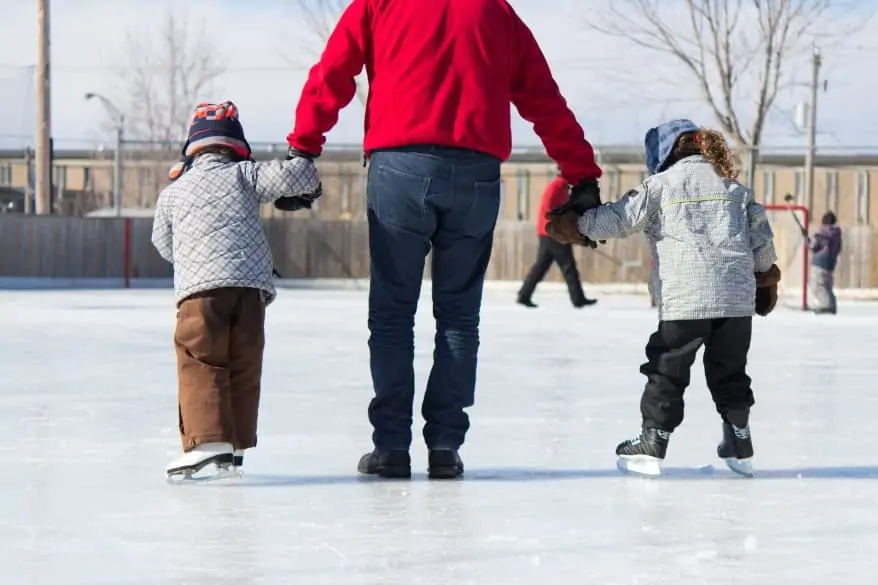 4. Go Ice Skating
Ice skating is one of the most fun ways to enjoy time outdoors in the winter. Whether your kids want to try some ice hockey or just skate around with friends, it's a great way to exercise and have some fun.
If there are no outdoor skating rinks in your area, look for an indoor rink. Many of them are cold enough to make you feel like you're outside. Or if this isn't an option, buy a few field hockey sticks and teach your kids a version of the game they can play in their own backyard or driveway. Creativity is the key.
5. Snowshoeing
Snowshoeing is one of the easiest winter sports to learn. If your kids can walk, they can learn to snowshoe. You don't need to invest in a bunch of equipment to get started, look for inexpensive places to rent snowshoes and give this try.
6. Go Birdwatching
Winter is a wonderful time to enjoy birdwatching. Check out some local guides for birds in your area and then make a game of finding different types of birds with your kids. Make pinecone birdfeeders for your backyard to lure some birds close to home. Or take your kids to local parks to find and draw or photograph different types of birds.
7. Go Ice Fishing
Ice fishing can be a bit of a patience test for some kids, and by extension their parents, but when the fish are biting there is plenty of fun to be had. The best tip is to bring snacks and activities to keep kids busy when the fish aren't biting. And of course to be mindful of safety. Check out these tips to take your kids out for an ice fishing adventure.
8. Take a Winter Camping Trip
Winter camping is a great way to enjoy the outdoors this time of year. Winter camping will look different for every family. Maybe you have a trailer or motorhome to cozy up in after enjoying some outdoor time at your winter campsite. Or maybe you're in a tent and a cold weather sleeping bag.
Either way, check the weather forecast and be mindful of safety. Many campgrounds are open year round and this is a great time of year to check them out without fighting the summer crowds.
9. Make Snow Paint
If you're looking for a new way to enjoy playing in the snow, try snow painting. I always love craft and painting projects you can take outside and this one is perfect. Fill spray bottles with food coloring and water. You can spray the color on the snow and make a beautiful but temporary outdoor craft.
If you want to try something similar but don't have any snow, try this with cornstarch and water. If you fill some large tubs with a mixture of cornstarch and water, you get a fun textured goo kids love to play with. You can then spray it with your bottles of water and food coloring mixture for some colorful fun. Take this mess outside, whether or not you have snow!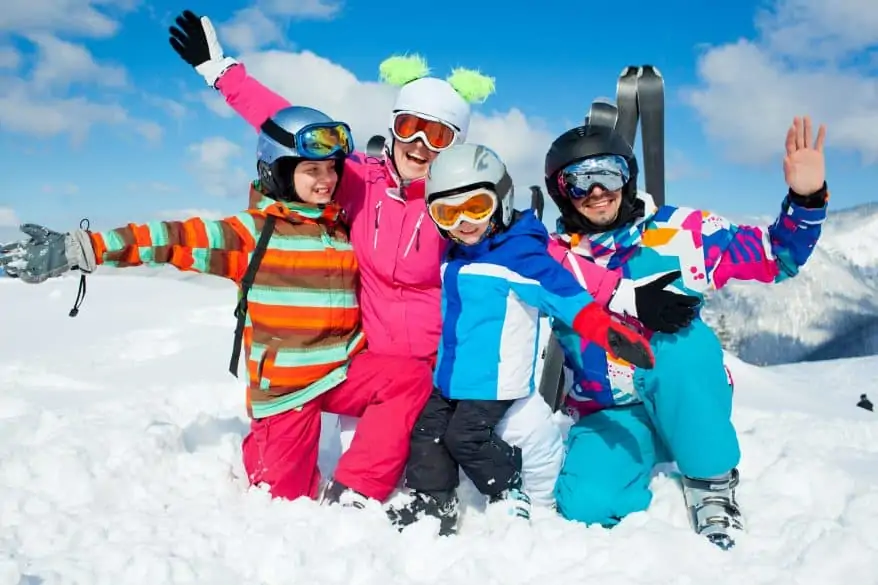 10. Hit the Slopes (or the Hills)
If you're lucky enough to have snow for skiing or sledding, make this a family sport! Head for the mountains or hills near you and have some winter fun for you and your kids.
If you're not a skier or don't have a place to ski, sledding is winter fun almost anyone can have in the snow. No mountains required, even a small hill can provide a thrilling ride in a sled for adults and kids alike. Have some fun this winter!