The linens closet in my house is one of those scary places where you are worried something will fly out at you if you open the door! Well, it used to be at least. I decided it was time to document my linen closet makeover!
DIY Linen Closet Makeover
This linen closet makeover is the ultimate when it comes to DIY.
This post may contain affiliate links. As an Amazon Associate I earn from qualifying purchases. For more information, see our disclosure.
This simple method will take any closet and turn it into an organized closet.
We're going to do things in two main parts: first the door rack, and then the labels and organization.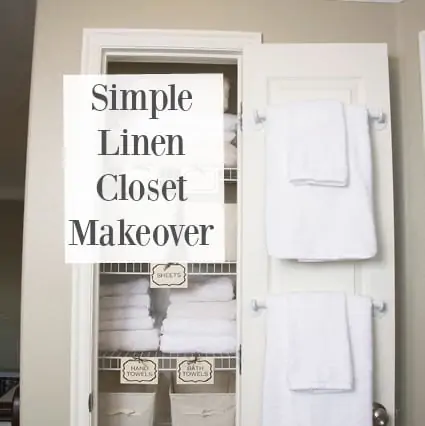 This is my linen closet: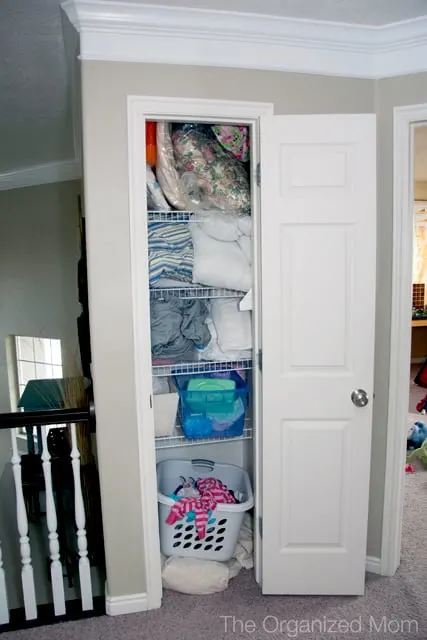 It's itty bitty, and a whole lotta mess. With a little work it has some serious potential. I have a few ideas on how to get this closet back in shape. First, I need some organization.
After a major purge, I got rid of about half of the bedding and old towels that were living here.
The extra blankets that I wanted to keep, but rarely used, went into space bags under one of my kids beds that had been empty.
I tend to have a lot of extra towels for guests so I came up with a super cheap way to hang some on the inside of the door.
Part 1 – DIY Linen Closet Door Rack
This is like ultra-cheap. You can splurge and buy real hardware.
To make thrifty towell rods you need the following from Ikea: Set of 2 hooks for 1.99, spray paint (optional), and a strip of wood from the flooring section at Ikea. You could also use a dowel from a hardware store. Whichever is cheaper.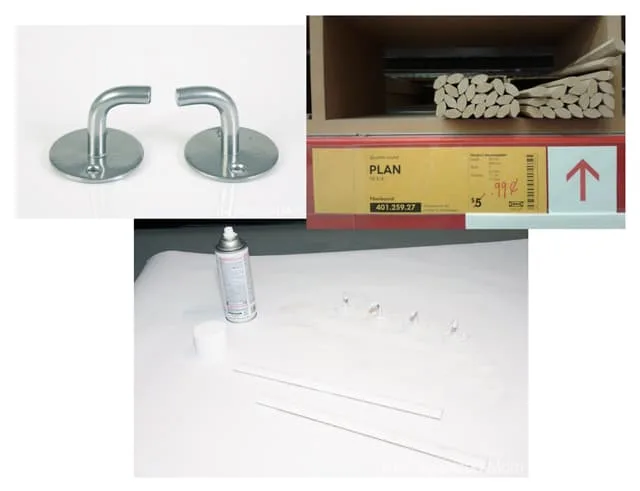 Don't feel like a trip to Ikea? You can also buy a rack right at Amazon:
In either case, be sure to pay attention to how much space there is between the door to the linen closet when it is closed, and the shelving in your linen closet.
After cutting the wood to size, I spray painted all the pieces white. I wanted the screws to match so here's a cool little spray paint trick…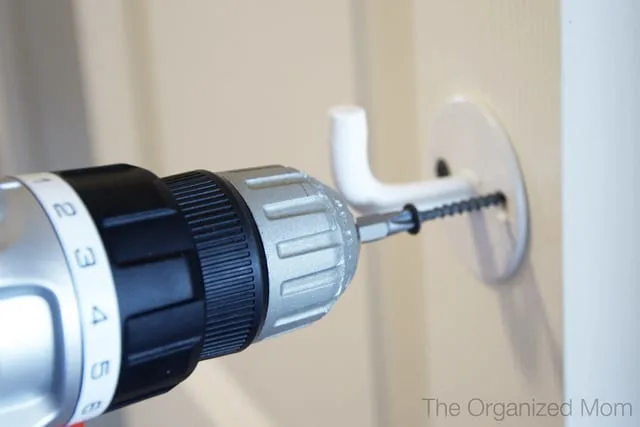 Spray the paint outside on a plastic lid and use a paintbrush to touch up. Work fast, spray paint dries quickly.
Then I set the wood piece on top of the metal hooks. Since it's going to hold towels it doesn't necessarily need to be held down as longs as it is cut slightly larger than the width of the hooks. I was worried about my kids pulling it down so I used liquid nails and glued the wood to the hooks. Worked like a charm.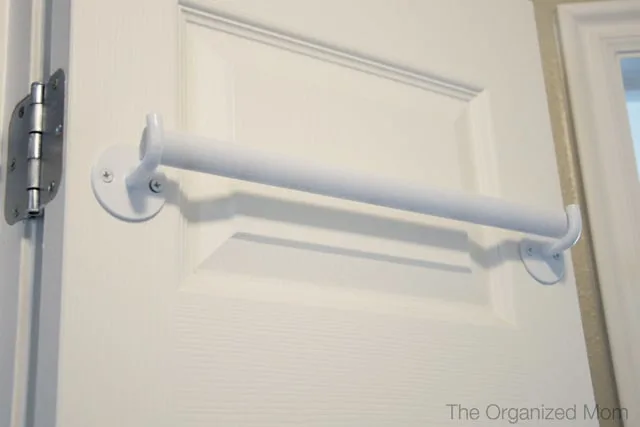 Last step, hang towels! Here's just a peak at how it looks. Not bad for $5 since I already had the paint!

Part 2 – Linen Closet Organization – with Awesome Labels
We're almost done with our DIY linen closet makeover!
Before I show you the big reveal, I need to show you another project that helped me get my linen closet organized.
I contacted the adorable Shelley over at House of Smiths. I have ordered vinyl through her House of Smiths Design Shop before, and I have never been disappointed. She sent me six super cute labels that are about 3.5×5 inches.
The labels specify all the great items we generally put in our linen closet: Bath Towels, Hand Towels, Sheets, Blankets, Pillows, and Toiletries.
It looks like her store may be closed, but there are many vinyl distributors on Etsy where you can get custom labels for a very affordable cost!
I picked up some craft paint, and my husband cut some masonite board into pieces for me that were just the right size.
I painted the masonite a couple coats of off-white paint…
Then I attached the vinyl, and tied it to my shelves!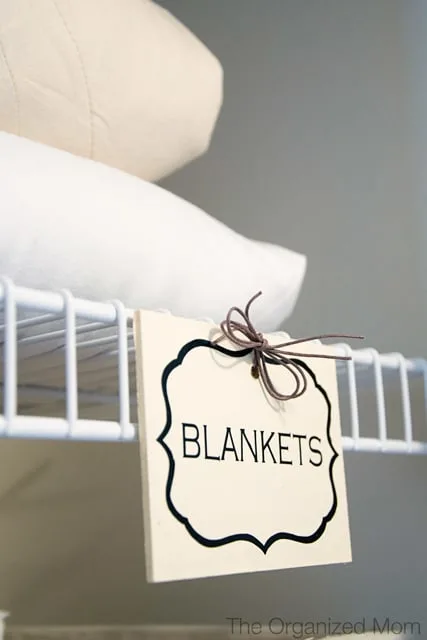 You could also use this same trick with the chalk board labels that are so popular right now:
Or if you feel especially crafty, you can use chalkboard paint:
Part 3 – Linen Closet DIY Organization
Now, for the last part of our DIY linen closet makeover, we can't forget the baskets!
Baskets are one of my favorite organization tools of all time. What baskets you get will really depend on the size of your shelving, but here are some of my favorites:
Baskets are one way you can get really super organized, depending who in your house uses what.
DIY Linen Closet Organization – The Big Reveal!
Ready to see what my linen closet looked like after its DIY makeover?
Here's how the closet looks now: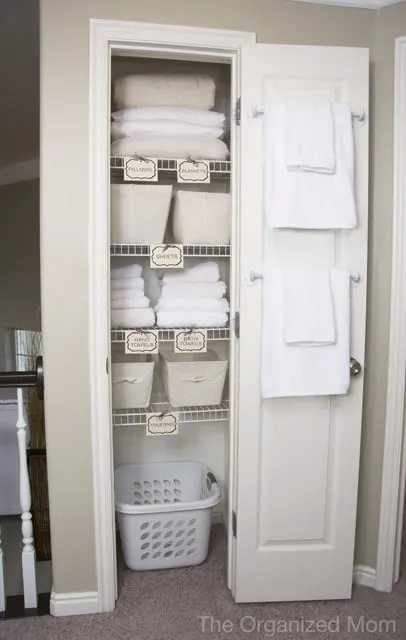 It's such a big difference! I love how these labels turned out. I love that I can move them around, or attach them to my bins if I want to.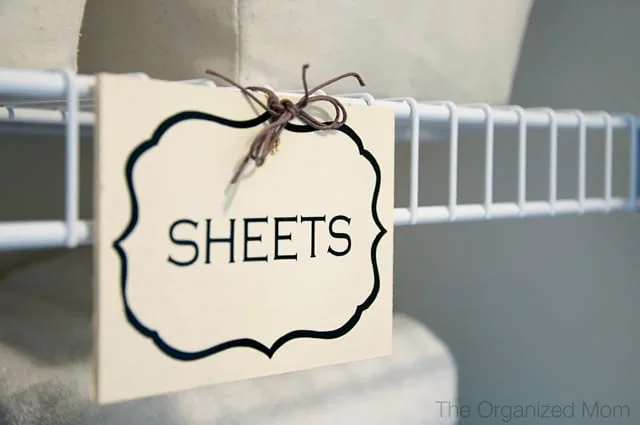 Here's a look at the before again: