Open your pantry. Is it full or empty? Bulk buying is very helpful to feeding your family. Let's face it as a mom we all want our pantries full. Who wouldn't like free groceries or to save more money? Yes, all of us want to save more money. Nevertheless, bulk buying helps moms to save money for their families. If you have extra space in your home a big pantry is a great way to organize your meal planning. Therefore, a surplus of bulk items can help your grocery budget.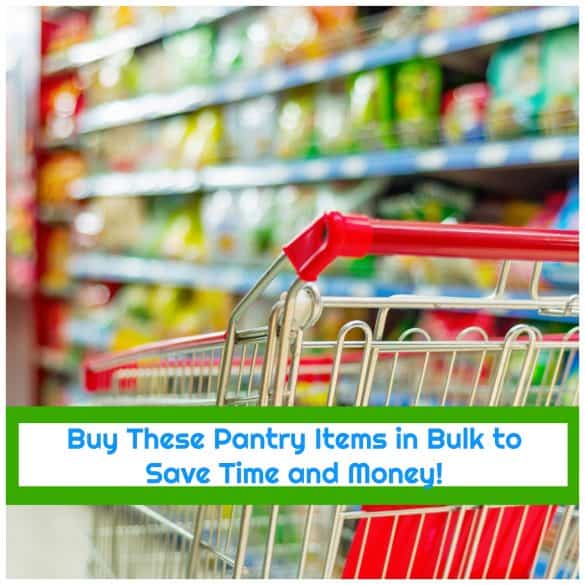 This post may contain affiliate links. As an Amazon Associate I earn from qualifying purchases. For more information, see our disclosure.
What is bulk buying?
Bulk buying is buying specific groceries in large quantities. There are many items you can purchase in bulk quantities, with long periods of shelf life, that can feed multiple people. Nevertheless, buying bulk requires careful budget planning. In return it will save you money and help you with choosing healthier options.
Here are a few items to consider when buying in bulk:
DRY PASTA

– (Noodles, spaghetti, macaroni) This is easy to store in containers and most importantly it's affordable and can feed a whole family in no time.

CANNED VEGETABLES –

(Legumes, peas, carrots) Check stores such as Kroger, Ralphs, Aldi) for great deals on low prices in addition to using digital coupons for more discounts.

OATS – (OATMEAL) –

An easy breakfast item that can last for months. It's a healthy option that can stand a long shelf life.

RICE

– This also can last a long time in a pantry practically forever. It's healthy and is the perfect side dish for every meal.

CEREAL –

A popular breakfast choice that everyone can enjoy. There are so many options such as Cheerios, Frosted Flakes, Fruit Loops, Raisin Bran, and Kellogg's Corn Flakes which are easily available in bulk sizing yet affordable.
In conclusion, there are a plethora of items to purchase in bulk for your family to save money. Most of all, don't rule out memberships to wholesale clubs like Sam's, BJ's, and Costco that offer big discounts on bulk items. Another tip to consider is checking carefully for the expiration dates. Having a label maker and placing labels for expiration dates is a safe way to avoid expired food in the pantry. It is ideal to fill your pantry, however make sure of the items will be best to feed your family and save you money in your pocket.
SOURCES:
https://blog.credit.com/2016/08/x-foods-to-buy-in-bulk-if-youre-looking-to-save-money-155729/
https://www.wisebread.com/bulk-buying-basics-what-to-buy-how-to-store-and-money-saving-tips