A pizza party is a fun way to celebrate a special occasion! In this guide, we're going to cover everything you need to know to have the best pizza party ever, from how to have create a make your own pizza bar to decorations and more!
If you're looking for a way to celebrate that is a ton of fun and won't break the bank, read on for our ultimate pizza party guide.
How do you host a pizza party?
This post may contain affiliate links. As an Amazon Associate I earn from qualifying purchases. For more information, see our disclosure.
First things first, how do you host a a pizza party, anyway? The key is all in the preparation, which isn't that difficult with this guide.
Here are the things you need to think about when hosting a pizza party:
Pizza Dough
Pizza Toppings
Assembling Pizzas
Baking the pizzas
Pizza Party decorations (including tablecloths, cups, plates, and napkins)
Appetizers and Desserts (if desired)
Drinks
We've got you covered for everything on this list when it comes to a pizza themed party!
Let's take a closer look at each of these items.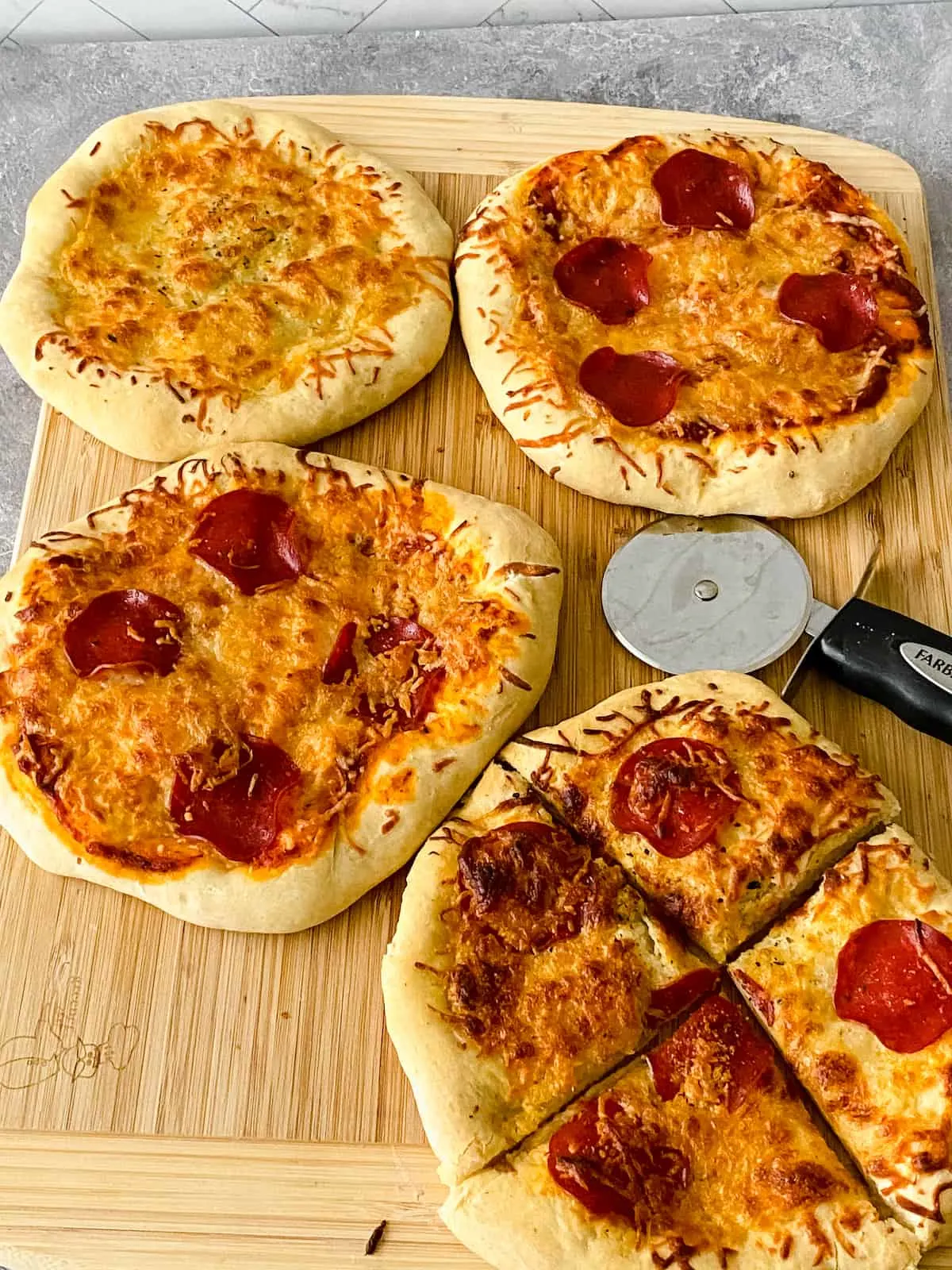 Pizza Dough for Pizza Parties
The key to the pizza party is of course your dough, which we have a recipe for so be sure to read to the end! This is probably the most difficulty part of the pizza party.
The first thing is to decide how many pizzas you'll need to make. Our dough recipe is eight 6″ individual pizzas or four 12″ larger pizzas. You may need to double it or even triple it depending on your party size.
For a pizza party, mini pizzas are the way to go most of the time. This lets each guest customize their favorite pizza!
You can also buy pre-made dough to make your party experience even easier…however I will mention it is cheaper to make it yourself, and our recipe is fool proof and has complete step by step instructions.
The key here is to make the dough the day before. This makes pizza party prep so much easier the day of, because the hard part is done! Be sure to take it out of the refrigerator about a half an hour before you want to use it. The same goes if you bought the dough fro the store.
It is much easier to work with when it is closer to room temperature than when it is cold straight from the refrigerator.
Do you really want to jazz up your Pizza party? Are you celebrating a holiday like Valentine's Day or St. Patrick's Day? Consider adding some fun food coloring to the pizza dough to get really personal and help theme your pizza party even more!
What toppings can you put on pizza?
The next thing to think about are of course the toppings for the pizzas!
This is the fun part! We have a whole list of pizza topping ideas to help you get started. Some are classics like pepperoni or sausage, or you can be more adventurous such as breakfast pizzas with bacon eggs ham & cheese for that weekend brunch vibe.
You could even have a whole pizza party around dessert pizzas!
If you're looking for the tried and true classic Italian style pizza party, here is our list of the most amazing pizza toppings to have at your pizza bar.
Pepperoni
Sausage
Meatballs
Steak sandwich meat
Chicken (plain, BBQ, or buffalo)
Mushrooms
Fresh Tomatoes
Sun Dried tomatoes
Fresh basil
Black Olives
Onions
Jalapeños
Green Peppers
Pineapple
Ham
Bacon
Mozzarella Cheese
Cheddar Cheese
Provolone Cheese
Ricotta Cheese
Feta Cheese
Blue cheese
Parmesan cheese
Create bowls of toppings to put at your pizza bar, so guests can choose their favorites for each. You may also want to provide gloves for guests to wear while making their pizzas to make clean up easier.
Baking Your Pizzas
If you plan on making individual pizzas, consider large cookie sheets without sides. This makes it easy to slide the pizzas on and off of the tray, so you can bake everything as quickly as possible
Get it!
You're going to have your oven on 450F, and it is going to take a while to bake all of those pizzas, so be prepared for a HOT kitchen! Be sure to open doors and windows, and consider bringing out a fan to keep the kitchen cool.
What do you serve at a pizza party?
Wondering what else goes with pizza? This is a big question when it comes to planning your perfect pizza party because there are so many delicious appetizers, sides and drinks that can accompany any type of pizza.
What appetizers go with pizza?
If you want to serve appetizers at your pizza part, the possibilities are endless.
Some of our favorite appetizers for a pizza party are:
Breadsticks
Salad
Mini meatballs
Bruschetta
Garlic bread
Vegetables in a vegetable tray
These all keep in line with the pizza and Italian theme of a pizza party.
What is a good dessert to serve with pizza?
If you're going to have dessert at your pizza party, some great options are cake, ice cream, cookies, brownies, blondies and fruit salad.
These are all classics that will be loved by all, and are quite easy to put together.
What drinks are good for pizza parties?
Think of some of the classics when it comes to drinks for your pizza party! Soda is a great choice, along with water, iced tea, and lemonade.
Also consider classic Italian Limonata, which is a lemon flavored soda.
Get it!
Don't forget the Italian sparkling mineral water! You can serve it to even the littlest guests in fancy plastic cups to really make it a fun experience.
Get it!
Pizza Party Decorations
Decorations can be a ton of fun when it comes to your pizza party!
There are a lot of options available to you. You can go DIY and personalize your party, or buy pre-made decorations for the event!
Here are some decorating ideas when it comes to your pizza party:
Thank about keeping it Red and white themed, think of the classic red and white checkered table cloths at an Italian restaurant. You can make a trip to the dollar store and load up on red and white table cloths, paper plates, cups, and napkins.
Paper lanterns make a great touch if your party is in the evening.
Consider aprons and chef's hats for the guests to really get them in the pizza party spirit! Kids will love dressing up like pizza chefs!
Get it!
Here are some of the most amazing decorations you can find for your pizza party, in one place to get you started!
Get it!
Get it!
Get it!
Get it!
Get it!
Setting Up Your Pizza Party
When it comes time to have your pizza party, here are some tips and tricks for getting everything set up correctly.
Have a designated pizza bar for guests to stretch out their dough and put on their toppings. This will keep mess to a minimum.
Have a designated pizza runner! This person will pick up the pizzas at the pizza bar after they have been made, and bring them to the kitchen. Then, when they are cooked, bring them back out again. This keeps too many people out of the kitchen!
Be sure to assign someone to keeping track of the pizza toppings, and refill them when they are running low.
Now, here's the easiest pizza dough ever to get you started with your pizza party!
Yield: Four 12" pizza crusts or 8 6" pizza crusts
Organized Mom's Easy Pizza Party Dough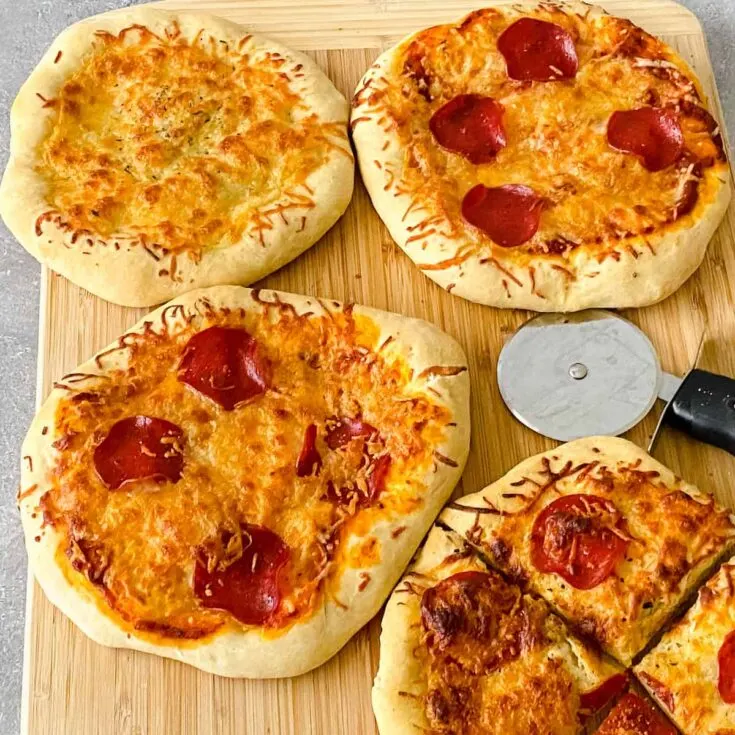 This is a super simple home made pizza dough that is perfect for your next pizza party!
Total Time
1 hour
35 minutes
Ingredients
1 packet active dry yeast
1 tablespoon sugar
1 cup warm water
3 cups all-purpose flour
2 tablespoons olive oil
Flour for rolling out dough
Instructions
Gather your ingredients for this easy home made pizza party dough.
In the bowl of an electric mixer, add the yeast, water, and sugar. Allow to sit for 5 minutes. Mixture will bubble.
Add flour, salt, and 1 tablespoon of olive oil to the bowl.
Using the dough hook attachment, mix until the dough forms a ball.
Dust your counter or a cutting board with flour, and remove dough from bowl of mixer.
Knead until smooth.
Put the remaining 1 tablespoon of olive oil in a bowl, and use a paper towel to coat the bowl
Place dough in bowl, and cover. Allow to rise for one hour.
Punch down dough. If you are going to refrigerate it for later use, now place it in the refrigerator, and remember to remove it 30 minutes before using.
Knead dough again, and shape back into ball.
Cut ball into either four pieces for 12" pizzas, or eight pieces for 6" pieces.
Roll piece of dough into a ball, then gently stretch it out with your hands on a floured work surface.
Top with pizza sauce, cheese, and your favorite toppings.
Bake at 450F for 10-15 minutes until cheese is melted and browned.
Notes
This is a super easy to make pizza dough. No stand mixer? No problem, just roll up those sleeves and grab a wooden spoon. Follow the directions to make the dough, but instead of using a dough hook, stir the dough instead. You still want your dough to form the consistency of a ball. If it is too hard to use the spoon, there's nothing wrong with using your hands to mix it up!