Mother's Day is right around the corner. It can be tough year after year to try to come up with something to give your mom or mother-in-law. Need some ideas for Mother's Day gift ideas for Grandma? If you have kids, they can be included in the fun, which can expand the gift-giving possibilities!
Here are 14 Mother's Day gift ideas for Grandma
I have included some ideas that have your kids taking a more active role with creating the gift, as well as some ideas that will be less messy! These gifts are sure to be treasured as well, since they will feature your adorable children. (What grandma doesn't love pics of their grandbabies!)
Decorated Flower Pot
This post may contain affiliate links. As an Amazon Associate I earn from qualifying purchases. For more information, see our disclosure.
This is a perfect gift for a grandma that loves plants and flowers. You can find plastic pots at any craft store, or real terracotta pots at any home improvement or garden store. If you have smaller kiddos, I would recommend using plastic pots.
Have your kids decorate the outside with paint or markers (paint pens can be fun for older kids). After the pot is dry, plant a favorite flower or herb inside.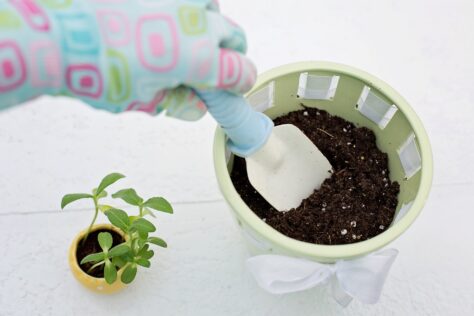 Painting From Grandma's Little Artist(s)
Buy some blank canvases from your local craft store and let your little Picasso paint a special picture for Grandma. I would recommend using craft acrylic paint. This paint comes in small bottles that are relatively cheap.
Hot glue a colorful ribbon onto the two top corners, and it will be ready to hang.
Hand Print Tote or Apron
You can find blank canvas totes or canvas aprons at a craft store. Paint your kid's hands (tempera paint works great) and press them down on the canvas. With a fabric marker, write "Hands down, we think you are the best, Grandma!" (Or insert your favorite nickname).
You can write each child's name underneath or on top of their hand print.
Fridge Magnets
This is a great gift if you don't have a lot of time to put something together because it is so simple. Get a few magnetic sheets with an adhesive backing (they come in various sizes, but I like to use the 4″ by 6″ size) Print out your favorite pictures, and attach them to the adhesive backing.
Cut around the pictures to make different sized designs. Be sure to include a Happy Mother's Day drawing from the grand kids for Grandma to hang on her fridge!
Gardening Kit
Perfect for the mom or mother-in-law with a green thumb (or an aspiring gardener). Put together a little gardening kit with seeds, a pair of gardening gloves, a small shovel and trowel, a foam kneeler, and a cute sun hat. The kids can paint rocks for Grandma to place around her garden.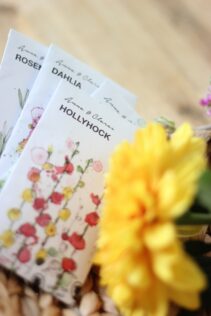 Personalized Photo Gifts for Mother's Day
There are many different sites where you can order personalized gifts using your favorite photos, but Shutterfly is one of my favorites. They have a ton of fun options—phone cases, playing cards, calendars, ornaments, reusable shopping bags, etc.
One of my favorites gifts is a personalized puzzle, with the option of a single photo or a whole collage. A cute picture of Grandma with her grandkids would make an adorable puzzle, and they can build it together! Make sure you order these items a couple weeks ahead of Mother's Day to be sure they arrive on time.
Photo Mug
This is another option for a personalized photo gift. Starbucks and Amazon (to name a few) sell travel mugs with a clear casing around the outside. To personalize, just slip pictures inside this protective casing.
This gift does require printing out pictures, but the upside is that you get to use several photos instead of having to choose between one or two images.
Photo Book
There are several companies that make nice photo books. (Groupon is a great place to find deals!) I have used both Costco and Shutterfly and have been satisfied with both.
Photo books come in a variety of sizes and you can either design your own, or let the company put it together for you with the images you upload. Along with photos of your kids, you can also scan artwork and save it as a picture file to include in your book.
Grandma/Grandchild "Paint Date"
Buy some wooden craft items to paint (a birdhouse, plantar box, etc.). Add some paintbrushes, a variety of acrylic paint colors, and a paint smock. Have your kids design a cute card asking Grandma for a "Paint Date". Put it all together in a basket.
Picnic Lunch
Fill a picnic basket with Grandma's favorite goodies and surprise her on Mother's Day with a picnic in the park. Have your kids help you bake her favorite dessert.
Picture Frame
Buy a plain wooden picture frame and have your kiddos paint it. They can glue on wooden letters around the outside either with their names or add "I LOVE YOU." Of course the frame should include a cute picture of Grandma with her grand kids!
Scrabble Board Wall-Hanging
Buy or find a used Scrabble board. Spell out the letters of the grand kids on the board and glue them on, intersecting names whenever possible, just like you would in a game of scrabble. Then frame the Scrabble board in a box frame to make a unique wall-hanging.
Pottery Painting Date
Take Grandma to a paint-your-own pottery shop. There are a variety of pieces to choose from, which makes this a fun activity for a variety of ages. Take Grandma out for ice cream or another treat afterword.
Another option is to take your kids ahead of Mother's Day and have them design a special piece of pottery for Grandma.
Surprise Morning Greeting
Obviously your mom or mother-in-law has to live fairly close for you to pull this off, but what about a good old fashion surprise visit? You can bring over donuts, or make her a special breakfast meal, or a drink from her favorite coffee place. Even if you have plans for later in the day, I am sure she will love seeing you twice in one day.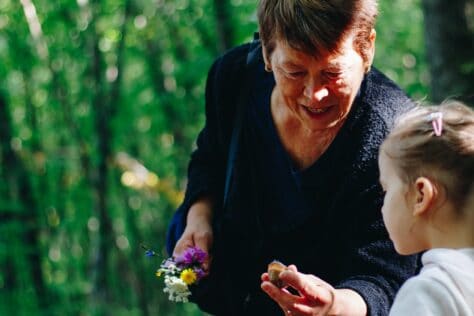 I hope that these ideas will help make your own mom or mother-in-law feel extra loved this Mother's Day. Remember, it's not the cost of the gift but the thought behind it. Grandma is sure to love any of these Mother's Day gift ideas that involves her grand kids!