Figuring out how to plan a birthday party for adults is actually a lot simpler than you might think, and it all comes down to picking a budget, planning a party location, and creating a fun experience for guests.
Just because we grow older doesn't mean we don't like to celebrate the day of our birth. It's a special day that only comes once a year, and a party for that special someone should be magical, but not break the bank.
This post may contain affiliate links. As an Amazon Associate I earn from qualifying purchases. For more information, see our disclosure.
Planning the perfect party doesn't have to be expensive or overwhelming. No matter your budget or experience level, here is our adult birthday party checklist to let the good times roll.
And if surprises are your type of fun, then check out our step-by-step guide on how to plan a surprise party everyone will enjoy!
How to Plan a Birthday Party for Adults—The Easy Way
Pick A Theme
The first thing we should consider is how to make it memorable. A good way to do that is to find something that the birthday person enjoys and then turn that into a theme for the party.
Here are some easy adult birthday party themes to consider.
Adult Birthday Party Idea: Movie Theme
How to plan a birthday party at home for adults can be tricky. Movie Night may not seem like such an awesome birthday theme, but once you get into it, you can rock it out. This is a fantastic way to plan an at-home birthday party.
Start by picking out their favorite movies and play them on your big screen TV or project them onto a blank wall in your home.
Then look at all their favorite foods and see if you can "movietize" them. If they adore chicken, make chicken nachos or fill hot dog buns with their favorite chicken recipe.
Popcorn is a must and can have all sorts of toppings from caramel to hot sauce to jazz it up. Turn cake and ice cream into cake pops and ice cream bites.
Don't want to go through that? Rent out an actual movie theater for a private screening!
For more suggestions, check out these great birthday party ideas for seniors.
Sports Themed Birthday Party For Adults
Sports is another one that can be done at home or out and about. From decorations to food to what's playing on TV, all can have a sports theme.
Get them a football-shaped cake or other sport-related shapes like a baseball bat, and let them have a great time discussing their favorite sports. Pre-record some games or that in-depth discussion so they can get into the plays.
Another alternative would be to host the birthday party during a sporting event at a local ballpark, hockey rink or other sports venue. Getting together friends for a game is a great way to start off the night!
Adult Birthday Costume Party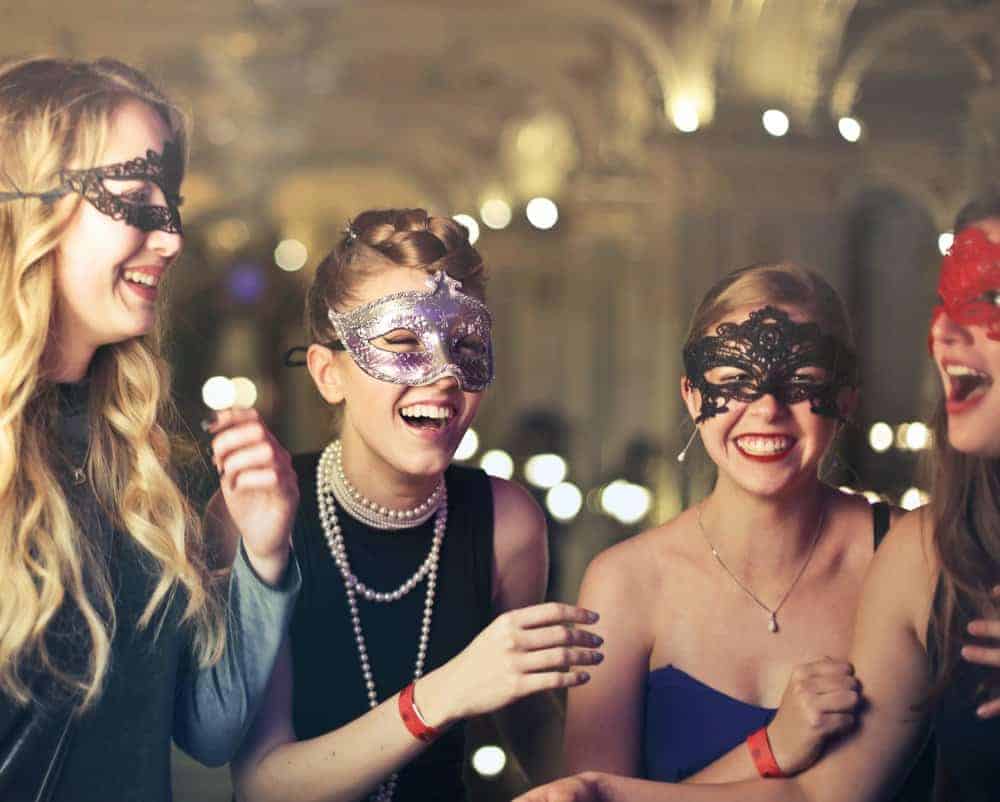 A costume party makes a great adult party theme, especially for cocktail parties or dinner mystery parties.
Costume parties might be a bit more on the expensive side, but you can always find a way to budget things in. Pick a costume theme that the birthday person will love, like books or Sci-Fi movies, and have all the guests dress up as their favorite character.
Decorations, food, and activities should revolve around the costume theme chosen, and everyone will have a great time.
Try having prizes for the best costume or couple costume as well to up the competition!
Decide Where to Have a Birthday Party
Birthday party places for adults don't have to be boring or unoriginal. Taking a typical setting and twisting it can turn a birthday party into a smash hit.
Hosting at Home
This is sometime the most convienent place to throw a birthday party as you don't have to worry about reservations, rental fees, or time limits.
Get creative with the decorations, make all their favorite foods, and have cake and ice cream afterward. Spend quality time with family and friends and grow your relationships into tighter bonds.
If you're on a budget and unsure how to plan a birthday party at home for adults, have no fear. There are plenty of ways to jazz up the dining room and backyard to make anyone feel special on their birthday.
Check out these easy balloon decoration ideas, as well as these tips for throwing an eco friendly party at home!
Escape Room
If your birthday person likes solving puzzles or has wanted to be in a real-life game of Clue, an escape room is a perfect option.
You'll have to shop around for prices as they can get pretty expensive, but you won't have to worry about clean-up since most escape rooms don't mind hosting birthday parties. If you can't find a good deal, make your own escape room at home!
Spa Party for Adults
When people think of having a party at a spa, it's normal to think about a bachelorette party. That doesn't have to be the case, as a day of pampering is sure to do both you and the birthday person a world of good.
While this is also on the pricier side of things, it'll be a day that won't be forgotten and allow for a very chill and relaxing birthday party. Many times students learning to be massage therapists offer discounted rates for their services. Seeking out aspiring massage therapists can land you a great massage at a lower price point with the same professional and relaxing experience.
Park
A park is a perfect DIY party venue. Parks can suit all ages, even the elderly, so they are great for all family members.
You can bring premade food or BBQ equipment and have an honest-to-goodness picnic enjoying the sunshine.
One bonus of this is the ease of cleanup, just pack a trash bag to throw away anything you don't want to bring home.
See if you can reserve tables in advance (some parks allow it through the town recreation site) or rough it and bring blankets to hang out on.
Don't forget the outdoor games for a super fun time.
FAQs for Throwing a Party for Adults
There are some things to consider when you're trying to figure out how to plan a birthday party for adults because it's not just about the food and the venue.
If you still have questions, check out some of our responses below.
What Should My Budget Be?
Looking at your budget will determine what you can afford for a birthday party.
Decide ahead of time how much you are willing or able to spend on the party, so that you can make decisions for food, decorations and activities that are realistic to you budget.
Having a party on a budget does not mean it has to be boring. Make your own invitations when setting up a guestlist, or create your own decor with crafts and balloons.
Having fun with family by doing a Twister tournament in the living room can be just as much fun as doing an expensive escape room and costs way less.
Get creative with your money and plan something that they'll love but won't break the bank.
If you are looking for an birthday outing, check sites like Groupon and local deal sites to find activities or save by bundling tickets together. Often places also have reduced fees for hosting parties in off hours as well.
What's the Best Time for a Party?
Depending on who's coming over, it might be better to have a specific time for the party to start. All-day affairs are wonderful for a party, but if you're running on three hours of sleep, maybe not so much.
People are typically more available outside of working hours, so in the evening or on weekends tend to be the best time for a party.
If you are hosting a family friendly party for lots of friends with young children, consider a late afternoon or early evening party, which will help avoid naptimes (often 12/1-3 is prime nap time) and past bedtimes meltdowns, meaning more of your friends will be able to enjoy the party for longer.
Is the Date Important?
When planning an adult birthday party, you have to remember that people may not like for the party to be in the evening on a Wednesday afternoon during a work week.
Adults have jobs and responsibilities, and nothing is a party pooper quite like people leaving early because they have to go to work in the morning.
Try shifting your party to the weekend. It may not land on the exact birth date, but it will be more accessible for guests.
If having a party on someone's birthday is preferred, then consider a dinner party or shorter occasion that will have your guests out the door at a reasonable time.
Holidays are another date related consideration. While they might mean more people have off work and can attend, it is also possible that friends and family will be out of town due to the extra time off.
Talk to the guests whose presence is most important before booking a party on a holiday weekend.
Should Guests Bring Gifts?
Gifts typically are not required or even expected, but are certainly always appreciated.
If you decided to ask for guests not to bring a gift, note it on the party invitation.
Your guests may have budget constraints themselves and cannot afford a costly gift. Also, a lot of expensive gifts may make the birthday person feeling uncomfortable. Requesting no gifts allows individuals to attend without feeling like a gift is expected.
If one of the guests texts you to ask about a gift, perhaps suggest something small or handmade that reminds the guests of the birthday person if they are insistant on bringing something. It's more personal and a lot less straining on someone's budget.
More Party Ideas to Consider
While there are many different steps and options in how to plan a birthday party for adults, just start slow and keep the guest of honor in mind.
Pick something they'll like, make sure it's in your budget, and show them that no one quite knows them like you do, whether that is in your birthday card message to them or just by showing them a good time.
Have fun letting your creative side run wild!
Other party ideas you might enjoy: