Need ideas for what to write on your child's party invitation? Check out these tips on all the information you need to include plus tons of kids birthday invitation wording samples listed by age to get the creative juices flowing!
Planning for a child's birthday party is not always as simple as it sounds, especially if it is your first time throwing a party for your child.
This post may contain affiliate links. As an Amazon Associate I earn from qualifying purchases. For more information, see our disclosure.
You would like your child's birthday party to be a memorable one, but planning for everything can feel overwhelming. If it is, be sure to check out our guide on how to plan an awesome's kid's birthday, complete with checklist!
You have to organize the food for the party, look after the entertainment side, decide on themes, gifts for your child and of course have to decide on the invitation cards and what to write on the invitation just to invite people to attend!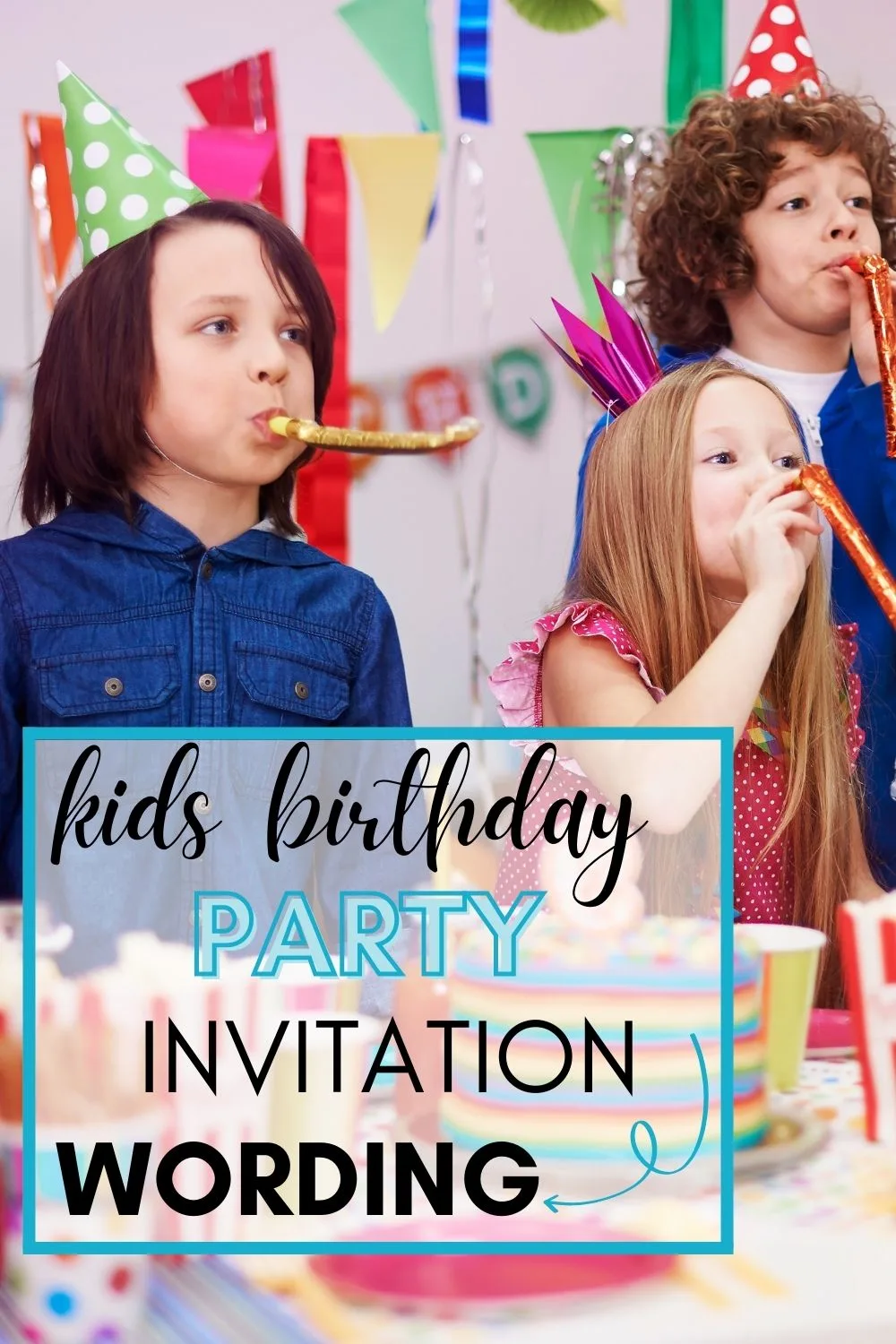 Maybe you came up with a cool themed invite, but you are not sure if what is written is appropriate. Do not worry; we are here to help!
While you certainly can buy premade invitations where you just plug in the party's information, it is also fun to make them yourself or personalize it to the theme of a party.
If you are the one to make your own birthday invites, deciding on the theme and color might seem easy compared to finding the right wordings to put on the card.
You want the invitation card to be cute, funny, informative, and gives guests all of the information they need, while still being condensed enough to fit on a small page.
What To Include In A Birthday Invitation
Birthday party invitations should excite the children that they are meant for, as well inform their parents of what to expect. The partygoers should be excited to come and have fun!
Be sure to provide all of the essential information your guests will need to make a decision about attending, as well as to come prepared to enjoy the event.
If the birthday party is part of a larger event such as a first communion or dedication, you could also add in a birthday prayer as well on the invite to match the tone of the event.
The following details should be clearly mentioned when you write out the wording for your child's birthday invitation.
Name And Age
The invitation card should highlight the name and age of your child. This is useful information as children might not always remember all of the details about their friends, and their parents certainly want the correct information!
The Date And Time Of The Party
Mention clearly the date of the party, the day of the week, and the starting and ending times for the party. This will help other parents to manage their day and allow them to arrive on time.
The Location Of The Party
Next, list where the party will be held. Is it at your house, the aquarium, or maybe a restaurant?
Whatever you decide, make sure you include the name along with the location and the address. You can also include a map in the invitation for further clarity.
RSVP Details
Do you require an RSVP for your child's party? If yes, mention your name and contact information so that parents can inform you whether or not they plan to attend.
In addition, you can include a deadline by which the parents can answer in the affirmative or negative.
Tip: You can also check out this post if you need help with RSVP wording examples or how to respond to a party invite.
Birthday Theme
If the party has a theme, the invitation is a great place to make it known, either through the design and details of the card itself, or in the text.
For example, if you have planned for a unicorn themed party or a theme based on a popular cartoon character and want all the children invited to come dressed to match the theme, make it clear in the invitation itself.
You will also want to be sure to mention if it there will be certain types of activities, such as a pool party, sleepover, or other activities that might require additonal clothing or gear.
Moreover, including the theme will get the children excited for the party!
Any Other Details
For any other details you want to mention, make sure to include those on the invitation card.
This might include whether or not parents are welcome to stay for the party, whether siblings are invited, information about parking or requests for allergy information if serving food.
Kids Birthday Invitation Wording Samples By Age
For the party invitation card, try to keep the words upbeat. Reading your card should make the invitee excited for the day to come.
Take inspiration from the birthday invitation phrasings given below to write your party invitations. You can include fun birthday quotes, messages, or anything else creative you come up with!
Feel free to change the ages and words around, or play with different words that make sense for your event.
First Birthday Invitation Wording
Our Dolly is Turning 1! Come help us celebrate her first year!
What a ONEderful excuse for a party—Mia is turning one!
Cakes and fun, a spunky little boy is turning 1!
It has been a very thrilling year full of pleasure and joy. Come rejoice with us as our little baby girl turns one!
What a fun day it is to be sure! Baby Jade is turning one today!
Second Birthday Invitation Messages
It is time for those terrible 2's! Join us to celebrate our Jaden's 2nd birthday
Cakes and candies, and fun things to do! Please come to my birthday as I am about to turn 2!
She is so cute and dear; Charlotte's 2nd birthday is finally here!
It will be twice the giggles and double the fun. Being 2 is more exciting than being 1!
Third Birthday Invitation Text Ideas
Hip Hip Hooray for a birthday party, our little James is turning three!
Little birdie, little birdie, do you see Amy? Do you know she is turning three!
Whoopee! Such fun! Jane is about to turn three! Come celebrate with us in the aquarium!
Addison is turning three, so we are celebrating with a fun party!
Fourth Birthday Invitation Phrases
What a super birthday! James is about to turn 4! Help us celebrate in his favorite superhero fashion!
Ash is about to turn 4. Let us celebrate with some games and food! There will be candy, ice cream, games & more!
Abby is turning four, and we want some cake. Hurry up and help her celebrate!
Ashley is turning four! Come join us to celebrate with her favorite unicorns!
Fifth Birthday Invitation Wording Examples
Come on, everybody. Let us have fun! Our little Joy is turning five!
A little cake and a lot of fun; let us celebrate Thad, who is turning five!
Our wishes have come true. Amelia is celebrating her fifth birthday with a party and cake, too!
Let us dance and have some fun, because Percy's turning five!
Help us make a splash for Benjy's fifth birthday. Join us for a pool party so we can have a blast!
Sixth Birthday Invitation Message Ideas
Our April is turning 6! Join us for a princess-themed party!
Leo is going to turn six, and our hearts are so full. So come celebrate with us with cakes and more!
Six is a such an amazing age, so help us celebrate as Brianna cuts the cake!
Seventh Birthday Invitation Wording Samples
A magical day it is indeed, it's Lucas's seventh birthday! We hope you can come and help us celebrate!
We hear there's a magical unicorn in our garden. Come see our Madeline turn 7!
Come celebrate our Benjamin's birthday with pizza and cake—let's see how much fu n we can make!
Example Full Text for a Child's Birthday Invite
You can add the following details after any those greeting lines too, detailing the place, day, time and whether or not to RSVP.
(Insert Your Preferred Greeting at the top of the invite)
Date/Time: Monday, May 24th, 2021, at 5:00 p.m.
Where: Anderson House (6 Bloomfield St., Lexington)
RSVP to Madeline by May 20th
These are just a handful of birthday invitation message ideas—there really is no limit to the ways you can phrase a child's party invitation!
You can also check out our other guides for Invites such as ideas and tips for Thanksgiving Invitations Wording as well!
For more great party ideas, check out these helpful posts:
And be sure to pin this to your kid's birthday party ideas board on Pinterest you you can refer back to it every year!