Do you have a little super hero kiddo who is obsessed with all the different super heroes? Then throwing a Super Hero Birthday Party is the only logical thing to do, am I right!?!
You can plan a whole Super Hero party with all of those superhero theme party ideas. We're covering food, drinks, supplies, decorations and activities you can have at your Superhero birthday party!
This post may contain affiliate links. As an Amazon Associate I earn from qualifying purchases. For more information, see our disclosure.
It doesn't matter if your kiddo loves Spiderman, Captain America, Wonder Woman, or the Hulk (or any other heroes from the comic books), we have tons of ideas to use for your party.
With so many ideas, you'll have this party planned in no time.
Super Hero Birthday Party Ideas
Let's get down to business, now that you have the party theme idea, let's make sure you pick your party venue and your party date so you can send out your Super Hero Party invitations to all of your party guests.
Pull all the favorite things your kid loves in his or her favorite graphic novels and have all their heroes come to life in front of their eyes.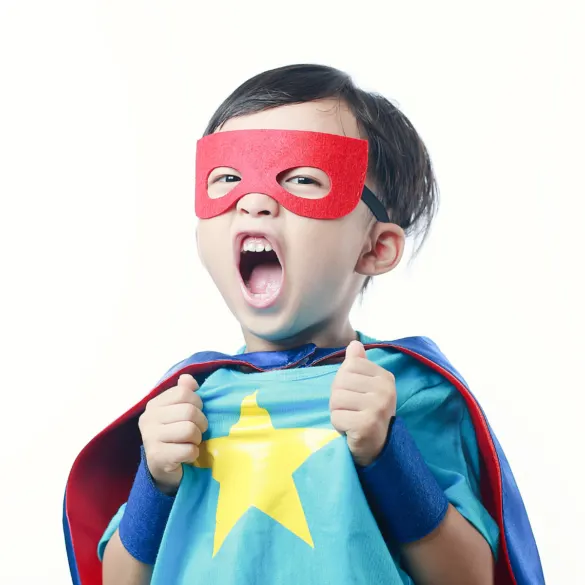 Super Hero Birthday Food and Drink Ideas
Plates and cutlery. While you can totally go to the Dollar Store and stock up on some cutlery and plates in plain primary colors that will go with any super hero party theme. But you can also get any set with your favorite superheroes already on them. Or grab these hero sets that have the Boom! Pow! type signs on the plates and cups.
Food items. We have all sorts of fun party treats that you can make. These are all easily customizable to be any color palettes, and to truly match any party theme. Some of our favorite party snack and desserts to have on your dessert tables, are candied popcorn, decorated rice krispie treats, cupcakes, decorated chocolate covered pretzel rods, and colored cake pops. You can really make any food items to fit your super hero theme, but these are our favorite crowd pleasers.
Super Hero Birthday Supplies & Decorations
Party Pack. Get a lot of what supplies you need with this party pack. Grab this pack that has a Happy Birthday banner, multiple kinds of balloons, and even a cake topper.
Centerpieces. Grab this centerpiece party pack with tall skyscrapers and Boom Pow centerpiece signs.
Twirly hangers. These twirly Boom Pow hangers are fun and will fit with your birthday party theme.
Picture backdrop. Hang this skyscraper backdrop and have all your little superhero grab some photo booth props and have fun taking pictures!
Balloon set. Grab a fun balloon set like this one that spells out happy birthday, has a bunch of character themed balloons, and so much more. You can grab different sets to feature different characters if your kids have a favorite one.
Wall decorations. Add these word cut out signs to your walls for some fun, on theme wall decoration ideas.
Super Hero Party Activities
Here are some fun ideas to keep your little superheroes busy and happy at your upcoming party. These superhero party games are just a few of our favorite ones, but we know with more creative ideas, you'll have even more fun games and activities to include at your party.
Pinata. Grab this pinata set for your little superheroes, complete with Boom pinata, pinata stick and mask to make sure nobody starts peeking.
Toss across. This hanging toss across game is decored with all the birthday boy's favorite superheroes. Toss a bean bag through the hole and see how can rack up the most points!
Coloring books. You can have the kids color their own super hero coloring pages to add and display around the birthday party or you can add these coloring books to your goody bags. This is a little different than your traditional party games, but it's a great way for the kids to get creative and still have a good time. The kids can decorate their coloring books with these Super Hero stamps too.
Make your own masks. Grab a free printable design to let the kids make their own superhero masks that they can display around the party or wear around the party. You can also add any superhero accessories that you think your little superheroes would like.
Have a superhero training course. Set up a home made ninja or super hero training obstacle course for the kids to find their inner superhero power to complete. They could complete a ninja training course and work as a team in relay races and perfect their own superpowers.
Movie night. Every good super hero themed birthday party deserves a movie night featuring your kids favorite heroes! It's a good idea to serve popcorn in these popcorn containers that perfectly fit the party theme.
Party Favors. Add all sorts of fun things, like super hero masks and superhero capes to your goodie bags or give them to your guests as they arrive so they can party in style. Don't forget to add one or two of these fun little mini superhero character figures (all sorts of ideas, Spiderman, The Flash, Superman and more!) in each of the party favor bags. Put your favors in these fun party bags. Add these cool sticker books to create their own heroes. This grab bag party pack has all sorts of fun ideas, key chains, slap bracelets, masks, and more!
Punch balloons. Whip out these classic balloon punch balls and watch the kids go crazy. These were always fun at birthday parties when we were kids and now these balloon balls have all the fun super hero sounds like you see on the comic book pages.
Create your own heroes. Hand out some capes and masks and let the kids create their own superhero, complete with their own superhero name! Grab this fun little superhero name creator game to have everyone find a new superhero name. With their new superhero appearances, you can have a team of good and bad guys and have the kids run around and let their imaginations soar.
Planning a Super Hero Birthday party is so much fun! What great ideas did you find that you are excited to have at your upcoming party?