Do you have a little girl with an upcoming birthday that is obsessed with princesses? Well, then you're in for the royal treatment because we have all of the best Princess Party Ideas that a little princess would love at her party.
From invitations to food ideas, decor, supplies, activities, and party favors, we have you covered! No need to hire an expensive professional party planner when you can gather up plenty of budget-friendly ideas from this post.
This post may contain affiliate links. As an Amazon Associate I earn from qualifying purchases. For more information, see our disclosure.
It doesn't matter if she wants a Disney Princess Party of just a birthday princess party theme, we have plenty of ideas that you can use for either, or you can mix and match between the two and create the ultimate princess party for all the little princesses out there!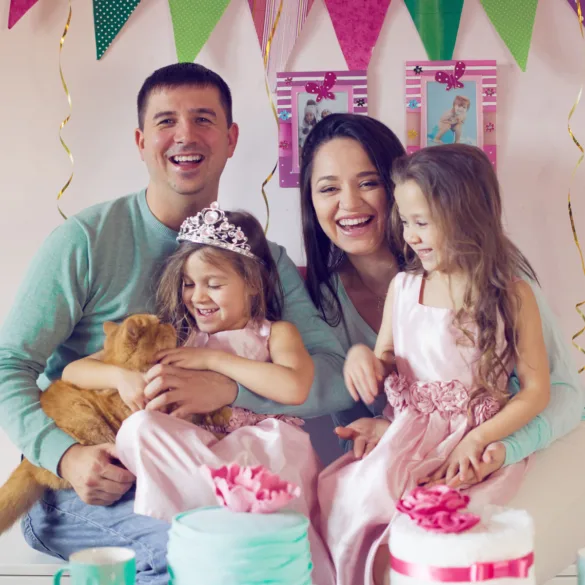 Princess Party Ideas
Once you've ironed out the details for your upcoming princess party, be sure to grab the cutest princess party invitations that you can find. Fill them out and get them out to all your guests so they can save the date for the perfect princess party.
Outfit your little birthday girl with her favorite princess dress and her very own princess crown for her party. But don't forget to have extra outfits for your princess to share with her princess friends.
Style her hair fancy with these hair styling tips for little girls.
Have a Disney lover in the house? Maybe you need to check out this fun Encanto party ideas post or check out some other little girl birthday party ideas.
Princess Party Supplies and Decor
Get ready to jazz up your party space with fun centerpieces. This centerpiece pack has princess castles, carriages, and crowns!
Make a grand entrance area for your princess with a beautiful pink and gold balloon garland arch. She will feel really special walking through to her party with this beautiful balloon archway. A balloon archway outside is also a great way to let your guests know where to enter the party area as long as it's not too windy of a day out.
Here's a Princess party pack that has decorations, paper cups, and plates. You'll love the classic balloons, and Happy Birthday banner inside. These decorations can turn any ordinary space into a princess party space with just the flick of a magic wand from the Fairy Godmother.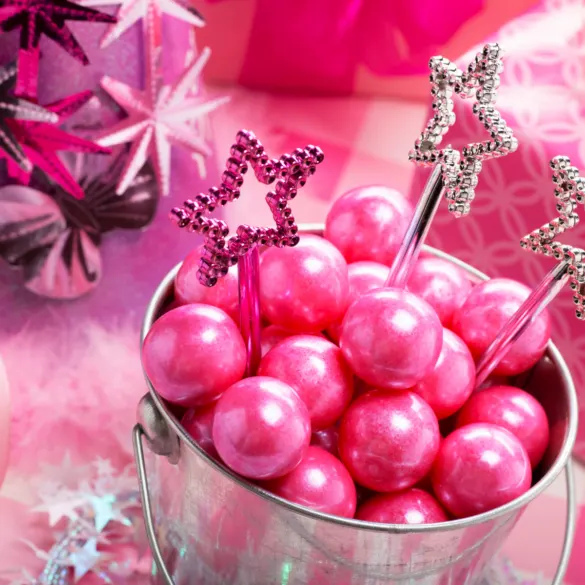 Princess Food and Drinks Ideas
Serve your royal guests some tasty Princess cake after the princess herself blows out the castle candles. Try adding a cute castle cake topper or these cupcake toppers to complete the magical princess party theme with the best dessert.
Pass out these fun crazy Disney Princess straws for your guests to drink with. They can pick from various princesses.
When you go to serve your princess party food and snacks, you can have a set of paper plates and tableware that is more vintage tea cup party vibes that a princess would use in her castle, or have something more aligning straight with the castle theme.
If you are aiming for more of a Disney Princess theme, go for these classic Disney plates, cups and a table cloth. The perfect way to bring some Disney Princess magic to your party.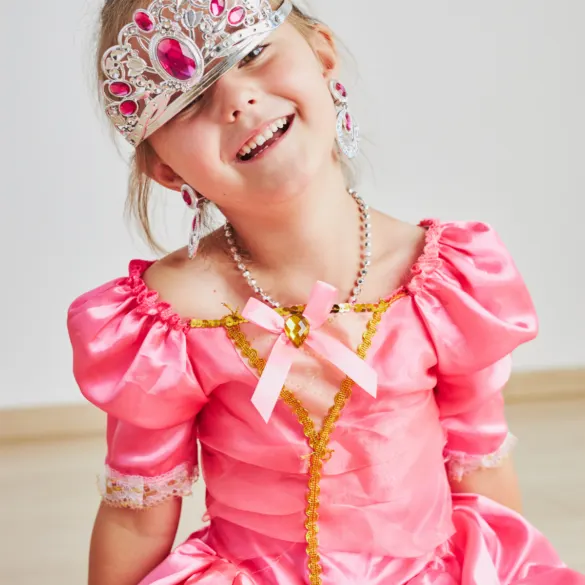 Party Activities
Every Princess party needs fun games to keep her party guests happy and having fun, right?!
Depending on her age, you can play musical chairs, limbo, pin the tail on the princess,or have a bouncy house. All classic party activities here!
Hang this princess themed bean bag toss game for another fun thing to add to your list of princess party games.
Have a real life preiceess come visit your party. Oftentimes party companies will hire girls to play the roles of different princesses, they'll be dressed up and talk in costume and the kids at your party have an absolute ball interacting with the princess. They can read books, host a mini dance party, do princess makeovers, and so much more. You can check out your local party place to see if they have any good recommendations on who to reach out for for an appearance like this.
You could even host a royal ball where all the young girls and boys dress up in their best prince and princess outfits and have a dance party together.
If you host a ball or just have fun little princess stations, you need this party sign pack that would make fun decorations or even fun props to take pictures with in front of a castle backdrop.
Let the princesses gather for a princess tea party in their princess dresses with all the pretend tea party goodies. Get some cupcakes, macaroons, biscuits, tea, and whatever else the kids want for the food table and, of course, some tasty tea for the kiddos.
After your little guests have had afternoon tea, everyone can decorate their own wandwith some gem stickers! Be sure to line your table with a good table cloth because these gems can start sticking to a party table in no time when the kids get ahold of them.
Party Favors
When the party is winding down to an end, send off your friends with fun party favors before the fairy tale party is over. There are a ton of party favor boxes and bags to choose from. Some of our favorite creative favor boxes that we have seen are these castle boxes. They're in the shape of a castle, complete with turrets, flags, and all.
You could also just opt for traditional favor bags with crowns and castles, or go for the Disney Princess-themed favor bag that has all the best Disney princesses on them.
Pack the favor bags with all the goodies a princess would need, get these temporary tattoos, rings, crowns, and wands to add to each bag.
Now that you see you don't need a party planner ot plan the ultimate party for your little girl! What ideas are you most excited about to have at your special day? Have any other food items you want to suggest?