Have you seen Encanto over a handful of times with your kiddos? Have a child who loves the movie? Then they totally need to have an Encanto Birthday party this year! Don't worry, we've taken away all the stress of party planning by sharing all of the best party ideas that you'll need.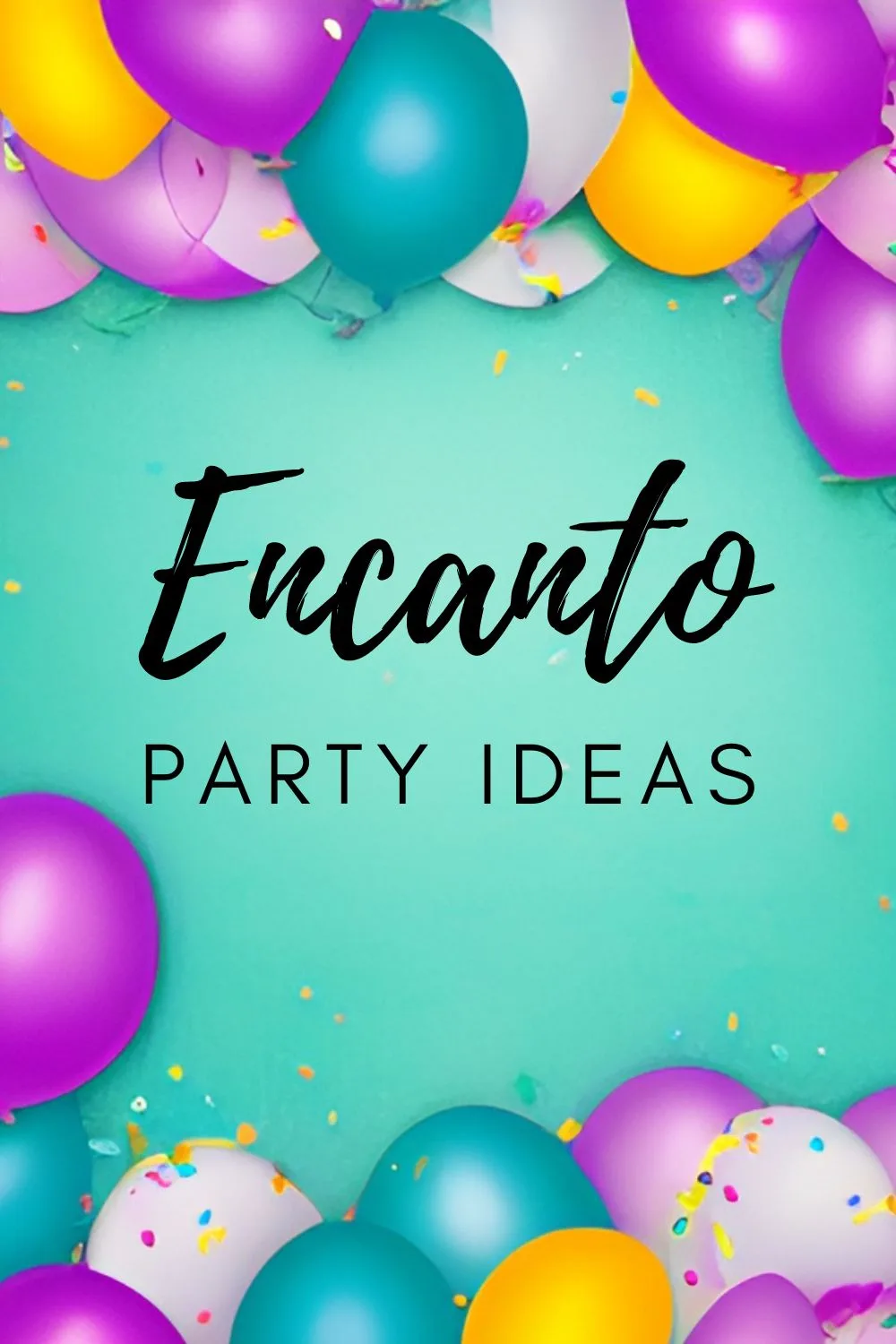 Check decorations, party supplies, food ideas, and even some party activities off of your list with all the ideas we share here. Grab the birthday kid and see what things they would like at their magical party and plan the best party yet!
Encanto Party Ideas
This post may contain affiliate links. As an Amazon Associate I earn from qualifying purchases. For more information, see our disclosure.
Planning an Encanto theme party is going to be so much fun! You'll have all the vibrant colors, fun music, and activities to keep everyone busy and enjoying themselves. There are so many fun Encanto Birthday Party ideas here, we can hardly wait to share them all with you!
Invitations: Invite all your friends and family with these adorable invitations featuring the whole Madrigal family and their magic powers!
Party Style: Start the party off with your birthday girl dressed up in her best Isabela outfit or her Maribel outfit and don't forget her gorgeous shoes! It's such a fun idea to dress up like one of the main characters from the movie Encanto!
There are plenty of ways to make your child feel special at their birthday party!
Encanto Party Supplies and Decorations
Decorate: Grab an Encanto themed party pack with all these fun decorations: balloons, Happy Birthday banners, table cloth, Encanto cake topper, cupcake toppers and more. They are decorated with all your favorite characters.
Flowers and Balloons: Decorate your party area with fresh flowers dropped off by Isabela Madrigal, and some balloons blown up and tied by Louisa! This pack of balloons would be a great option and it has a fun variety to display.
Centerpieces: Make sure to set up these fun centerpieces in fun colors on all the party tables.
These metallic hanging spiral decorations will really tie everything together.
Get it all with a party pack: This Encanto-themed party pack really covers all your needs. In this mega pack, you'll get a tablecloth for the party table, cutlery, paper plates, and even more decorations to really transform your regular room into a fun party space!
Encanto Party Food and Drink Ideas
Serve some traditional authentic food ideas: Make some traditional Columbian food to serve at your magical event. Everyone would enjoy some Arepas con Queso (crispy on the outside, cornmeal cakes that are fluffy and stuffed with luscious cheese on the inside), or some Bunuelos (a Columbian cheese fritter), or a few empanadas on the food table. You can't go wrong with a taco bar and some chips, salsa, and queso too. So many delicious ideas!
Drinkware: Add these fun curly party straws to your birthday celebration. Each straw is topped with an Encanto character or important part to the movie! Grab a pack and see which one you get to drink from at the party. Don't forget the paper cups. Everyone needs something to drink from and these cups are perfect to use with those fun straws.
Encanto Party Activities
Here are some fun Encanto birthday party activities that are great for various ages.
Games: Have the kids play Pin the Butterfly on Maribel! It's a cute twist on the classic Pin the Tail on the Donkey game, but this time falling in line with the party theme and instead of a tail, your guests get to pin gold butterflies to Maribel. A great, timeless, fun activity that's great for the younger party guests.
Picture Time: Hang a fun photo backdrop for guests to take pictures with. This backdrop features Isabela and her flowers and vines and La Casita in the background. But you could also grab this vibrant backdrop that has the whole Madrigal family! Who would you want to stand next to?
Color and Games: Print out some fun free printables for the kids to color, and some games for the kids to play- maybe some Bingo, Encanto trivia, word searches, coloring pages, etc. You could even print out some doors and have everyone design and color their own Encanto doors.
On the Big Screen: If you're having a sleepover, you could have a movie night and all the party guests could watch the Encanto movie and see all of their favorite Madrigal family members. You could even get the soundtrack to the movie and let the kids have a dance party with all those catchy songs!
Send them off in style: At the end of every good party, the kiddos get to receive some fun party favors, right?! Well, send your guests home happy with this complete party favor pack.
It not only has fun party favor boxes with the whole Madrigal family on them, but it also comes with some party favors to stuff into the boxes! Add some bracelets, key chains, bubbles, and more to your party boxes that all come with the part pack. If you just want some party favor bags to stuff with your own goodies, you can grab these.
Or you can just get the favor boxes and fill them up with all your favorite ideas. Add some temporary tattoos and stickers, small toys, some candy, and maybe some Encanto rings.
We hope after checking out this whole list, you can find some fun Encanto party decorations, supplies, and meal plan ideas. There are tons of ways to make any party an Encanto party theme party.