Do you have a Baby Shark fan in your house? We all know how easy the song is and how catchy it is for young kids. So, if you're throwing a party for your like baby shark lover, here are some fun Baby Shark Party Ideas they're sure to appreciate.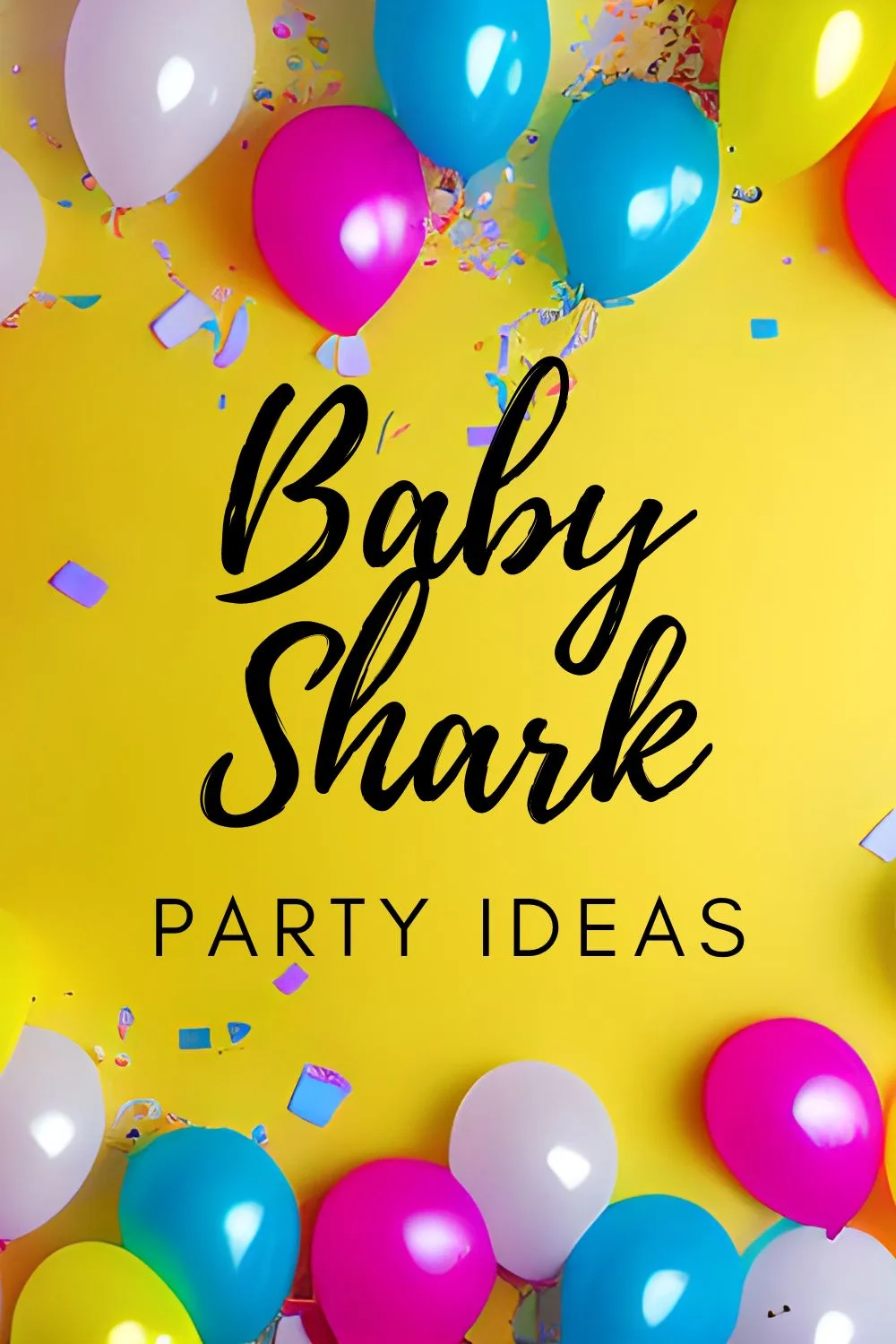 Baby Shark Party Ideas
The Baby Shark song came out in 2017 and it was an instant hit with the little kids. They loved the silly song and the hand and body movements. It is still a well known song to this day. Pinkfong, the group who created the song has gone on to create other songs and dances as well.
This post may contain affiliate links. As an Amazon Associate I earn from qualifying purchases. For more information, see our disclosure.
If you have little sharks in your house who have an upcoming birthday that would love a baby shark theme party, we have tons of great ideas here for you! Let's throw them a party they'll never forget and one that the party guests will enjoy as well!
Start the baby shark birthday theme party planning process off on the right foot with this super cute baby shark invitation pack!
Don't forget to dress up the birthday boy or girl in a fun baby shark birthday shirt! Or maybe the birthday girl would enjoy this adorable baby shark dress to wear at her party including a tutu and a hood with a shark fin.
Baby Shark Party Food and Drink Ideas
Drink Ideas
Use this fun Shark themed buffet cooler that has a shark fin in the middle to store your drinks in, covering them with ice. Use these water bottle labels to jazz up your boring water bottles.
Serve your party drinks with these fun curly straws that have shark designs attached to them and these adorable plastic reusable cups that have all your favorite characters on them.
Make your own fun shark cake, or order one from your favorite place to order birthday cakes and add a fun cake topper like this one. The bright colors and glitter really makes the cake topper pop on top of your cake.
Add these Baby Shark Fruit Snacks to your party food list for all the kids. If you don't want to do a big cake, you could serve cupcakes and themed cookies.
Baby Shark Party Supplies & Decorations
Get the whole party set up with this 196 piece package of baby shark decorations for the birthday girl. With a Happy Birthday banner, Doo Doo Balloons, other balloons, table signs, table tents, tablecloths, napkins, cutlery, cake toppers, and more. This is a full birthday party set up with fun decorations to transform your party area in no time. Get al the baby shark birthday party supplies and have them on hand to make your regular space come to life.
Here's another party decoration set. This time with less pieces, but it's filled with more balloons and baby shark characters. Each color baby shark has its own big balloon to blow up. It also includes smaller streamers with different baby sharks, even a pirate Baby Shark and another PinkFong character that your kids may recognize. Plus another Happy Birthday banner.
Set up a Shark Backdrop for all of your party guests to take pictures with. The backdrop features all the Baby Shark characters and friends, making it the big display to have at your Baby Shark themed birthday party.
Baby Shark Party Activities
Have Daddy Shark set up some of the baby shark party games and activities for your baby shark themed party while mommy shark is busy getting the food and drinks set up. Here are some fun and creative ideas for all the guests to play with during the party.
Baby Shark Games
Play a game of shark toss. This game was intended to be used in the pool but we all know fun pool games can totally be used on land too!
Have fun playing Pin The Teeth on the Shark
Pass out these Baby Shark Grab and Go Play Packs to each guest at the party. Let them color, play with the stickers, and more in each of these party packs. Additionally, you could use these as party favors.
Let the kids decorate their own sharks with these stickers to create the perfect craft.
Every birthday party needs a fun, awesome shark pinata for the kids to play with. Fill it with candy, baby shark toys, and whatever else you want.
Fun Party Favors
At the end of the party, don't forget to hand out the fun party favors. Fill a baby shark gift bag with some gummy sharks, candy shark bracelets, and some hard candy necklaces. Maybe add this party favor set that has gift bags to put the shark masks, stickers, and keychains in.
Plan the perfect Baby Shark Party with all of these amazing Baby Shark Party ideas! Food, drinks, and fun celebration for the whole family with all of these Baby Shark Birthday Party ideas.
If you're looking for more birthday party ideas, we have them! Mermaid parties, boy birthday party themes, and more! Just have a look around.