Maybe you have a Dr. Seuss fan, or absolutely love The Grinch around Christmastime, no matter the case, these Grinch Party Ideas are just what you need to throw a Grinch themed party. This is a fun way to celebrate the holiday season, and can be a great birthday party theme for someone who has a birthday in December.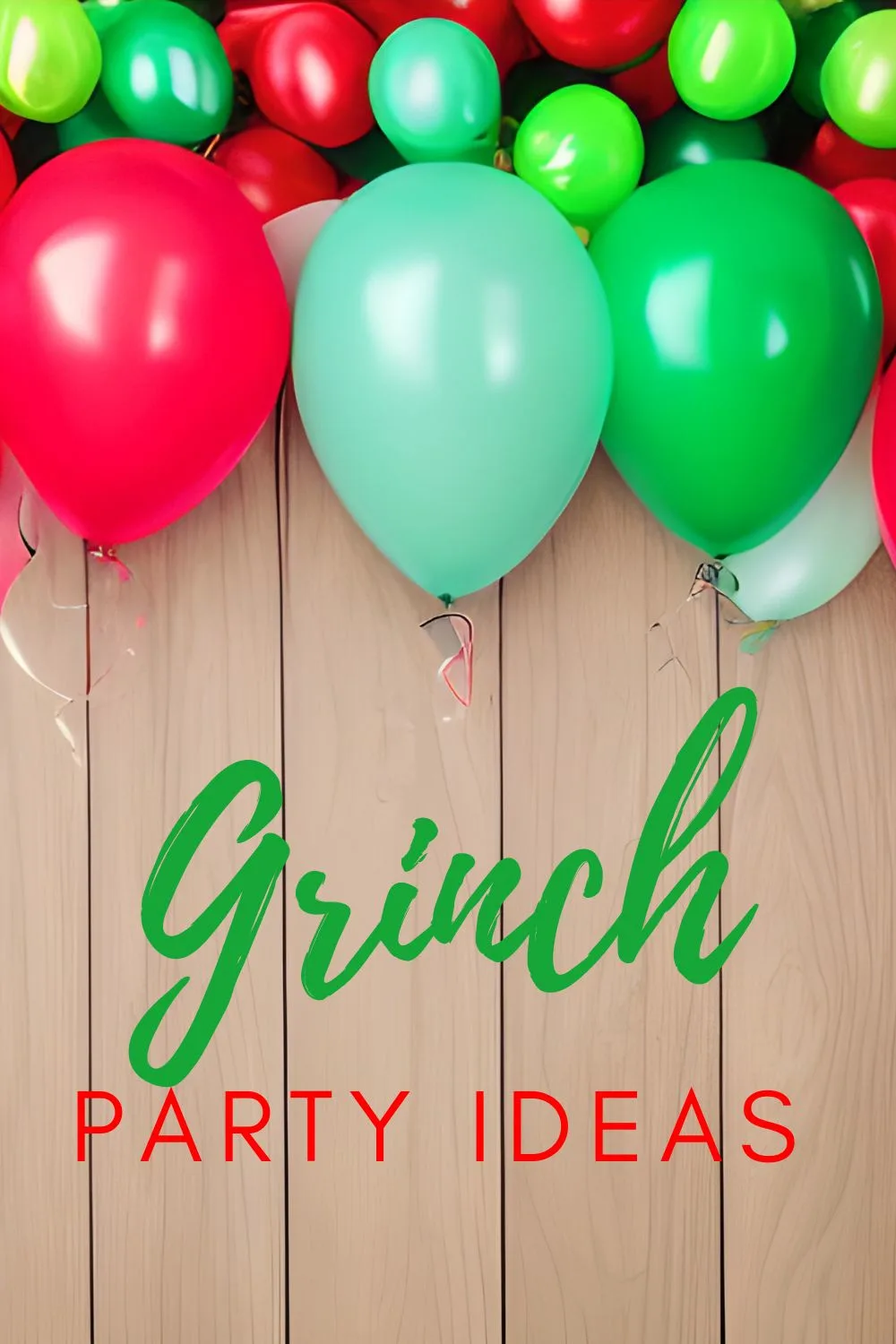 These fun Grinch Party Ideas can also be used for your neighborhood Christmas party, or even a work Christmas party. The options are endless.
Grinch Party Ideas
This post may contain affiliate links. As an Amazon Associate I earn from qualifying purchases. For more information, see our disclosure.
We'll be sharing so many ideas for whatever kind of Grinch Stole Christmas party you are planning. Find the best food, drinks, supplies, decorations, and activities for your guests so you can throw a memorable party with a fantastic Grinch theme.
Dress the part and try wearing these Grinch leggings. You can even have any of the 3 Grinch movies playing in the background of your party. Do you like the original animated one, the live action movie with Jim Carey, or the newest animated one just called, The Grinch?
Grinch Party Food and Drinks
Top some cupcakes with the cupcake toppers with the various facial expressions from Mr. Grinch wearing a Santa hat. Perfect for a birthday party, or just sitting on a holiday dessert table.
Serve your goodies on these Naughty or Nice Grinch and Max plates, and your grinch drinks, like some Green Grinch Punch, in these themed cups. Those plates are perfect to serve your Grinch cake on. Have some cute snacks, like Grinch pretzel bites made from small pretzels dipped in melted green candy melts with red sprinkles would be cute with some Grinch cupcakes or a handful of Grinch Kisses.
Need some fun party treats? We love these Grinch Meringue Pops! So easy to make and a festive treat with a tiny Grinch heart that everyone will love.
With so many yummy Grinch treats to choose from, the options are really
Grinch Party Supplies and Decorations
Grinch-Themed Christmas Party decoration bundle: This bundle is packed with all sorts of decorations your party guests will love. It has balloons with a Grinch face, a couple cake toppers, some more cupcake toppers, a festive tablecloth, and a party backdrop for fun photo ops. Don't forget these centerpieces that are good for any kind of party.
Here's another party bundle, but this time with plates, silverware and a table cloth. All necessary things for your Christmas party.
Birthday Party Ideas: Use this Happy Birthday Banner that's decorated with your favorite Christmas Grinch theme.
Holiday Cocktail Party decorations: Grab these fun streamers and a party banner!
Make a batch of this Christmas Potpourri to bring a fantastic Christmas scent to your whole house. Nobody wants a stinky Grinch cave smelling house for their party.
Blow up this 24″ sitting Grinch balloon. He'd make a fun decoration that people could take pictures with.
Create a beautiful visual party centerpiece with this Christmas, red and green Grinch Balloon Arch. It's versatile and can be used for holiday parties, birthday parties, and even a Christmas time baby shower!
You can't forget the outdoor decorations! Deck the halls around the front door with these front porch decoration banners.
Grinch Party Activities
There's never a shortage of Christmas Party Games, so many fun ideas, games, and things you can do!
Decorate some Gingerbread Houses, bake some Grinch Cookies, make some Grinch crafts, string some Grinch popcorn strings, and so much more.
Play some Grinch Bingo at your birthday party or Christmas holiday party.
Get some photo booth props and hang this photo backdrop so all your guests can get a picture with The Grinch.
Give away these cute Grinch stickers– there's 50 of them, plenty for goodie bags or just fun party momentos. Toss a few stickers, Grinch temporary tattoos, and some other favors in these party favor bags to pass out to your guests as they leave.
Play Pin the Heart on the Grinch and other fun party games, like this Grow Your Heart card game.
Got enough Grinch activities and meed more fun family games? Check out any of these fun Christmas Family Activities!
We all enjoy playing the blindfolded wrapping challenge. Have guests bring an unwrapped gift, like a White Elephant type of gift and then blindfold them, give them wrapping paper and tape and watch them try to wrap the gift without being able to see. Your guests will end up with a Christmas tree full of hilariously wrapped gifts to use for the White Elephant gift game.
Print out some Grinch party printables, some coloring pages, and more to help keep the kids busy and having fun.
Looking for some fun treats to go with your Grinch party? Check out our favorite Grinch party treats here.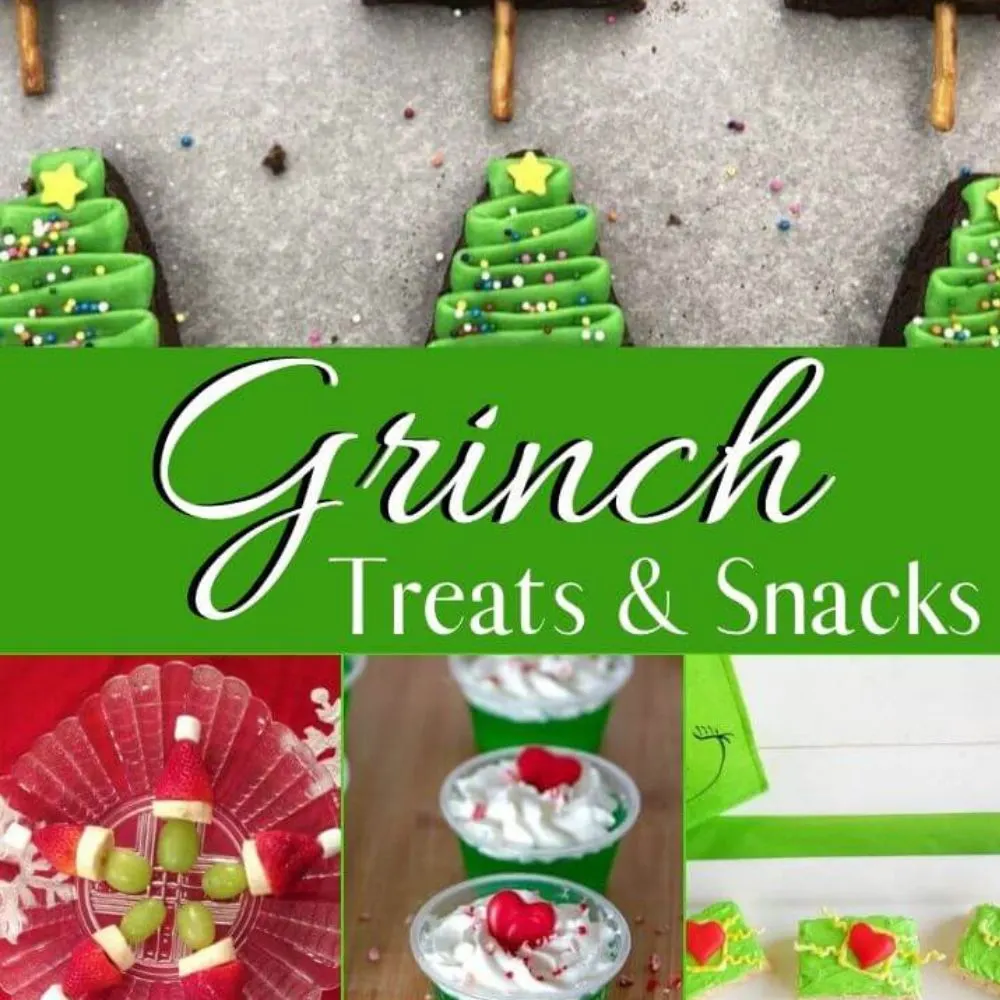 If you are looking for even more fun grinch themed snacks and activities for your party, we have you covered with everything you need for the perfect Grinch party!
Grinch Party Ideas
Looking for some ultimate DIY ideas to make your Grinch Party tons of fun? Check out these snacks, crafts, and activities!
We hope after looking though this ultimate list of Grinch Party Ideas that you found a few to help make the perfect festive party! Share with us your favorite Grinch party food idea, and what your favorite Grinch Christmas decorations are in the comment below! It's such a fun theme for any upcoming holiday parties or other celebrations.