We've got the cutest Grinch party food ideas in all of Whoville! These cute Grinch snacks and desserts are perfect for any upcoming holiday parties and celebrations.
One of the best Christmas party themes is a party based on the classic holiday movie The Grinch. Whether you throw an entire Grinch-themed party or just want to bring Grinch themed treats to the office (we'll keep it in between just us if its in honor of your boss, we promise)—then the cute ideas below are exactly what you are looking for!
This post may contain affiliate links. As an Amazon Associate I earn from qualifying purchases. For more information, see our disclosure.
Click here for our ultimate Grinch Themed Party Guide!
The Grinch Christmas movie is all about how the Christmas spirit can make all of us feel connected to our community, and people both young and old can connect with characters and maybe even find themselves in either the joy-filled Cindy Lou Who or in the grumpy Grinch himself.
If you are looking for activities for a Grinch-mas party, check out these fun activities for kids over at Seussville and see our other Disney inspired treats and snacks as well!
Grinch Christmas Desserts
These cute Grinch desserts are perfect for school parties too or to add a little whimsy to a family Christmas party as well!
Grinch Mini Brownie Bites
If you enjoy brownies, you'll love these Mini Brownie Bites. They're perfect for any Grinch themed parties and are super cute!
Decorated Grinch Cookies
You can't help but smile back at that Grinchly face on these chocolate and vanilla cookies from The Monday Box. The best part about these cookies are that they are designed perfectly for dunking in a nice cold glass of milk.
Peppermint Grinch Fudge
This Grinch themed fudge from Shugary Sweets is super easy and delicious. Fudge is such a great food choice for holiday parties because you can make it in large batches and they're easy to handle.
Grinch Cookies with Fur Frosting
These Grinch themed cookies from Finding Zest are super cute. The green buttercream icing on top of the cookies represents the fur for Grinch. The hearts represent Grinch's growing heart.
Grinch Cinnamon Rolls
Cinnamon rolls are great for breakfast and my kiddos think they're a fun snack for any time. Check out these Grinch themed cinnamon rolls from This Ole Mom.
Grinch Cake Balls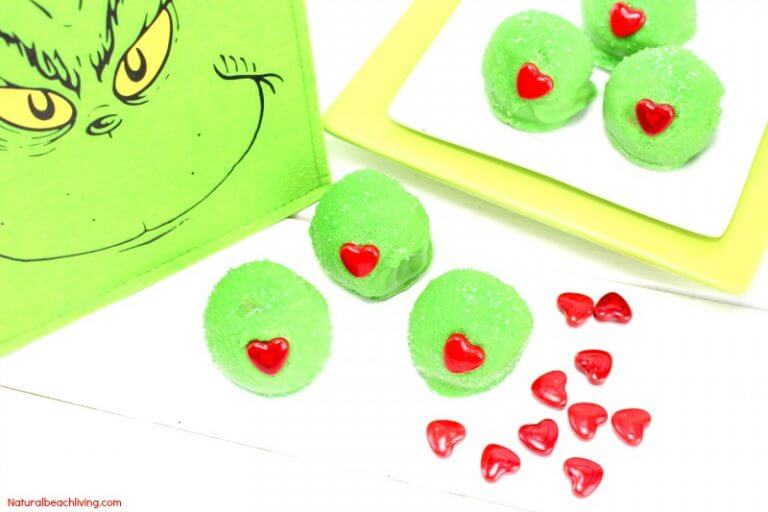 These easy to make Grinch cake balls from Natural Beach Living are made of crumbled cake mixed with frosting and covered in some delicious chocolate, icing, or candy.
Grinch Rice Krispie Treats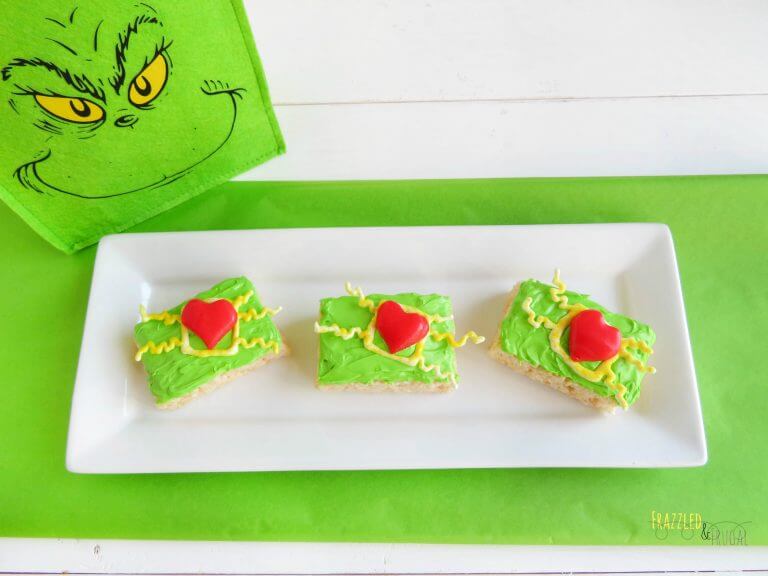 How cute are these Grinch themed rice krispie treats from Frazzled N' Frugal? Rice krispie treats are perfect for parties and everyone loves them. These festive treats are a must-have for any holiday party you're having.
Minty Grinch Dip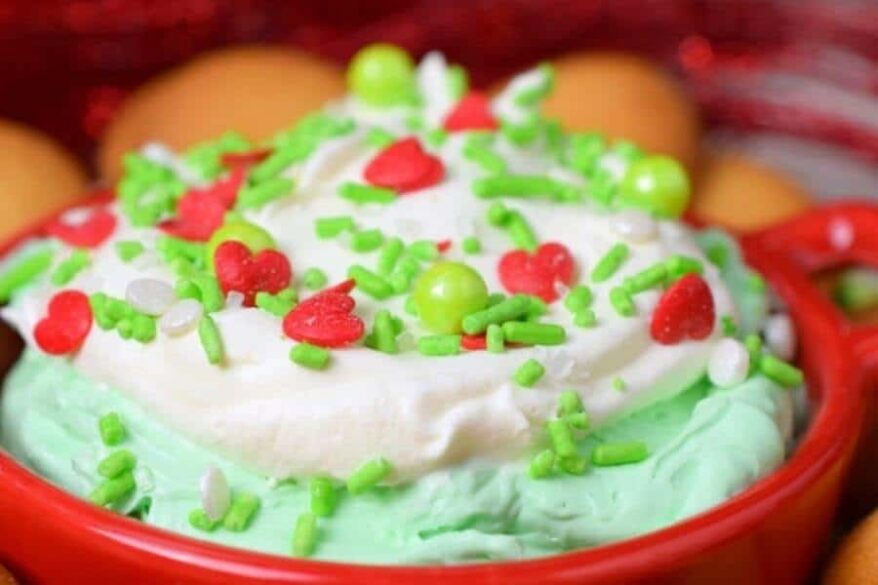 Fun and festive, adults and kids will love this minty Grinch dip from Who Needs A Cape
Grinch Fruit Kabobs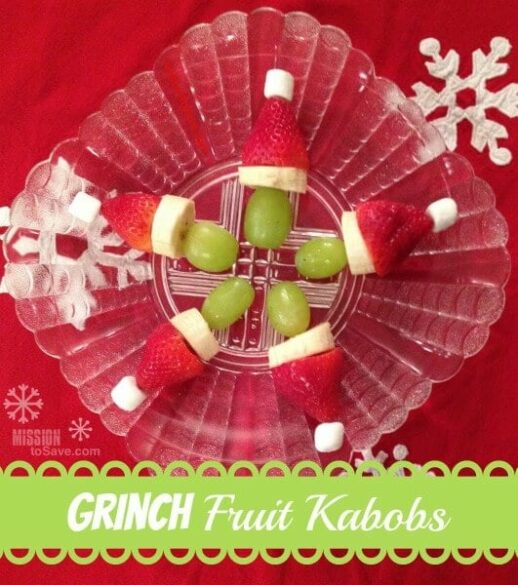 Aren't these Grinch fruit kabobs from Mission to Save just adorable? I love that they are a healthy sweet treat. Kids will love the grape, banana, and strawberry kabob.
More Fun Grinch Party Treats
Shortbread Grinch Cookies from Cheese Curd In Paradise
Meringue Grinch Cookies from Simplistically Living
Marshmallow Grinch Stirrers from Simplistically Living
Delicious Grinch Puppy Chow from Cooking with Curls
Tasty Grinch Popcorn from Cooking with Curls
Easy Grinch Snowball Cookies from Well If She Can Do It
I love that you can find so many different cute Grinch snacks and desserts for holiday parties.
If you're looking for some other holiday-related crafts to do with the kids, this easy felt Christmas tree craft or snowflake ornament craft would be perfect.
More Christmas Party Ideas you might enjoy: